(Last Updated On: December 10, 2020)
Group tours always seem to include either too much shopping, not enough shopping, or – most often – just the completely wrong kind of shopping.
On this side of the Nile, shops selling carved alabaster are ubiquitous.Based on some distinction not obvious to me, Romani has chosen one for us to visit. However, before we shop, we must be educated. I think this is so we will understand why the alabaster sold here is superior to that sold in all those other, seemingly interchangeable, shops. (Just like the shops in Peru that sell baby alpaca items.)
A simple explanation of the process (like that at the baby alpaca shop) would suffice. Instead we are "treated" to a fully choreographed production with synchronized responses and really bad jokes.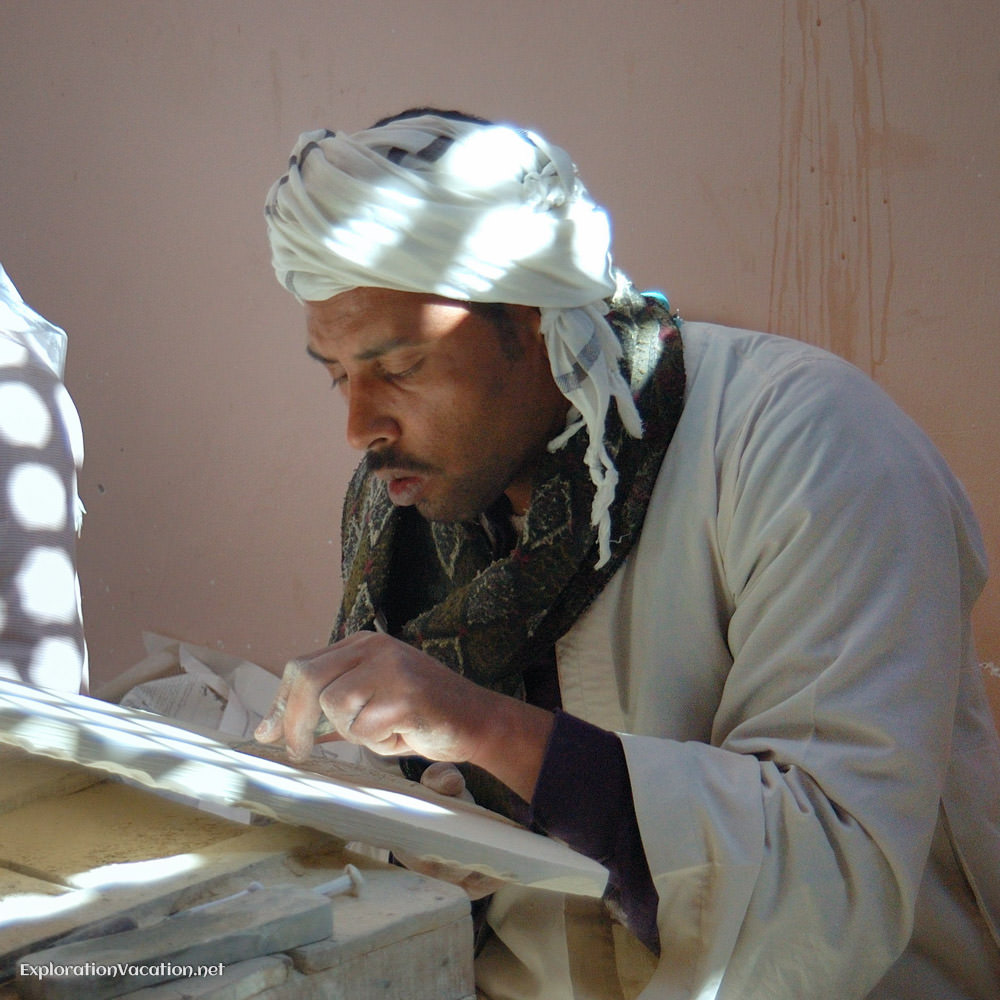 It is more annoying than entertaining and I feel sorry for the workers who must demonstrate their skills under these conditions (some of them look downright embarrassed), but I do learn a lot about traditional alabaster production – a topic about which I knew virtually nothing.
Now we are assigned a shopping assistant (shopping assistants are the norm throughout a broad swath of the world) and ushered into the shop. I immediately give mine the slip so I can browse unimpeded. (Shopping assistants always think they can get you to buy whatever you show interest in, so it is hard to even look at anything. I hate that.)
The shop is depressing.
Ok, that isn't completely fair. A few weeks before we left, Larry had asked if I would be interested in buying alabaster. I thought I probably would be, as Lane has some lovely turned alabaster vessels and it would be nice to add to that collection.
That won't happen here.
At first glance it appears as if the shop is stacked from floor to ceiling with junk. Of course, I have been envisioning the delicate lathe-turned vessels we have a home, not these clunky pieces. I guess I was thinking that "handmade" would mean by hand on a lathe, not literally by hand using only the crudest of tools. The work produced here is folk art. There is nothing wrong with that (and the skill required is considerable), but it is not my thing.
I do spot two delicately carved (and vividly dyed) agate bowls that would go home with me if only they weren't so very large. (Temptation is completely removed almost immediately when others snap them up.)
Obviously I'm the only one who is less than enthused about this store, as the agate bowls aren't the only items being snapped up. There is quite a shopping frenzy going on around me.
I suspect we will be here awhile, so I had best find something to do.
Stepping back for a moment, I realize that I also like many of the simple basalt carvings that actually make up the majority of the shop's goods. There is nothing here I need and the list prices are exorbitant (Romani will help negotiate a final price at check-out, a system I hate because I have no way of estimating what each piece might cost), but there is a whole wall filled with carved and decorated cats. Pam wants a cat. There are scores of cats in various sizes and styles, surely I can find one that is perfect for her.
And soon I do.
Now that I am in more of a shopping mood, I'm also more alert to the nuances of the shop. There are a few other interesting things here. For instance, in the center of the room, tucked next to a pillar, is a small old display cabinet. Clearly none of the odd mix of items in it were made here and I wonder if they are actually for sale. Most look old. All look a little dusty.
Tucked in the middle of the case are a few beautiful stone scarabs.
I look around for an assistant, but now they are all either assisting others or (most of them) chatting with each other behind the counter. I pace around the cabinet a few times, peering through the dusty glass to get a better look at the scarabs, looking for anything that resembles a price tag. At the same time I shoot annoyed looks at the men hanging out behind the counter.
Soon enough, one of the sales assistants materializes at my side.
Please tell me about these scarabs, I ask.
They are very beautiful.
Yes, they are. Are they for sale?
Oh yes! he tells me. Everything is for sale.
Can you tell me how much they cost?
They are very expensive.
How expensive? I ask.
They are very old.
We continue this for awhile. Finally he decides I won't quit pestering him until he has told me the price and he skulks off. After a brief discussion with someone else, he returns with a key to the cabinet.
The scarabs ARE expensive, but so are the ugly alabaster ones piled everywhere. How old they really are is hard to know, but they are lovely. I know Romani will bring the price down some – I just have no idea whether that reduction will be 20% or 60% or more. How badly do I want one? (I'm thinking it would be a good gift for Lane.)
I finally choose one and get in line to make my purchases. At long last it is my turn (men get first priority) and I am told the scarab is probably 30 years old and very fine. (This means my discount will not be very large.) Romani comes up with a price and I say no. We discuss it a bit, he and the salesman discuss it a bit, and the price comes down slightly – although it is still much more than what I had really wanted to pay. I consider walking away. Instead I tell them to help the next customer while I think about it.
As I'm thinking, another customer lays a selection of items on the counter, a (seemingly high) price is agreed to, and a credit card handed over. Then the next customer does the same. Everyone else seems content with their purchases. Why not me? It's not like I can buy these things at home. (As Romani regularly reminds me.)
I tell them I'm ready and hand over my credit card.