(Last Updated On: December 24, 2021)
All my life I have heard my father talk about his time in the army when he was stationed in Berlin. It is a place I have always wanted to visit with him and I regularly wear his jacket commemorating his time there. I thought I would finally get my chance four years ago and then our plans fell through. This summer I finally got my chance.
Summer 2010 European tour
It will take me quite awhile to get all the photos edited and posted, but as I do I will index them here.
July 27 – Almost in the Air
Minneapolis: We seem to be off to a good start (aside from the collection of dead pens I apparently brought with me): I got everything organized and packed (as far as I can tell), finished what HAD to be done at work (from home, via my personal computer), finally found a cart to whisk us to gate G22 (it took awhile), no problem with our first class seats (Dad is flying on my frequent flier miles and it seemed too good to be true), and we have a pilot who actually has a sense of humor (I was beginning to think TSA had banned that) and who has been roaming surveying the first-time first-class fliers and all the kids as to whether they would like to fly upside down or right-side up.
Atlanta: This seemed as if it would be a quick change, but we spend over an hour on the runway waiting for a rain shower at the end of the runway to clear. I know this is true because I noticed the poorly located and very isolated rainstorm through my window. But an hour seems like a long time to wait for a storm that is so localized that it is barely cloudy where we are waiting on the runway and there are only a few drops of rain.
It could be worse. When we fly out, I count 34 planes waiting to take off after us.
And now we really are on our way.
July 28 – Salzburg, Austria
We Arrive in Munich – Sans Luggage
I'm waiting at the luggage carousel, a little woozy after the flight, when I hear what could be my last name announced. While I'm usually ecstatic to hear my name called when I'm waiting to check into a flight (can you say "upgrade"?) I'm thinking it's probably a bad sign when they call your name at baggage claim.
Which turns out to be correct. Delta has indeed neglected to transfer our luggage in Atlanta.
In all the flying I've done, this is the first time my bag hasn't arrived with or ahead of me, so I was due.
They promise it will be delivered to the hotel in the morning and provide a couple of overnight kits. . . it could be worse.
Troublesome transfers
My research indicated that there would be so many simple options to get from Munich to Salzburg that this is one of the few pieces of this trip I haven't arranged in advance. (Along with train travel in Sweden, but that's another story.)
When I ask at the info desk I am told that the bus to Salzburg doesn't leave for many more hours and that the train doesn't go there (which I should have questioned), but that there is a shuttle. The shuttle is considerably more expensive than the bus, but we also will get there four hours earlier and will save me the need to sort out a train transfer while suffering jet-lag.
Settling in
Despite the train's relative comfort, we are both tired when we arrive in Salzburg. I can't wait to get to the hotel!
July 29 – Salzburg, Austria, and Berchtesgaden, Germany
View through the bus window on the way to Berchtesgaden
Lunch in Berchtesgaden
I can see why my friends Shari and Dave loved it here. Berchtesgaden is a picture postcard lovely city with intricate buildings that step up the hillsides below dramatic mountains. It is really lovely.
I am, however, really glad I decided not to stay here. . . . There is nowhere one can go without climbing up or down a hill and, without a car, it would have been impossible for dad to negotiate. It is the sort of place one goes to spend time hiking in the mountains. Salzburg was a much better choice.
Today it is also cold and damp, with the feel of rain, so we don't wander too far from where our tour will begin.
The kindness of strangers
We are in Berchtesgaden today because the one thing my dad is a big World War II history buff and has always wanted to go to Berchtesgaden to see Hitler's Eagles Nest. I have booked us on a half-day tour that will take us up the mountain to the Eagle's Nest with a stop along the way to tour a portion of the extensive tunnel system the Nazis built into the mountain.
On the Mountain
July 30
Salzburg and the Austrian Lake Country
Salzburg at Night
July 31 – Salzburg
Getreidegasse
Taking in the view
August 1 – By Train to Berlin
August 2 – Berlin Germany
The Reichstag
August 3, 2010 – Wittenberg, Germany
August 4 – Berlin
August 5 – Potsdam and Berlin
August 6 – Spandau and Berlin
August 7 – Berlin
August 8 – Travel to Finland
August 9 – Kronoby, Finland
August 10 – Kokkola, Kronoby, and the surrounding area
August 11 – Traveling through Finland by rail and sea
A glimpse of the Finnish countryside
It is sad to have to say good-bye already. In this short time I've grown very fond of these new-found cousins and would have very much liked to have stayed longer. But we have train reservations for this morning, ferry reservations in Helsinki this afternoon, and cousins to see in Sweden after that.
It is time to move on.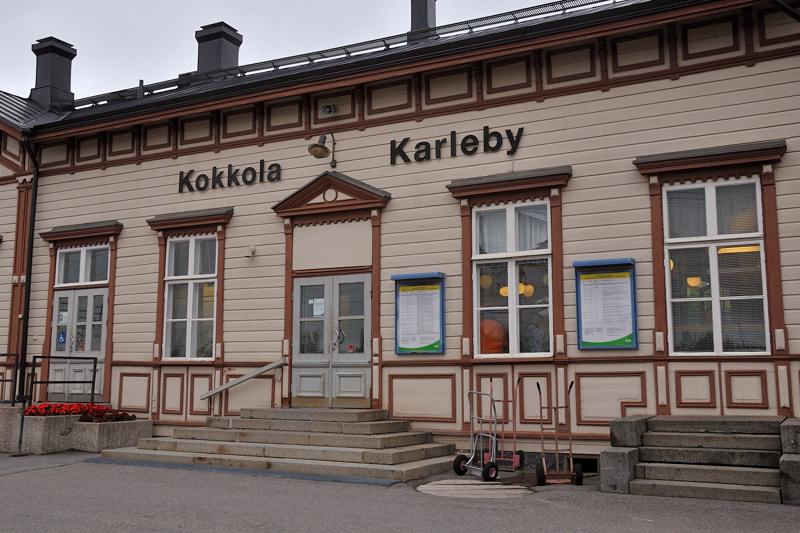 Waiting to board the ship in Helsinki
I don't think a day can get any more beautiful than this – warm sun, a cool breeze, and a grand old city that hugs the waterfront.
Sailboats play in the harbor. . . I wish I were out there with them.
From the Deck of the Silja Serenade
Waiting to leave Helsinki
We really have seen nothing of Helsinki on this trip (no time), which makes me a little sad because I have found memories of the city from my college trip here. From that time, I recall a compact old city with elegant, formal buildings that looked down to the harbor. I remember the war museum guard who told us that he always knew when a Russian came to visit by the way they smelled – there was only one kind of soap available in Russia, so everyone carried the scent of that soap. I remember Kai, perched on his Dad's shoulders, guiding us through the city after his Dad (repeatedly) found himself lost. I remember the heated towel racks in our hotel room, the first I had ever seen.
Now, from the deck of the Silja (now part of Tallink) Serenade I can see that the old city does indeed seem to slide downhill toward the harbor.
Leaving the harbor
Like Stockholm, Helsinki is surrounded by islands, some wild, some inhabited, all enticing on such a lovely day.
I wish I was on a sailboat.
Nearing Sunset – 9:20 pm
August 12 – Crossing Sweden
Morning fog in the Stockholm Archipelago
On of the real treats of the sea journey between Helsinki and Stockholm is traveling through Stockholm's archipelago.
I set my alarm for an early hour, but wake up before it goes off. There is nothing but fog outside the window.
The fog lifts and falls, lifts and falls, and lifts again, the light continually changing as we weave through the islands. When it lifts, there are rocky islands, some with cheerful houses hanging over the water.
More train stations
There is no time to tour Stockholm (another elegant old city of interesting architecture, museums, and wonderful shops), but I appreciate the fact that the transfer to the train station is smooth and fast.
August 14 – Family time in Sweden
Are you looking for a summer cottage in Sweden?
Like my cousins in Finland, my Swedish cousins also have summer homes (having a summer cottage is a very Scandinavian thing, even more prevalent than Minnesota's ubiquitous lake cabins).
However, unlike Finland and Minnesota, where my Swedish cousins live, summer homes tend to be grouped tightly together in neat little inland neighborhoods. (Rather similar to what I saw from the train in Germany, but the Swedish cottages are bigger and in more rural places.) The area where my cousins have their cottages looks like a residential suburb in miniature, where everything is neat, orderly, and just a bit scaled-down from a "regular" house.
Although the houses are close together, it is very quiet here, the sounds of the nearby ocean always in the air.
In a Family Garden
We are to spend today with a different set of cousins and have lingered too long at the beach. When we pull up in front of the stuga, Ann is on her cell phone trying to locate us: time to get going!
We start with coffee with a few of my cousins. Margit has set a lovely table in the sunroom of their house. It is a good place to sit and catch up on the last 10 years.
Timmerkullen: Where my grandfather was raised
Timmerkullen is the farm where my grandfather was raised, the farm that was sold about the time he immigrated to America.
I think the house and many of the sheds date back to that time and before.
I wonder how different the scene before me is from what my grandfather would have known.
August 15 –
Trip Details