(Last Updated On: November 11, 2019)
The note from my cousin was succinct: "Today it's been raining the whole day. I had a massage and some drinks with umbrellas. All the streets are full of water . . ."
I recommended she have more of those drinks with umbrellas, but I was worried.
It was the first of December and my cousins had just arrived on Isla Holbox, their first stop on a two-week Mexican vacation. I had no idea exactly what "all the streets are full of water" might mean, but it didn't sound like a great start to their beach vacation. Furthermore, I was acutely aware that I was, at least in a round-about way, responsible for them being on this apparently flooded island instead of the cushy all-inclusive resort in Playa del Carmen they had originally booked.
I hoped she was exaggerating . . . and that she didn't hate me for suggesting they spend part of their time somewhere less-developed.
The next day's text noted that the streets were too flooded to go to the beach.
Oh, oh.
Two days later my husband and I get off the ferry to Isla Holbox and hop onto the back of one of the island's ubiquitous golf carts SUVs. The streets do have a lot of water in them, but the taxi drivers are obviously used to this, carefully swerving to avoid what must be the worst areas of the mostly submerged roads.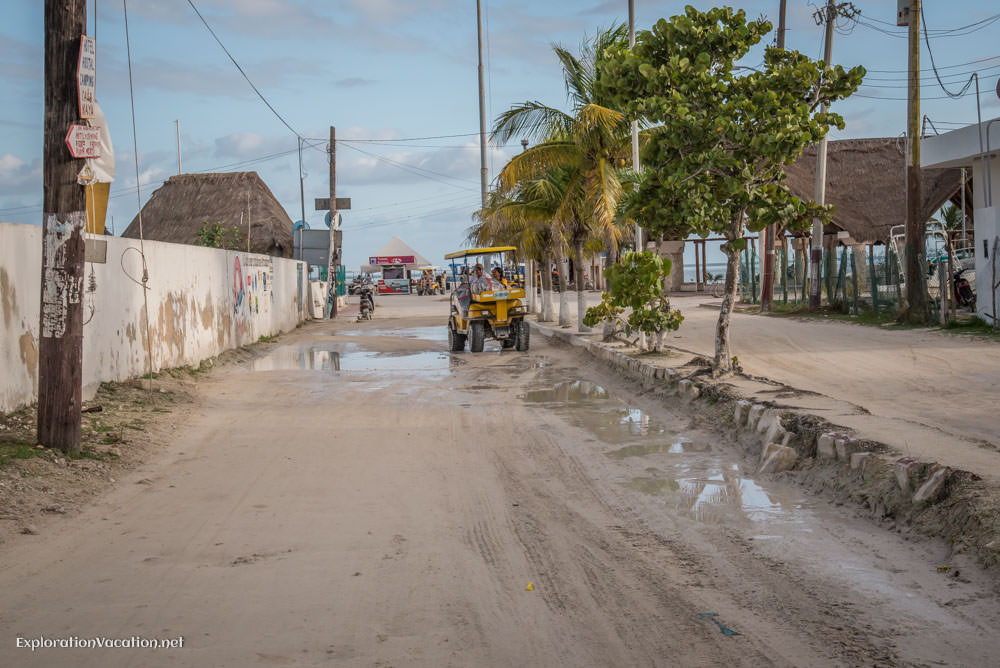 Others aren't quite as adept, like this guy (probably a tourist with a rented golf cart), waiting for a tow where he got bogged down just past our hotel.
Speaking of our hotel, we are lucky to get to our hotel, as the street in front of it is completely submerged. Fortunately, there is a sidewalk on that side and most of its surface is above the water, providing access from a drier section of the road just a few doors down.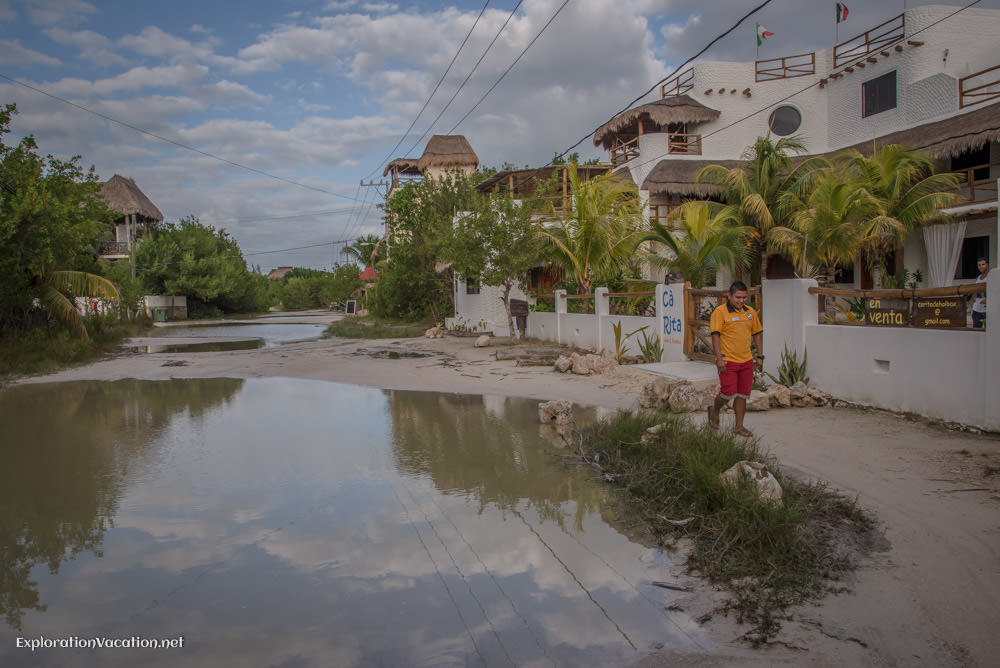 (When I booked I had no idea we'd have a water-view room!)
The plan is for my cousins to meet us at our hotel so we can walk downtown for dinner together. They are staying only a block or so away, but the streets between us seem completely flooded. I begin to wonder if they will make it to where we are, but soon we see a light moving in our direction from the vacant lot across the street. They are here!
It seems they scoped out the situation earlier (while it was still light) and determined that the driest route was through an overgrown lot across the street. (Whenever we cut through this lot in the days to come I would think of our host in Mérida who told us that NO ONE enters a vacant lot: "It's a jungle in there, forget snakes and scorpions, there are crocodiles and elephants, hippos and giraffe . . . who knows what could be in a vacant lot!) However, this vacant lot seems to hide nothing more dangerous than swarms of nasty mosquitoes and entering makes it possible to reach the relatively dry spot in the street where the taxi let us off originally. For most of our time here it will be our best connection to the beach, which turns out to also be the driest route into town!
Once in town, the flooded streets actually seem rather festive.
Welcome to Isla Holbox!
All Isla Holbox posts
All Yucatán posts