(Last Updated On: January 12, 2023)
A Segway tour is a great way to see the historic Mill District along the banks of the Mississippi River where Minneapolis, Minnesota, was born.
Touring the Minneapolis Mill District via Segway
The rain stopped just long enough yesterday to deliver one of those breezy clear blue sky summer days that remind me how wonderful life can be in Greater MSP.
As an extra bit of unbelievably good fortune, I spent the afternoon zipping around the historic Mill District in Minneapolis, Minnesota, on a Segway.
I'd never been on a Segway before and, frankly, was a little intimidated by them — I really couldn't image how they stay upright. Fortunately, every tour begins with a training session!
Training accomplished (get on, lean forward to go forward or speed up, lean backward to slow down or go backward, stand still, turn one way, turn the other way, get off), Dorthea and I set off with the rest of our group.
We followed historic Main Street to the Stone Arch Bridge, with a few stops along the way to learn about the city's history.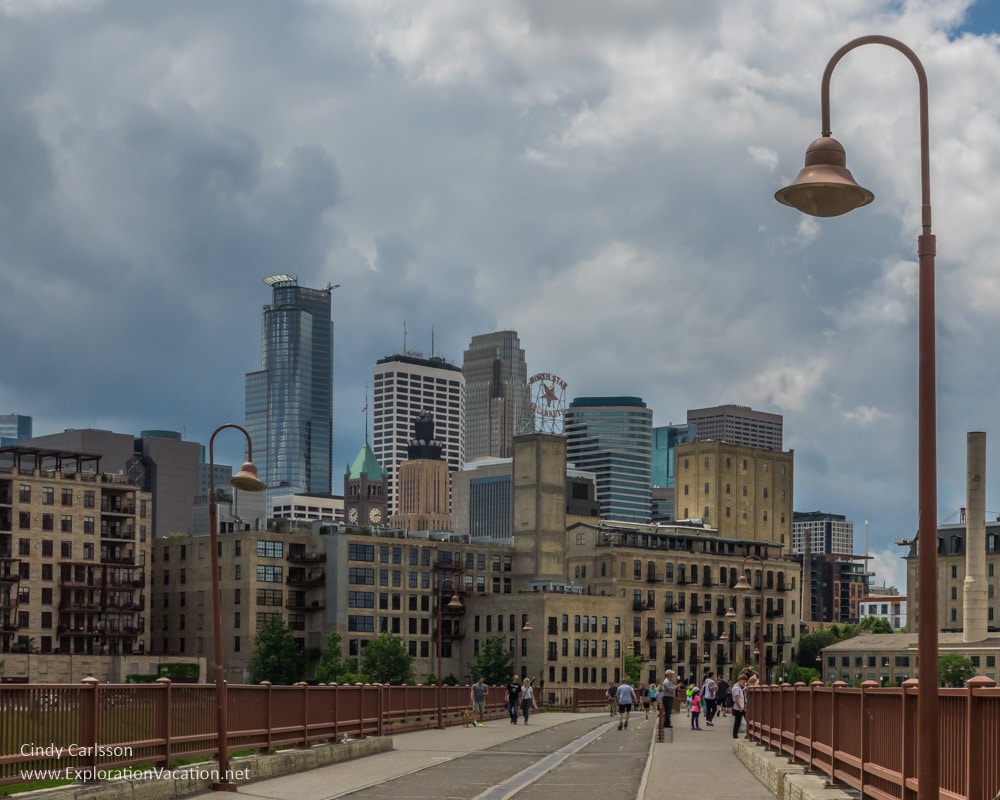 From the bridge we rode downhill (lean way back to slow down) to Mill Ruins Park and then uphill (lean way forward to maintain enough speed) to Gold Medal Park and the Guthrie.
By then controlling the Segway seemed almost second nature.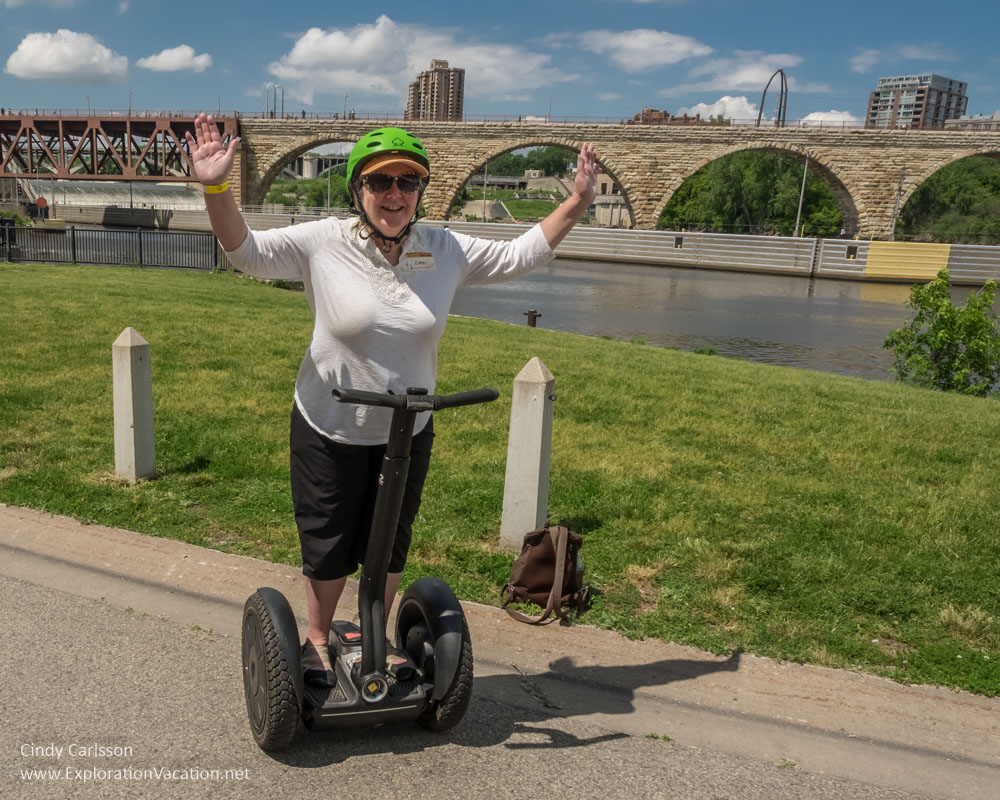 (And example of hands-free operation.)
Our tour continued along the Mississippi to the Hennepin Avenue Bridge and around to the Plymouth Avenue Bridge. On these less busy trails we could zip along and, with the river on one side and lots of greenspace on the other, I couldn't imagine a better way to enjoy a summer day!
Fortunately, the tour wasn't over. We stopped at Boom Island for another history break (the historic stops are scattered throughout the ride) and a nice view of downtown.
Back on our Segways, we toured the leafy residential district on Nicollet Island.
And then we headed back to Main Street and the end of our tour.
Thank you, Dorthea, for the great ride!
Segway tour details
I had the good fortune to take this Magical History Tour without charge as part of the TBEX North American conference in Minneapolis, but it's so much fun that I'll pay to go again someday. I really loved it.
Our Magical History Tour was with Human on a Stick. We began and ended right at their offices in the beautiful and historic Mill District. There is a little training and practice session before heading out. While riding a Segway is pretty easy, the routes are also planned to be easy and let participants build up their skills. Helmets are provided and required.
Tours are offered 7 days a week from spring through fall. There are a couple of tours available in both Minneapolis and Saint Paul tours.
Photography is discouraged while on the Segway (it throws off your balance, which could cause you to crash), hence the limited number of pictures. If you really want to photograph, bring a camera you can mount to the handlebar or your helmet.
 All Minneapolis posts