(Last Updated On: May 5, 2021)
The medieval Swedish town of Borgå (Old Town Porvoo) is a fun and easy day trip from Helsinki, Finland.
A blend of Swedish, Russian, and Finnish history
The heart of Old Town Porvoo is the old Swedish town of Borgå. It's one of six medieval Swedish towns established in Finland, and among the oldest.
Things to do in Old Town Porvoo (Borgå)
The Old Town area of Porvoo is not very big, but it oozes charm. While only the oldest area retains the medieval streets of Old Borgå, the adjoining 19th century Russian Empire area is also inviting. In reality, much of Porvoo is well-worth exploring. And, of course, there are lots of lovely natural areas within easy driving or biking distance.
Porvoo is a nice day-trip from Helsinki. However, spending at least a night or two allows time to really enjoy the old town and explore a bit of the rest of the city.
Wandering aimlessly is not a bad way to spend the day
Porvoo is perfect for wandering.
Many Old Town buildings date back to the 17th and 18th centuries when Borgå was still under Swedish rule. They include the medieval cathedral, a few wooden buildings that survived a the devastating 1760 fire, and the stone, brick, and wood buildings that quickly replaced those lost in the fire. However, since most new buildings were constructed on the existing medieval street layout, Old Town Porvoo (Borgå) feels like much older city.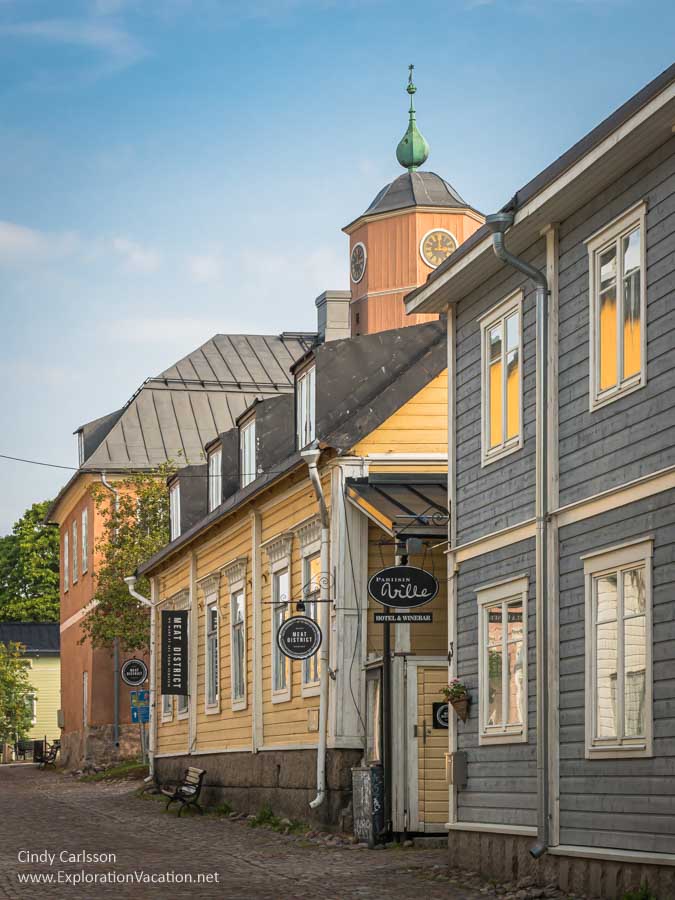 (That medieval street layout also means there are lots of interesting alleys to explore.)
You can't visit most of those red "houses" along the river, but you can get a good look at them from the bridge!
Although they look like the ideal vacation cottage, these were built as warehouses. They stored salt, fur, and other goods traded by and through Sweden!
And, if the Old Town area of Porvoo is too small for you, it's easy to wander farther afield along the river or into the old Russian area.
Eat and drink
Porvoo Old Town overflows with delightful restaurants, cafés, bakeries, and coffee shops.  Most of these are located along the winding streets of Old Town, with tables set up on the street itself or in small courtyards. But there are other options too.
Is there anything better than sitting outside on a beautiful summer day with a glass of your favorite beverage and something delicious to eat?
(Just be prepared to wait for that perfect table on summer weekends.)
Admire (and buy) art and locally-designed goods
If you're looking for unique gifts to give to others (or keep for yourself), Old Porvoo is a great place to shop! The Old Town area is filled with small stores that sell unique furniture, clothing, household goods, toys, and antiques, as well as art created by the city's large community of artists and makers.
Even if you don't plan to buy the window shopping is delightful.
Step into the past in the medieval cathedral
While just wandering the streets is a step back in time, the place to really absorb the passage of time is the city's medieval cathedral.
Porvoo's cathedral dates back to the 14th century, although little from that time remains today. Like other buildings in Borgå, the original was built of wood. It is dedicated to Mary and took its current Gothic form early in the 15th century.
Fires have damaged the church multiple times through its history, but it's a survivor. Not only does the exterior retain much of its 14th century appearance, but the interior retains a few late 15th century paintings.
(Apparently unicorns were once thought to be pure and good, so were used as a symbol for Christ.)
The free-standing belfry also dates to the medieval period, although much of what we see today dates only to the 18th century.
Borgå's church became a cathedral in 1723. Today it is the seat of Finland's Swedish-speaking Lutheran diocese.
Learn about the past at the Porvoo Museum
Housed in two late 18th century buildings, the Porvoo Museum mixes information on the history of Borgå from its earliest periods through the present. Exhibits range from history lessons to contemporary artwork, so there is definitely something for everyone.
Old Town Hall
Borgå's Old Town Hall is said to be the oldest in Finland. However, the current Swedish baroque building only dates back to the late 18th century. It was constructed after the fires of 1760 to replace the site's earlier, wooden building.
It houses permanent exhibitions on the region's history and on Finnish art.
Holm House
The Holm House was built in 1763 to replace the house Johan Holm lost in the 1760 fire. Much of the building consists of period rooms that show how the family of a wealthy merchant lived at the end of the 18th century. Apparently, much of the furniture is actually original to the house or Holm family.
The founder of the Holm family likely came to Finland from either Sweden or Germany about a century earlier.  However, the house is decorated in traditional Swedish style. That was typical of upper-class households at that time, as Swedish language and culture were hallmarks of higher social status.
An ever-changing array of exhibits is housed on the ground floor.
Plan your trip to Porvoo
Porvoo is an easy daytrip from Helsinki. With a location along a river near the sea, it's a VERY popular summer day trip. To really enjoy the old city and all it has to offer, plan to spend a night or two in the old town. That will give you time to really explore the city and experience it in the mornings and evenings when it's less crowded.
Why two names?
While you wouldn't know it walking the streets of most cities, Finland has two official languages: Finnish and Swedish. You'll see signs in both languages in many places, although these days Swedish is usually only treated as an official language in areas that retain a significant Swedish-speaking population. So you won't see both everywhere.
Visit more of Finland's old wooden towns
Borgå is not the only old Swedish town that remains. There are several. And, like Old Town Porvoo, most are a charming mix of traditional old wooden buildings with a few sturdier Swedish baroque stone and brick structures.
There's a nice list of Finland's wooden towns on the Visit Finland website.
All of these towns are along Finland's south and western coast and most began as Swedish settlements.