(Last Updated On: January 20, 2023)
Aruba, Bonaire, and Curaçao (the ABCs of the Caribbean) offer plenty to do on, along, and under the water. However, my January 2018 two week ABC island hopping itinerary also included some of the islands' less well known land-based charms.
My itinerary for traveling in the Caribbean ABC islands
Formally part of the Netherlands, the ABC islands (Aruba, Bonaire, and Curaçao) lie just off the coast of Venezuela in the southern Caribbean.
I spent two weeks in January 2018 island hopping with my spouse and another couple (my cousins from Finland). We spent relatively little time in any of the islands' cities or heavily developed resort areas, choosing instead to search out quiet, unpretentious beaches and some of the wilder corners.
I love traveling with my cousins, but whenever you travel with others there are compromises to be made. In this case I didn't see as many historical and cultural sites as I would have liked and they didn't spend as much time on the beach as they would have liked! But we had a great time anyway. And I think we all agree that the ABC islands are a good winter vacation get-away that we'd be happy to return to someday.
Here's my two week ABC islands itinerary:
Days 1 – 5 in Curaçao
We started our island hopping in Curaçao, where we spent most of our time exploring the rugged north end of the island.
Even so, we found a little time to explore historic Willemstad (a UNESCO World Heritage site).
While we hadn't planned to completely avoid the most popular beaches in the resort areas of Jan Thiel and Mambo Beach, I don't think any of us felt bad about skipping them. There were plenty of other beaches.
Our stay in Curaçao included visits to many of the island's tourist sites, including:
Shete Boka National Park
Christoffel National Park and the Savonet Plantation Museum
Willemstad
Blue Curaçao distillery
Playa Piskado
Lodging
We stayed in a beautiful house on Curaçao's rugged northwest coast.
We used Airbnb because we were looking for a house or apartment and Airbnb has a huge number of listings. (Most properties on VRBO required wiring money to a Dutch bank account – something I wasn't willing to do.) If you are looking for a resort or traditional hotel, TripAdvisor has a few listings for the northern end of the island. You'll find more options farther south.
If you stay on the north end of the island, check out Sunshine's notes on what to do and where to eat.
Bella Vista Airbnb
Located toward the northwest end of Curacao, this gorgeous private home is in a relatively remote location near an abandoned resort and a nice, mostly unused, beach. (There is also a B&B just down the street, so there are a few other people around.) The house itself is gorgeous, beautifully decorated, and huge. It also has a rooftop deck with sweeping views over the sea. We were up there every evening and one afternoon we were able to watch dolphins swim by.
The owner needs to fix the microwave and add a grill, but even without those, I would happily stay here again. The only real downside (besides a noisy military training exercise one day), is the lack of nearby restaurants. But, with a working grill, we would have happily had dinner on the rooftop deck instead of going out.
Dining
We planned to cook and eat at our island "home." However, without a grill, we ended up going out for most meals. Because we were so far from Willemstad, we generally ate at restaurants near us or in West Punt to the north. With one exception, all of our meals were good to excellent.
Days 6 – 11 in Bonaire
Bonaire is justly famous for its diving. Not only does the island have a gorgeous healthy reef just offshore, but in many places it can be reached from the shore – no dive boat needed!
Of course, I don't dive. I do snorkel, so I planned to spend a lot of time in the water.
But that didn't happen either. Instead, I spent most of my time on land touring what became my favorite of the three islands.
Lac Bay
Snorkeling Klein Bonaire
Washington Slagbaai National Park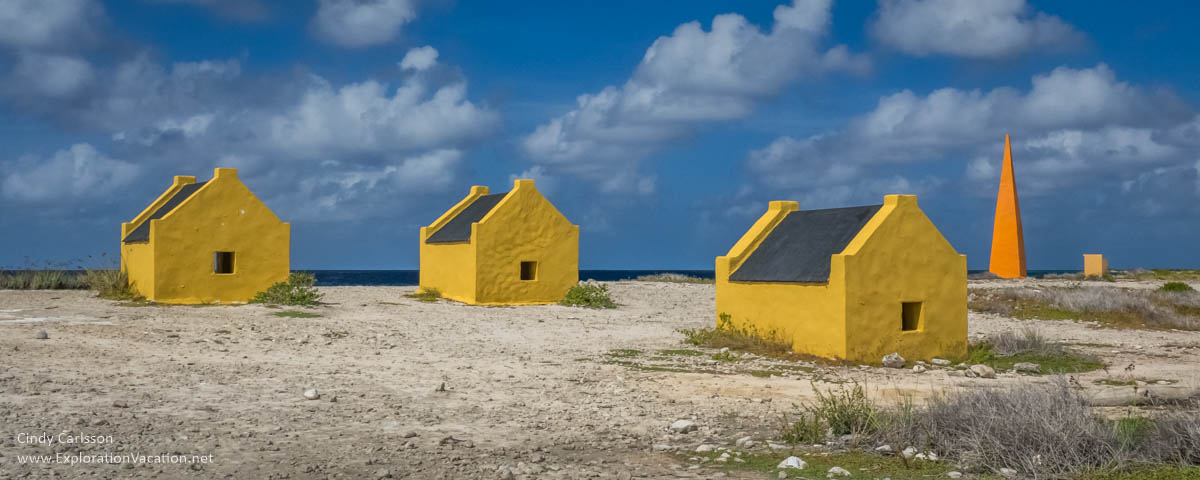 Lodging
As on Curaçao, we rented a house through Airbnb.
This time we were just outside the main town of Kralendijk. That put us sort of in the middle of everything, but walking distance to nothing. Nor did we have a view. Still, we did have a pool and wild parrots and it was nice to have a lot of dining options relatively nearby.
And did I mention the gorgeous, almost private (shared with just two other houses), pool?
While there was nothing wrong with the house we rented on Bonaire, it wasn't so great that I'd recommend it over other, similar options. It was cute, but small, impossible to cool aside from the bedrooms, and the only table was outside – which was fine when the sun wasn't beating down on it and it wasn't raining. And then there was the fact that our neighbor had someone break in and steal their wallets and electronics while they were out diving. That happened before we arrived and they were kind enough to warn us, so we immediately got the code for the safe and removed the key from its hook by the back door window. So the house was ok, but not great. Except, of course for that pool.
Also as on Curaçao, we used Airbnb because we were looking for a house or apartment. Bonaire doesn't have a lot of huge hotels or resorts, so Airbnb is a good option. (If you are a new Airbnb customer, use this link to get $40 off your first rental.)
If you are looking for a resort or traditional hotel, TripAdvisor has a good variety of options (affiliate link). You'll find a number of them can't actually be booked through TripAdvisor partners, but you can get reviews for them to help you sort out your options.
Dining
Bonaire turned out to be a great place to eat.
There's no shortage of good, casual dining spots around Kralendijk. There are also a number of fine dining restaurants. Although downtown settles down quite a bit once the day's cruise ships depart, reservations are almost essential to get into many of the better restaurants (or restaurants with a view) for dinner.
Transportation
Insel Air to Bonaire
We flew from Curaçao to Bonaire on Insel Air. Our flight boarded and took off early, getting us into Bonaire early. Sweet.
We also flew Insel Air from Bonaire to Aruba (via Curaçao). Unlike our flight to Bonaire, our flight out cost us an entire day of vacation and resulted in spending more on our rental car and missing an event we'd planned to attend. See below for the whole miserable tale.
A budget-breaking experience at Budget car rental
I ended up changing our rental car at the last minute because I was afraid the vehicle I'd rented (a small truck) was going to be too small for the four of us and I was able to find an SUV that was perfect for the same price.
Or, it seemed perfect until we went to return the vehicle.
Days 11- 15 in Aruba
Aruba is famous for its broad sandy beaches and big upscale resorts. We're not really upscale people (or maybe we just don't have the budget to be upscale people) and we don't like crowds, so we booked an Airbnb at the far south end of the island near Baby Beach.
Despite a lovely beach, this end of the island isn't touristy at all. That's probably because the refinery is located here, but it's closed now, so air pollution isn't an issue. And, while the refinery isn't very scenic, it does lend an interesting bit of surrealism to the landscape. There are some nice little communities here too where visitors are more likely to get a feel for what the real Aruba is like.
Sailing with the pirates
Arikok National Park
Casibari and Ayo rock formations
Seroe Colorado (The Colony)
Murals in San Nicolas
Dining
Despite what you see here, there are lots of restaurants on Aruba. We just didn't eat at many of them because we absolutely loved Zeerovers and Kamini's Kitchen, both of which were near our apartment.
Lodging
We stayed far from the beach resorts at the Baby Beach Airbnb in Seroe Colorado. We had a large, comfortable apartment in a house with a super -friendly owner.
Seroe Colorado used to be owned by Lago Petroleum (a subsidiary of Standard Oil) and was a full-service community filled with expats working for the refinery before being abandoned in the 1980s. (During its heyday it was called "the Colony," which tells you a lot.) Today the few remains of the abandoned town are being re-inhabited, but most of the facilities (hospital, dance hall, bowling alley) are long gone.
Had we been able to find something within our price range, we would have stayed on the far north end of the island. However, this turned out to be a better choice for us. Without a spot right on the beach, access might have been more of a problem at the busy beaches farther north. (At Baby Beach, my cousins could walk with the neighborhood pack of dogs to the beach whenever they felt like it.) We also liked how quiet it was. The downside was the long drive if we wanted to do anything in Oranjestad or farther north.
There are lots of Airbnb and hotel options. (If you are a new Airbnb customer, use this link to get $40 off your first rental. At the same time you'll provide me with a $20 credit. If you are more the hotel-type, use this link to check reviews, prices, and book a hotel through TripAdvisor. Doing so may provide me with a small commission at no cost to you.)
Transportation
Flying to Aruba: A frustrating day with Insel Air
After our experience traveling from Curacao to Bonaire, we were thinking that maybe Insel Air wasn't really as bad as everyone said. Unfortunately, we found out that there are some good reasons why the locals call them "Insult Air."
Another expensive rental car
I also ended up changing this rental car at the last minute because our delayed flight wouldn't get us in until after the off-airport location I was renting from closed for the day. (Thanks a lot, Insel Air.)
I went on line while we waited for our flight and rebooked our car, switching from Thrifty (which is not a company I like anyway) to the airport Hertz office. The Suzuki Vitara I reserved wasn't supposed to cost that much more than the car I had originally booked, but their insurance was the most expensive of the three companies, so it ended up costing a lot more than I would have liked. But at least there were no nasty billing surprises when we returned it.
Flying home
My cousins flew back to Europe from Aruba on KLM and report that the airport and flight were both fine.
Our experience was a little different.
Queen Beatrix International Airport
I have a new least favorite airport: Queen Beatrix International in Aruba. . (Sorry CDG, but you've lost your title.)
If you are NOT planning to travel directly from Aruba to the USA, you can stop reading now. Very little of this pertains to you and you will have a generally fine experience.
If you are planning to travel to the USA from Aruba, keep reading.
Delta Airlines
Then there was our six-hour Delta flight in Economy Comfort with the worst service we've come across since the bad old days of Northworst. (Northwest was a pretty good airline with lovely new planes when Delta bought it, but there was an earlier period when they were known for having the crabbiest flight attendants in the sky.)
All in all, it was of the worst airport and flight experiences we've ever had.
And a frustrating way to end an otherwise fabulous trip.