(Last Updated On: June 26, 2022)
South African travels 2011: Morning Game Drive in Kruger
We get an early start, beginning the day with pre-dawn tea and rusks at the hotel before boarding the assembled Land Rovers.
This early start allows us to be waiting at Kruger National Park's Numbi Gate (in the far southern end of the park) when it opens at 6 a.m. – not long after sunrise.
In essence, our game drive begins right then, as an old buffalo is grazing just beyond the closed gate.
He seems quite undisturbed by our passage and we seem to be off to a good start. 
Krueger is South Africa's premier game park, but this area is very brushy, with few of the open expanses we saw throughout Botswana.
It seems like it will be a hard place to spot game.
See the zebras?
Ok. How about this kudu?
Easier, but still a bit of a challenge, isn't it?
How about these guys?
It's easier when they are standing in the road!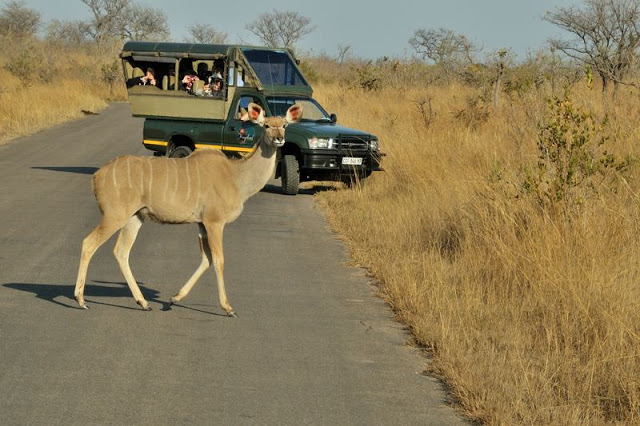 It's amazing to realize that even elephants and rhinos can be a hard to spot in the undergrowth.
We almost missed that rhino.
See, another difference between our experience in Botswana (where we were on a private safari) and here is the radio chatter between the guides.
Juan is continually conversing with the other guides one where they have seen game or are planning to go in search of game. It's sort of odd – I had feared massive amounts of vehicles converging at every sighting, but the limited number of visitors allowed into Kruger (and the size of the park) seems to really reduce the odds of that happening – instead there is this continued radio exchange and then racing about in order to get to a "good" sighting before it is too late.
This is how we got our best look at the rhinos, although we almost missed them (one of the other groups did) because the guide who found them gave the wrong info out over the radio. The rhinos had actually been on the road, but by the time we found them – after Jaun went zipping all over in the wrong area looking for them – they had moved into the woods. (And yes, there were two of them, although you can only see one in the above picture. While the radio chatter probably does make it more likely that visitors will see a lot of game, it makes the game drive seem rather unfocused and frenzied. I think that there are some advantages to taking one's time and sitting still and watching and watching and waiting on occasion.
I'm just pleased to have seen a rhino at all (these were white rhinos), as I've never seen one before (I'm not a big zoo person) and all the news reports make it sound as if they really don't exist in the wild in any meaningful way. (Kruger, like the other game parks, has a busy and well-armed anti-poaching unit.)
While I'm a bit surprised to have seen rhinos so quickly (there have been a few others barely visible in the brush too), I'm rather surprised by the small number of elephants we have seen. They are around, but mostly in small groups and largely hidden from view. It's a treat to see one seemingly materialize out of nowhere and then have a chance to observe for a while.
It's funny how the landscape looks empty until you start looking more closely.
Generally, if you really look, there will be an antelope or six or a dozen or more somewhere. Usually they will be impalas – the small elegant antelope are ubiquitous in this part of Africa and serve as the local McDonalds, providing tasty fast food to a large number of carnivores.
Jaun doesn't like to stop for impala viewing because they are so common, but they are not a common sight for us and they are lovely.
(They often are found mixed in with other animals, including groups of vervet monkeys.)
Usually wart hogs turn tail and run as soon as a game vehicle stops, but here they seem rather oblivious to our presence. 
The birds aren't as cooperative, but we do get good shots of a red-crested korhaan and a yellow-billed hornbill.
Lane also gets good shots of the helmeted guineafowl strutting along the roadside. (I have a soft spot for guineafowl, but these guys stayed out of my sight on the other side of the truck.) 
Waterholes tend to be good spots for game watching. Sure enough, when we stop at one, an elephant standing over the small area where water is still available at the surface, taking his time giving himself a thorough mud bath while zebras and wildebeest await their turn at a suitable distance. (Their impatience is almost palpable, but the elephant is clearly in no hurry and not in a mood to share.)
The funny thing is, there is plenty of open water nearby, but the only ones taking advantage of it seem to be a lone bushbuck, a green-backed heron, and a couple of Egyptian geese.
We've seen a lot of giraffe throughout this game drive – they seem to materialize out of nowhere. I love watching them, with their overly long legs and necks that make them gangly and elegant at the same time. 
Juan would have liked very much to find a few "kitty cats" for us and, as midday approaches, he becomes more determined, talking into his radio and switching routes to try to find the most likely spot for a sighting. . . which seems rather futile.
The scenery is fine (and there are flowering trees in this area, to remind one that it is spring), but the cats are staying. . . probably lying in wait somewhere, watching us search for them.
Cats or no, it's been a good morning.
Next post: Lion Hunt (Afternoon Game Drive)
Previous post: Along the Panorama Route