(Last Updated On: June 26, 2022)
The Panorama Route runs though some spectacular scenery along the Blyde River Canyon and on toward Kruger and Hazyview.
Roadside scenery as we begin our journey
I'm mostly on the wrong side of the bus to really see the canyon and the most spectacular scenery, but it's still lovely.
Potholes and waterfalls
Bourke's Luck Potholes
Our first stop along the canyon is at Bourke's Luck Potholes, where a series of  bridges and walkways provides a great over view of  the Treur River canyon where it meets the Blyde River.
The potholes are further along the canyon.
While greatly eroded, the potholes at Bourke's Luck dwarf the ones we have back in Minnesota.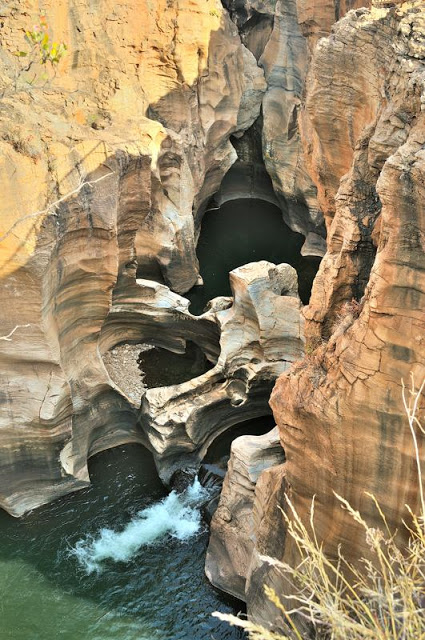 A landscape filled with waterfalls
The gorge ends in a series of waterfalls that run through a desolate landscape of eroded rock that looks very volcanic.
A shopping opportunity too
We have time for a quick run through the market by the parking lot (better for photography than shopping).
Back on the road through the Bly River Canyon reserve
It's a fascinating landscape even if I can't see the much of the canyon itself.
Wonder view
It's sort of hard to believe there is an enormous river valley on the other side of the road. However, even in the hazy late air of late afternoon – the Wonder View overlook, fully confirms its existence.
The view the other direction is even better.
Then it is back on the bus as we continue on our way to Hazyview for the night.
Next post: Morning Game Drive in Kruger
Previous post: Pilgrim's Rest