(Last Updated On: March 11, 2021)
Most of the sandy spit on which Provincetown is located is part of the Cape Cod National Seashore This area, known as the Province Lands, is characterized (today) by long sandy beaches and large, sparsely vegetated sand dunes. (When the Pilgrims landed here the land would have been without dunes and forested.)
There are only two ways to tour the dunes here: A long hike or on one of Art's Dune Tours.
Being out of shape and having very limited time (the ferry makes one run out here and one run back each day, which doesn't leave a lot of time for exploring), we chose one of Art's tours.
I was hoping for a rugged, open vehicle (think Land Rover) or a dune buggy, but the tours are conducted using ordinary four-wheel drive SUVs with the air pressure in the tires reduced. I did get an open window.
We start our tour by heading for the beach, one end of which looks very busy.
We enter the beach at the Off Road Vehicle (ORV) access. This section is open to recreational vehicles and other self-contained vehicles (campers with toilets). Permits allow these vehicles to park out here for a week at a time, providing what might be the ultimate ocean-side camping experience.
We travel past these beach camp sites until we get to the section of the beach where vehicles are allowed only on a day use basis.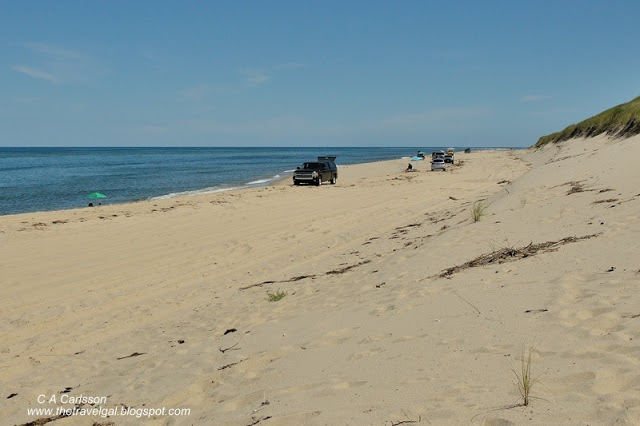 It looks a lot quieter down there.
But we aren't joining them. Instead we head directly up the sandy dune behind the beach via a steep sand track.
Well, EVENTUALLY we get up there. Our driver doesn't want to just gun it and rip up the trail (as the vehicle ahead of us did), so he lets a little more air out of the tires. (Lane and I are both having visions of the sand roads in Chobe and the Kalahari.) Even at that, it is a slow grind up the hill.
Just when I think we aren't going to make it, we chug over the top to find ourselves in a world of dunes.
It's beautiful!
We get out of the vehicle and bury our toes in the hot sand while looking around near the trail. There are a few quaint houses visible in the distance, "dune shacks" that have served as the summer homes of various artists over the years and continue to do so under a special lease program. (Some are still held by decedents of the original owners and I suspect it is these that sport the occasional solar panel.)
While none of the shacks have electricity, they all have access to water. Despite the arid look of the dunes, there is actually good fresh water just a few feet below the surface.
For a few moments I think how nice it would be to spend a few weeks here, but I'm not sure how long I'd actually make it without electricity. I guess I'd need a shack with solar panels so I could at least recharge my camera!
Our guide also points out the regular spacing of the dune grass, telling us that it was all hand planted in the early 1960s (basically true) and that it is a special type of Israeli grass (maybe true) because there were no native grasses that had adapted to these conditions (not true). Re-vegetating the dunes has been going on for hundreds of years now, ever since the original vegetation was stripped, leaving the topsoil to blow and wash away in the wind and rain, exposing the pure sand below. When barren of plant life, the dunes continually move and rearrange themselves, so massive planting efforts have been undertaken over the years to stabilize them. Today the grass of choice is an American native referred to as 'Cape' American  beach grass, but it is still all hand planted.
Who knew so much work went into maintaining this beautiful, wild landscape?!
But it raises the question: What is natural? In many ways, this is an unnatural landscape, a man-made and maintained place not so different from a Disney theme park or a garden. It looks and feels wild and nature is at work here to a far greater degree than in those fully-managed places, but what makes one place "natural" and another not?
Next post: Summer in Provincetown

More Cape Cod posts