(Last Updated On: March 5, 2021)
Fargo, North Dakota, may seem far from the center of the art world, but the Plains Art Museum presents a wide range of contemporary artwork filled with meaning and beauty. It's a museum deeply connected to both the region and the world beyond.
So, at least for a while, forget about snow, wood chippers, and odd accents. Instead, open your eyes and mind to follow where the art takes you in this wonderful little art museum.
I use links to improve your experience. Some may be affiliate links for products and services I recommend. These pay me a small commission if you use one to reserve a room, rent a car, or purchase goods or services. You don't pay anything extra, but it helps keep this website running. To learn more, review my policies and disclosures.
Art and inspiration in Fargo
Although it's been around in various forms since the 1960s, I only got to know the Plains Art Museum well after its 1997 move across the river to its current home in Fargo. Since my first visit well over a decade ago, I've remains impressed with both WHAT is displayed and HOW it is displayed. There is always plenty to see, but there is also always plenty to think about.
But the Plains Art Museum has always been about more than just displaying at art. With a long-standing reputation for encouraging creativity in all its forms, traditional museum exhibitions are only part of the mix. There are also classes, workshops, lectures, performances, and more to keep the community's creative juice flowing.
Collections and exhibitions
The Plains Art Museum primarily collects contemporary work (20th and 21st century) by regional, national, and international artists working in a wide variety of media. However, the museum's collection also includes older ethnographic Native American and African art.
In addition to exhibits drawn from its own collection, the museum also hosts many exhibits and competitions featuring work on loan from artists, collectors, and other institutions.
Current exhibitions
Most of the current exhibitions – including the amazing Waasamoo-Beshizi (Power-Lines) show – close with end of summer, so don't wait to visit! (Besides, summer is a nice time to be in Fargo.)
Closing this fall:
Closing next spring:
Women Artists in the Plains Art Museum Collection (covered below)
Waasamoo-Beshizi (Power-Lines): Art by Native American Women
A work of art is more than just a beautiful or interesting object. It's a window that offers a deeper understanding of ourselves and the world around us.
I've always felt the Plains Art Museum does a particularly good job of creating exhibits that open that window. Waasamoo-Beshizi (Power-Lines) is a good example.
A sister exhibit to Hearts of our People: Native Women Artists at the Minneapolis Institute of Arts, Waasamoo-Beshizi features work by 25 contemporary female artists along with a couple of historic pieces. The contemporary Ojibwe, Dakota, Lakota, Nakota, Eastern Band Cherokee, Seneca, Cree/Flathead, and Ponca artists featured in the exhibit work in a wide variety of media and presents a wide range of perspectives.
Waasamoo-Beshizi celebrates the connections Native women have to each other and the intergenerational passage of knowledge through visual art and tradition. The title of this exhibition is inspired by powerlines and transmission towers, whose shapes are reminiscent of dresses. Many exhibiting artists engage with weaving, clothing, and textile traditions while reflecting on culture and identity. Clothing can both hide and reveal something about the wearer, can reflect individual and cultural identity, and can celebrate, honor, and remember.
Multiple meanings are embedded not only in the exhibit's name, but in every piece on display. The mix of beauty, joy, sadness, strength, and power fills the room. I found it breathtakingly beautiful, heartbreaking, and hopeful all at the same time.
Waasamoo-Beshizi (Power-Lines) is on exhibit through August 30, 2019.
Generation: Women Artists in the Plains Art Museum Collection
Like most art museums around the world, the collection held by the Plains Art Museum largely consists of pieces created by men. The Generation exhibit displays pieces created by women, arranged chronologically from the museum's start in 1965. Pieces were selected to recognize women artists and as a way to look at socio-political movements and regional trends in gender equity since the museum's opening.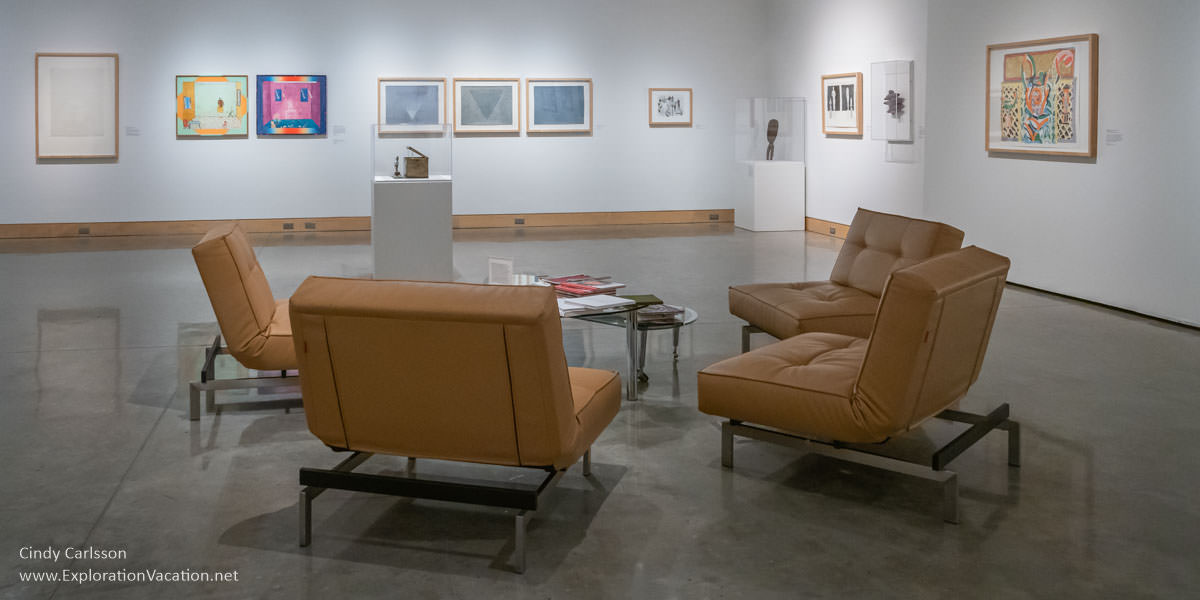 Generation is a nice show with a relatively wide range of very fine work. It was fun to see pieces by artists I recognized, but I also discovered some wonderful artists who were unknown to me. (There are so many women artists who don't get the recognition they deserve.) And I absolutely loved how many pieces had unexpected juxtapositions between the technique and subject.
On the other hand, the larger themes generally didn't come through for me. There were just too many different approaches to really understand what they all had in common – aside from the fact that they were created by women. Or was that the point? Perhaps more written information (there is almost none) would have helped me put the work in context and understand it and what it says about gender equity more deeply.
Nor did the pieces seem to relate to each other. In the Waasamoo-Beshizi exhibit (which I visited after Generations), each piece was a thread in a larger conversation. The work in Generations felt like a series of individual statements. That's ok, but it made the exhibit a less compelling.
Generation: Women Artists in the Plains Art Museum Collection is on exhibit through March 22, 2020.
Architecture for the Birds
The annual Architecture for the Birds competition combines environmental science and serious architecture. The results are fascinating.
Held in partnership with the North Dakota State University Department of Architecture & Landscape Architecture, architecture students compete to design and build birdhouses. But not just any old birdhouse.
The competition has three components:
Design a dwelling for a specific type of local bird based on that bird's preferred environment, nesting habitat, family size, and other considerations.
Base that design on the work and philosophy of an architect who has won the Pritzker Award, an exclusive list of the world's most innovative contemporary architects.
Build a bird house based on those criteria that is fully functionable for the client (the particular type of bird), made of non-toxic material, and capable of withstanding local weather.
Entries are judged on their design, craftsmanship, and livability for the client bird. Museum visitors are also invited to vote for the People's Choice Award for Best Overall Design. That award will be given at the end of the exhibit in August.
Museum facilities and building history
The Plains Art Museum is located in an old International Harvester branch house (a final assembly and storage facility) in downtown Fargo. It has studio and classroom space in the connected Center for Creativity.
When the museum moved here, this was a derelict and largely forgotten area. Today it anchors both a thriving arts community and a busy downtown district with great restaurants and unique local shops.
The historic International Harvester building
Constructed in 1904, the IH building was used to assemble and store farm equipment shipped in by rail. After sitting vacant for years, it was beautifully renovated and repurposed in the mid-1990s.Today it has 56,000 square feet of space for exhibition areas, storage and work areas, a frame shop, performance space, lounges, meeting and reception space, a café (which doesn't seem to be open very often), a nice little museum shop, and a working print studio. It's a great home for the museum that retains its historic character.
Gallery space is distributed over three floors. An additional gallery is located in an addition connected to the original building by a skybridge.
The Center for Creativity
In 2012 the Plains Art Museum renovated several other historic buildings on the block to create the Katherine Kilbourne Burgum Center for Creativity. The 25,500 square foot expansion is connected to the original IH building via a skybridge. There is gallery space in this addition (Architecture for the Birds is on display in a gallery right at the end of the skyway), but the building primarily houses studio and classroom space.
Plan your visit to the Plains Art Museum
Fargo, North Dakota, is located along the Red River in eastern North Dakota. It shares a metropolitan area and large student population with the western Minnesota city of Moorhead.
Travel to and around Fargo
Hector International Airport offers year-round direct service between Fargo and Chicago (United and American), Dallas (American), Denver (United and Frontier), Las Vegas (Allegiant), Minneapolis/Saint Paul (Delta), and Phoenix-Mesa (Allegiant). Seasonal service offers non-stop travel to Atlanta (Delta), Orlando-Sanford (Allegient), and Los Angeles (Allegiant).
Fargo is served by two major Interstate highways: I-94 running east/west and I29 running north/south. It takes almost 4 hours to drive between Minneapolis and Fargo on I-94. Driving time between Sioux Falls and Fargo is about 3½ hours along I-29. From Kansas City it's an additional 5 hours on I-29. For those coming from Canada, Winnipeg is a 3½ hour drive from Fargo on I-29.
Bus service to Fargo is available on Greyhound and Jefferson Lines.
Amtrak's Empire Builder also stops in Fargo, but the train arrives/departs at 2 or 3 in the morning.
It's possible to visit Fargo without a car, especially if you stay right downtown (which is walkable) or near one of the colleges (where there is usually regular, frequent bus service). Unfortunately, the vast majority of hotels are located on the western end of Fargo where transit service is often more limited.
Visiting the Plains Art Museum
The Plains Art Museum is generally open Tuesday through Saturday between 11 am and 5 pm. It opens earlier on Saturdays and may occasionally be open later for special events. It closes for major holidays.
The museum is free to visit.
Other things to do in Fargo (and Moorhead)
With five colleges and technical schools, the Fargo Moorhead metropolitan area is a busy place and offers a number of options for tourists.
See more art
I love the Plains art museum, but it isn't the only place to see art in the Fargo/Moorhead area. I just think it's the best place!
Learn about local history and culture
Across the river in Moorhead, the Hjemkomst Center is the home of the Historical and Cultural Society of Clay County. The museum here houses a changing array of special historical exhibits, art exhibits, and more. The facility's permanent exhibit centers on the Hjemkomst, a replica Viking ship that a college classmate and her brothers sailed to Norway one summer. (Their dad built it.) Outside the building, there is a full-size replica of a Norwegian stave church built by another area resident. It's a nice facility and easily worth a couple of hours.
Eating in downtown Fargo
Way back when I was in college there really weren't a lot of options for eating in downtown Fargo. Thankfully, that has completely changed. Today downtown Fargo is bursting with great restaurants.
Sleeping in downtown Fargo
One of the perennial problems with downtown Fargo is the dearth of hotels. And, unfortunately, that's still a problem. For now. (There seems to be a new hotel under construction.)
So you have two hotel choices downtown: The Radisson or the Hotel Donaldson. (There used to be a rather run-down Howard Johnsons, but that was demolished a few years ago.)