(Last Updated On: April 23, 2020)
Seeing the sandhill cranes at Crex Meadows this fall left me wanting to see a few more of them. A stop at the International Crane Foundation (ICF) in Baraboo, Wisconsin, fulfilled that wish . . . and provided an opportunity to see a few of their cousins too.
The ICF was founded to conserve cranes and their ecosystems around the world. Their headquarters in Baraboo is home to about 100 cranes, including at least a few from each of the 15 species found around the world. Visitors have the opportunity to see all 15 species, although at least of a few are likely to be out-of-sight at any given time.
Meet the residents of the International Crane Foundation
The area beyond the ICF visitor center is laced with trails (sometimes you can see wild sandhill cranes from the trails), but a paved path takes visitors through an exhibit area where examples of all 15 species of cranes can be found.
African cranes
The first exhibit area is for African cranes. There is a large, marshy pond at the center of the exhibit and, when we visited, a large wattled crane (native to Botswana, Zambia, and neighboring countries) was searching the muddy reeds for snacks.
(Seeing one here wasn't as cool as seeing one in the wild in Botswana, but it was nice.)
On the other side of the exhibit, smaller enclosures provide homes for more cranes.
The grey crowned cranes stayed deep in the grasses where they were hard to see, but the black crowned cranes (native to central Africa from Senegal across to Ethiopia and Eritrea) were willing to come out and be photographed.
The blue cranes (native to South Africa) were also outside.
Watching them move around in front of a wall painted to look like their African home was almost enough to make me forget for a moment that it was a grey fall day in Wisconsin!
Cranes from around the world
Most of the cranes are housed in the Johnson Exhibit Pod – a central area where each type of crane has shelter and a small yard.  When we visited, about half of the cranes were hanging out in their front yards, which made it easy for us to see them.
Of course there were sandhill cranes (native across much of North America and eastern Siberia), although there were probably plenty of wild ones in the surrounding fields and meadows too.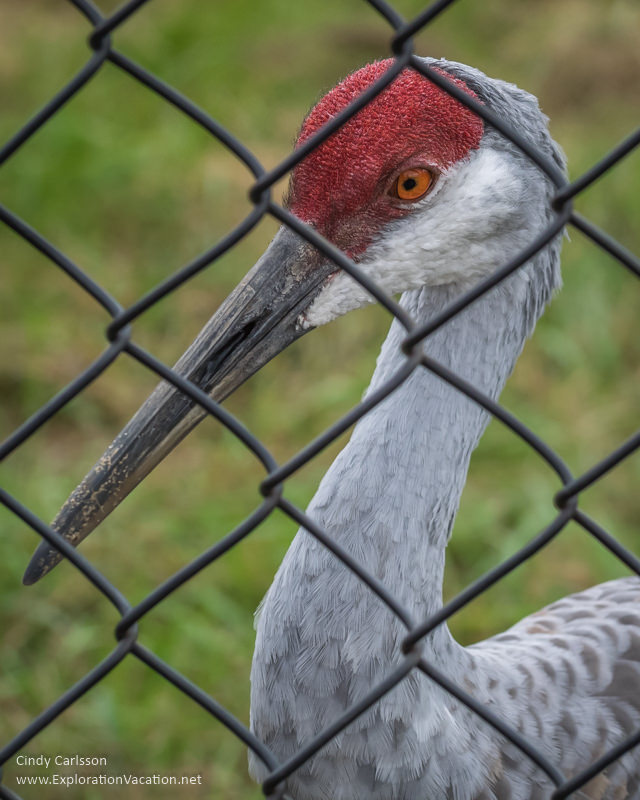 (Like many of the other cranes, there are several sub-species of sandhill cranes. I'm not sure which these were, however, judging by their large size, I'd guess they are greater sandhill cranes like the ones we saw overhead at Crex Meadow.)
There were more exotic cranes around too, including snowy white Siberian cranes (which breed in Russia, but winter in China and Iran).
There were also black-necked cranes (native to China and India, with some wintering in Bhutan), who seemed as curious about us as we were about them.
One of the Sarus cranes (native to parts of Asia and Australia) also came over to check us out.
On the other hand, the Eurasian cranes (found across a wide swath of Europe, Asia, and parts of northern Africa) were rather coy.
Nor were the hooded cranes (which breed in Russia and China and winter in Japan) particularly interested in us (there was preening to be done), but they were more than willing to pose.
North American whooping cranes
The whooping cranes have their own exhibit area.
These North American natives are among the rarest cranes in the world, with small breeding populations in northern Canada and here in Wisconsin. (They winter in the southeast along with a few non-migratory ones.)
The International Crane Foundation has been working to breed and return whooping cranes to the wild since 1989, and this is probably what the foundation is best known for. It's how I first learned about them, as their innovative efforts to raise and reintroduce these birds into the wild – like the use of staff dressed as whooping cranes and ultralight-led migration flights using planes decorated to look like cranes – attracted plenty of media attention. Today the ICF's captive breeding programs continue, but with more birds in the wild, more natural means can be used to raise and prepare chicks for a life in the wild. As in the past, the ICF remains committed to ensuring there are places across the globe where cranes can thrive.
The International Crane Foundation is located just outside Baraboo, Wisconsin. It is open to the public daily between April 15 and October 31. An admission is charged to visit the facility.
This post is linked to Travel Photo Thursday at the Budget Travelers Sandbox.