(Last Updated On: April 19, 2020)
Texas Hill Country is littered with historic towns of varying degrees of charm. A few of these (Fredericksburg and Gruene, among them) have become major tourist attractions – places where their considerable charm is diminished by traffic and the inability to find parking during busy seasons. Others, however, are less well-known and, thus, not yet ever over-run with tourists. The downside of a visit to one of these towns is that they might not be open when you arrive.
Yes, you read that correctly: They might not be open.
Take, for example, the charming, but rather quiet, town of Comfort, Texas.
Established in early in the 1850s by intellectual German freethinkers who opposed slavery and supported free speech, women's suffrage, and secular schools; the settlement was quick to establish a school and civic structures, but remained without a church until 1892 when the railroad brought more traditionally-minded residents into the area. Over time the settlement became a substantial town with a wealth of beautifully designed and constructed buildings.
Despite devastating floods, Comfort retains many of those original buildings (nearly the entire historic townsite is listed on the National Register of Historic Places), including commercial and civic structures such as the Old Comfort State Bank, Ingenhuett-Karger Saloon, Faust Hotel, a theater, and a beautifully constructed blacksmith shop. These are complemented by a large number of historic homes in a variety of sizes and styles.
It's a lovely place to wander.
Unfortunately, wandering was about all we could do. During much of the week, most shops, the historic hotel, and all of the downtown restaurants are closed.
One Hill Country tourism organization touts this as a benefit, explaing: "A good deal of Comfort's charm is in its relative tranquility compared to Fredericksburg and Boerne. Visit on Monday and you'll find nearly the entire town closed."
Unfortunately, we found this was also the case on the Wednesday when we visited. We'd planned to have lunch at one of the downtown restaurants, but slowly discovered that none were open for lunch.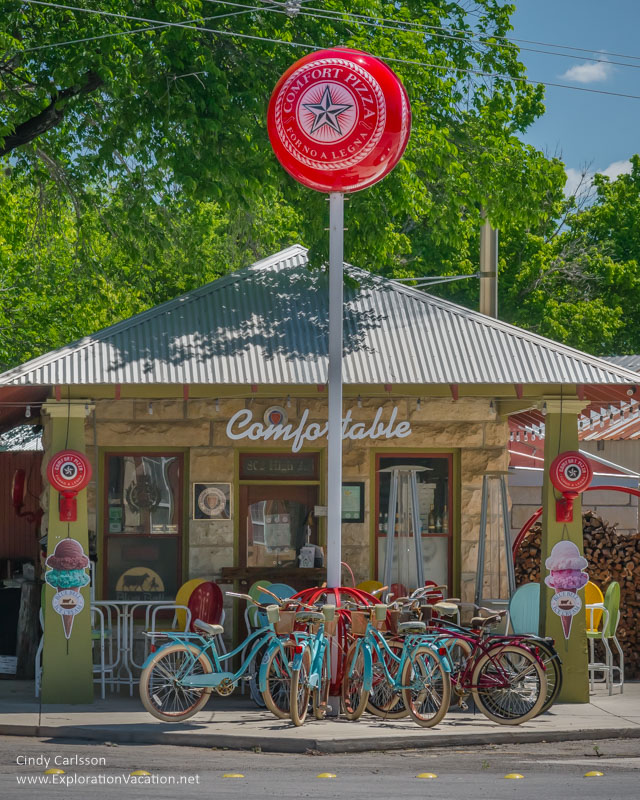 (The local distillery would have been a great stop . . . if only we could have found some food to go with our drinks!)
This one looked promising . . .
. . . until we came around the corner!
We also discovered during our restaurant search why I had been unable to book a room in Comfort – not only was the Texas Bistro closed today, but so was the hotel.
And here I had assumed there weren't any rooms available because they were booked solid for Tuesday and Wednesday!
While we didn't find a restaurant, we did find a couple of open antique and craft shops with all sorts of interesting things.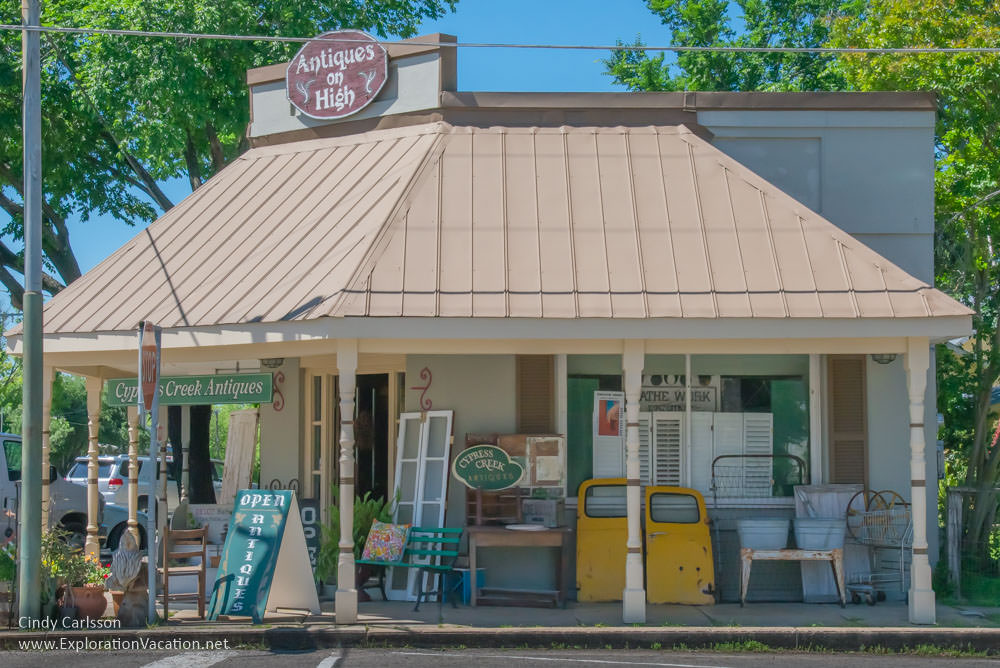 I even found a couple little things that needed to come home with me, so it wasn't like we completely struck out on our visit. Still, I'm pretty sure I need to plan a return trip.
Despite finding everything closed, I can see the charm of Comfort and will probably plan an overnight stay there on a future Hill Country trip . . . over a weekend when everything is open. As for lunch on this trip, we ended up in the "new" part of town at the highly recommended Cypress Creek Inn Restaurant, where we found the much lauded food even worse than the oft' maligned décor. Consider yourself warned.