(Last Updated On: October 20, 2020)
Spanish for the fifth of May, Cinco de Mayo celebrates the day in 1862 when the Mexican army defeated invading French forces.
It's not really a holiday in most of Mexico. However, in the USA it has long been the focus for celebrations of Mexican heritage and culture.
Saint Paul's Cinco de Mayo parade
Despite being in the extreme north of the USA, Saint Paul, Minnesota, has a sizable population with Mexican ancestry.
While Mexican-American communities are found throughout the metro area (and throughout the state, for that matter), Saint Paul's West Side has long had a particularly large and vibrant community. To celebrate that culture and history, the community throws a party each spring to celebrate Cinco de Mayo. That celebration offers food, music, contests, and a parade.
 A lively parade on a beautiful day
The Saint Paul Cinco de Mayo parade has the same mix of princesses, politicians, businesses, civic groups, and marching bands one would expect at any parade. However, it also has a very obvious Mexican flavor, with brilliant colors and Mexican themes. There are also a lot of children and families participating, rather than just watching. (It's like Saint Paul's Saint Patrick's Day parade in that way.) There are also a fair number of dancers (also like St Pat's Day). All of which makes it a whole lot of fun.
I don't have any pictures of myself swinging down the street with Senator Franken, but I do have a few photos that hint at how much fun it all was.
Snapshots from the Cinco de Mayo parade
Lots of children actually participate in the parade, as Mexican folk dance groups, Latino youth organizations, religious groups, and Spanish immersion schools from across the metro area come to celebrate.
The area's Aztec dance groups (yes, we have more than one in chilly Minnesota!) also come together for the Saint Paul Cinco de Mayo parade.
There are more modern dance groups too.
A couple of marching bands perform more traditional parade music. (I love seeing them even if I hated being in marching band myself.) I'm particularly fascinated by the Farnsworth Pre K-8 Aerospace band, who march in space camp uniforms!
(It turns out that, as sixth graders, students at this Saint Paul public school can attend Space Camp at the U.S. Space and Rocket Center in Huntsville, Alabama.)
However, not all the parade's musicians are so serious.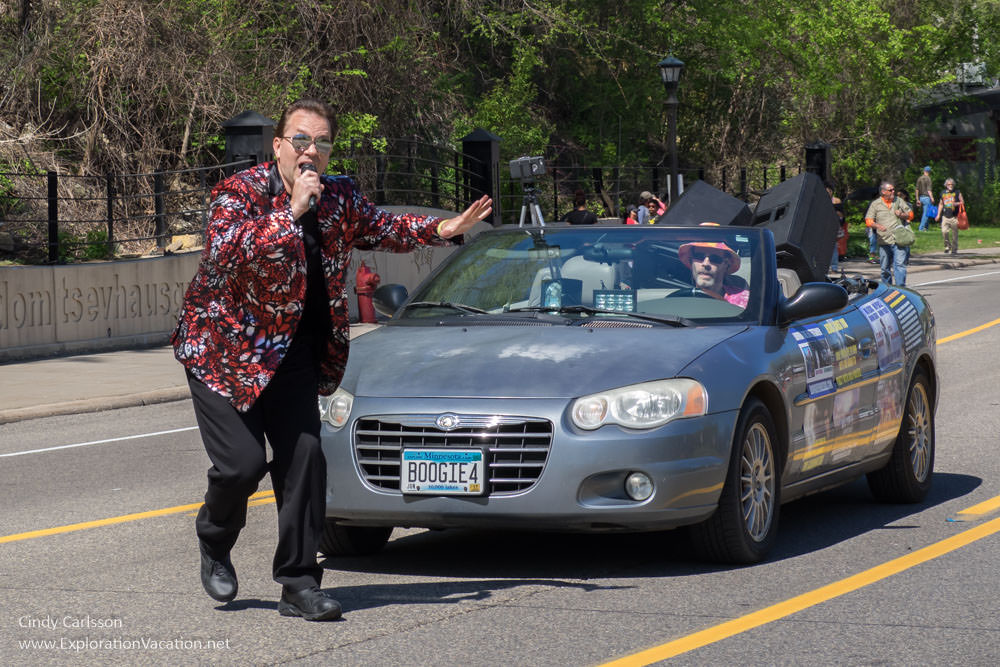 Along with music, every parade needs a few princesses, and there are plenty of them here today. Many are from right in Saint Paul, but neighboring communities are also represented.
They are all friendly, like the Lakeville princesses who happily pose for pictures.
The Saint Paul Winter Carnival royalty is also out in force. With a couple of well-amplified trucks sending music far down the street, everyone waves, dances, and has a good time.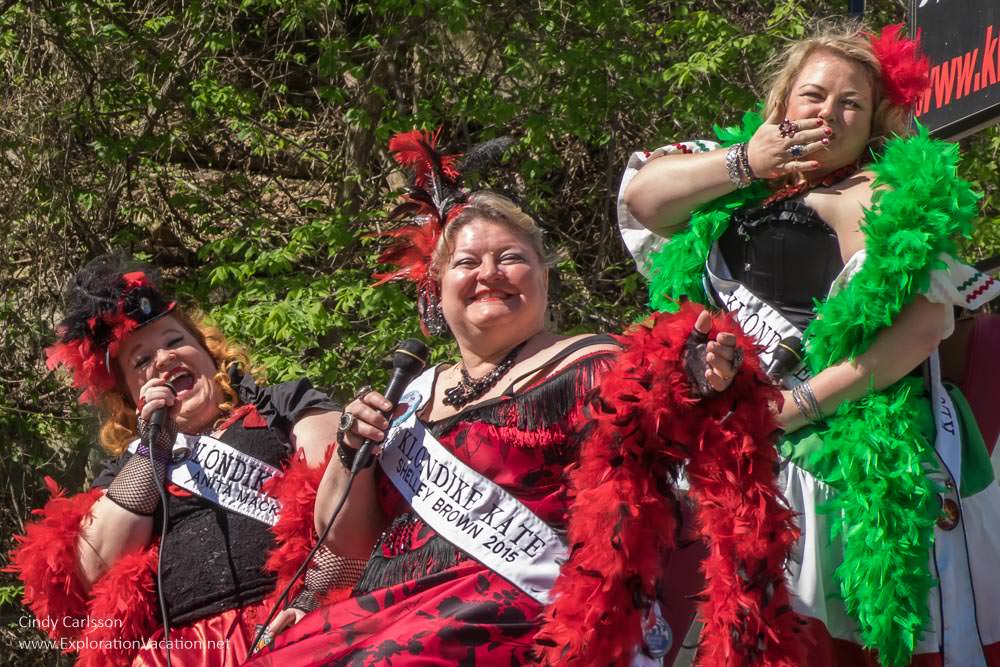 It certainly seems that everyone is having a good time at the Saint Paul Cinco de Mayo parade, including the not-fully human participants!
While the Minnesota State Fair's younger mascot Fairborne was greeting children along the parade route, Fairchild snuck up behind me. It's a bit of a surprise to turn around and suddenly find yourself face-to-face with a furry rodent taller than you are! At least he's a friendly rodent.
But that encounter with the State Fair mascots sort of sums up the whole Saint Paul Cinco de Mayo parade – a bit unexpected, a lot of fun, and very friendly.
See Saint Paul's Cinco de Mayo parade yourself
There are a few Cinco de Mayo celebrations around the Minneapolis-Saint Paul metro area, but the big one is always held by Saint Paul's West Side community.
Saint Paul's West Side Cinco de Mayo celebration is always held on a Saturday. Sometimes that's  actually May 5, but other years it may be a few days later. The 2018 celebration will be held on May 5 from 9 a.m. to 6 p.m. The parade is held in the morning as part of a full day of events.
See the West Side Cinco de Mayo website for a full schedule of events.
All festivities are held in Saint Paul's West Side neighborhood. Note that Saint Paul's West side is EAST of downtown on the other side of the Wabasha Bridge. (The neighborhood is on the west side of the Mississippi River, which makes a big loop as it splits Saint Paul.)