(Last Updated On: February 26, 2023)
There is a treasure trove of western art tucked away in a nondescript office building at the headquarters of Basha grocery chain in Chandler, Arizona.
The Basha Collection of Western and American Indian Art
The Eddie Basha Collection of Western and American Indian Art, is a public exhibit of a very personal collection. Reflecting the artistic passion of former Basha's chairman Eddie Basha and his Aunt Zelma Basha Salmeri, the collection focuses on contemporary art of the American, both work by cowboy artists and Native Americans of the southwest.
Cowboy art
Cowboy art is not really my thing, but the work on display is all of high quality and many of the bronzes are amazing.
Even if you aren't a big fan of this type of art, wander back to the far corner of the collection, past the collection of presentation pistols, to the display of letters various artists sent to Mr. Basha. Many of these are works of art, each adorned with a miniature sketch or painting. It would be a real delight to find one of these in the mailbox along with the bills and junk mail!
American Indian art
The Native American part of the collection includes a large number of incredibly intricate carved kachina (katsina) figures.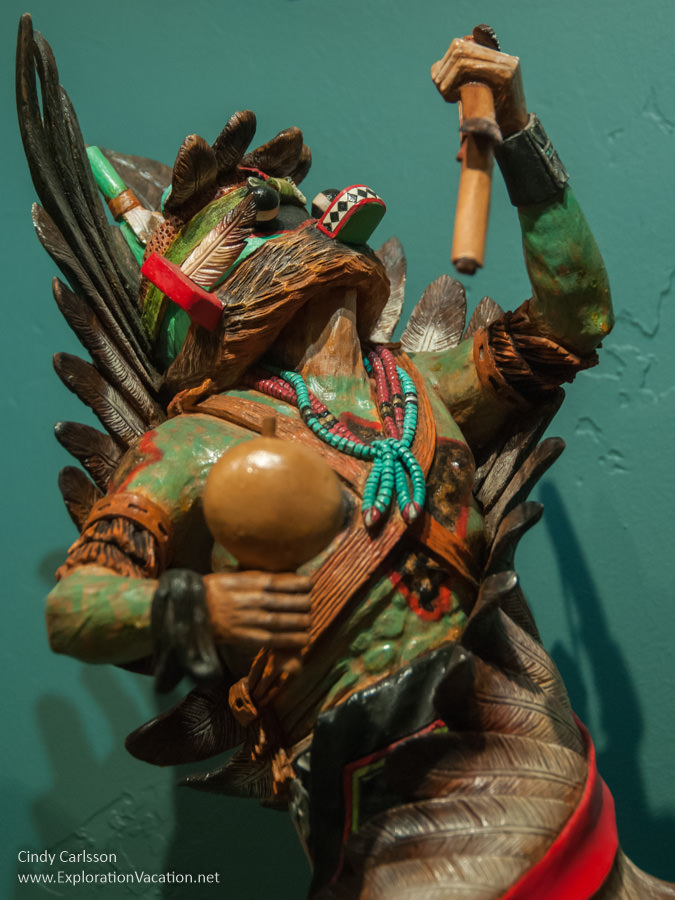 The walls around them are covered with sketches that seem to have served as a model for the final carving, each of which is a work of art itself.  (It would have been fun to see a sketch displayed with the corresponding kachina, but there didn't seem to be any sets like that.)
There is also a relatively small (in comparison), but exquisite collection of southwestern pottery on display.
A separate room houses a remarkable display of Native American baskets collected by Basha's aunt.
Visiting the Eddie Basha Collection
The Basha Collection is organized, to the extent possible, by artist. (Depending on the amount of work in the collection, a shelf, wall or a whole room is generally devoted to the work of one artist.) This makes it an excellent place to see a full range of work by a single artist. It would be a great classroom for any student of western art!
Overall, the museum is a little overwhelming and busy: Seemingly every surface is covered and not all objects are displayed at an ideal height. (The small amount of jewelry in the collection includes display shelves that are too high for an average-height woman to see.) On the other hand, very few pieces are behind glass, allowing for an unusually close examination of these precious objects.
But all in all, it is an amazing collection. Take the time to head down to Chandler to see it the next time you are in Phoenix.
And thank the Basha family not only for keeping Eddie Basha's collection together, but for sharing it with all of us at no charge.
Save