(Last Updated On: March 5, 2021)
I'm starting to think about this winter's trip to Arizona. In the process I'm looking back at some of our previous trips. For example, last year we had the good luck to be in the Phoenix area for Microdwelling 2014 at the Shemer Art Center and Museum in Scottsdale.
The Microdwelling event is part art fair/part trade show. During the year each team designs and builds a tiny structure that functions as a home, office, or studio. These buildings are on display during the exhibit. While this is a lab and showcase for micro living, many of the buildings are also prime examples of extreme recycling. The exhibition is open to the public and includes music, food, special events (there was a beer tasting happening the day we visited), and access to the gallery space inside the Shemer Art Center. All that activity made it a little difficult to actually get to the exhibit area, but once we were there, it was easy enough to tour the structures and visit with their creators.
It was really easy to walk through a few of the dwellings, as a couple were little more than sturdy canopies or, like Jeff Richards' all-in-one performance space and band housing, a few partial walls.
Here's another example of serious open-air living from one of the other design teams.
The shipping container homes were at the other extreme. Despite the cheerful colors and dazzling functionality of Marie Jones' take on a micro living, it felt a little claustrophobic inside on a hot sunny day.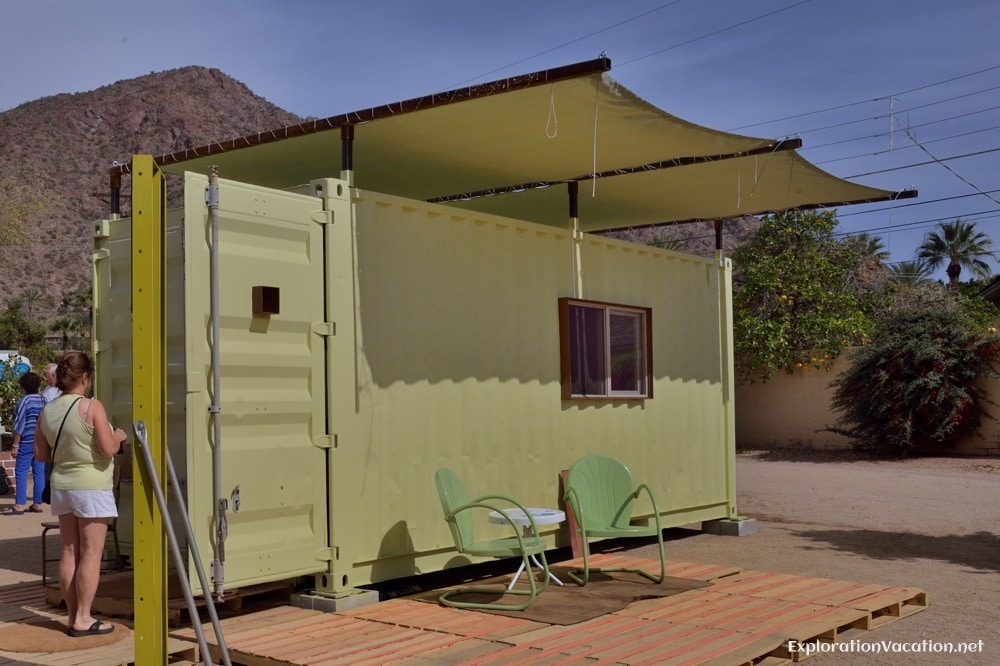 There were a lot of examples that fell somewhere between too open and too enclosed. For example, the mostly glass box created by Traci, Starin & Alba was truly designed for indoor/outdoor living, with clever features such as tables (and even a doghouse) that slid through the wall to be used either inside or outside the structure.
Of course, I liked the built-in planter boxes too. A little greenery goes a long way to make a building more welcoming!
One of our favorites was the artist's studio/microdwelling by Todd Armfield and Michelle Goodlive.
At just 480 square feet it was small, but not claustrophobic, making it the perfect vacation cabin.
While all of these structures were designed to be picked up and moved, some were actually built right on a trailer, making them fully portable. Jeff Richards' stage/dwelling was designed this way. So was the most massive structure on display, Michael Phillip Pearce's stripped-down take on the traditional travel trailer.
I liked both the Steampunk meets Winnebago RV aesthetic and the way that industrial look contrasted with the palm trees. This would look really cool parked in a shady oasis at the foot of a mountain somewhere. You'd want to pick your site carefully though, as it looked like it would require a semi to relocate this travel trailer!
There were several smaller examples of micro dwelling trailers too. My favorite of these was Modern Palette's portable studio/dwelling.
Designed and constructed by the students from Arizona State University's Design School, the structure is incredibly functional, despite its tiny footprint (32 square feet when closed, twice that when the wall is open). I couldn't find an inch of wasted space, as every nook was designed to be functional. It would be the perfect trailer to haul to your favorite spot for the weekend – so perfect I was going to recommend that a friend of mine get/build one . . . until my husband reminded me that there isn't a road into her property, just a trail through the woods. Modern Palette did a great job of designing a really portable structure, but it isn't quite hike-through-the-woods portable!
Our absolute favorite structure was Dan Dwyer's Green Rhino Pod.
Although not designed for portability, this environmentally friendly styrofoam building was designed to look and function like a more traditional structure. I loved its mid-century modern feel (not to mention the mid-century style pieces – and those cameras! – used to decorate it) and the fact that you could combine multiple units to create a house that I could actually imagine living in!
I love the idea of small space living (not that I could ever actually do it), so it was fun to see how these designs allowed a lot of living without a lot of living space. I was also fascinated by the green technology that went into many of them. Besides the obvious recycling aspect, many incorporated cutting edge materials and construction techniques. I'm pretty sure that we'll be seeing a lot more of these concepts and materials in the future.
While the exhibit is open, project teams will be on hand to talk about their buildings and, in some cases, take orders for structures. (Be prepared to wait in line to enter the buildings – because they are very small, only a few people can go inside at a time.) You can generally expect the Art Center itself to be open during exhibition hours. Watch for special events as well.
Pizza Shovel
Visiting the Shemer Art Center
All Phoenix posts