(Last Updated On: October 17, 2018)
Lunchtime at the Milwaukee Public Market
Arriving in Milwaukee on a rainy afternoon, we knew exactly where to head for a late lunch: the Milwaukee Public Market.
Located downtown in the city's historic Third Ward, the Milwaukee Public Market is a modern take on an old-fashioned idea housed behind a modern facade. Like other markets around the country, it is based on Seattle's Pike Place Market. Unlike many of them, it has a delightful mix of reasonably priced dining, groceries, and shopping.
It's also usually really busy, but mid-afternoon on a rainy day proved a quiet time to sample some of the goodies available.
(It wasn't quite as quiet as it looks in the picture!)
We were hungry, so set about looking for lunch as well as snacks for later.
While a sit-down meal at the St. Paul Fish Company was really tempting (as in $16 lobster dinner tempting), we picked up a couple of items at a variety of spots (oh, the challenge of choosing among soup, salads, pasta, pizza, stir-fry, and more!) and then headed over to Thief Wine's spacious bar and expansive wine list.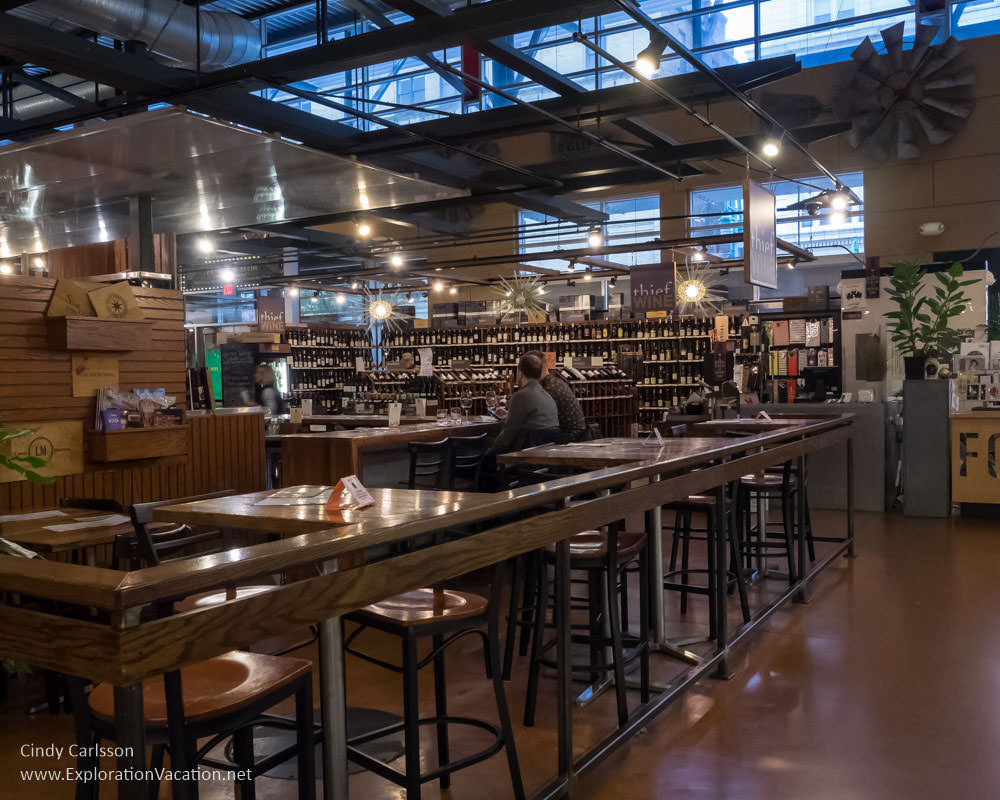 We even found a dessert to pair with a nice port.
This is one of my favorite things about the Milwaukee Public Market, that Thief Wine invites shoppers to pick up food at other vendors and then take it to their bar to eat with a glass (or two) of wine. (They have snacks available to go with your wine too, but they really don't mind if you get your food elsewhere.) It's so much more relaxing than perching at a table in a food court.
The only thing better is the salmon crack (sweet smoked salmon bits) from the St. Paul Fish Company. (Which you can eat anywhere.)
The Milwaukee Public Market is a great spot for hungry residents and visitors alike – just don't expect to be the only one there!
The Milwaukee Public Market is located at the edge of downtown in the historic Third Ward. Parking is available along the street (if you have a phone app for the meter) or in a parking lot by the market (validated with a purchase at the market). The market is open daily.
All food shops are located on the main floor, with the second floor providing space for events, classes, dining, and just hanging out.
I visited the market as a guest of Visit Milwaukee and received a much appreciated discount on my purchases, but I really enjoyed my visit there and think this is one of the better public markets I've visited.