(Last Updated On: July 3, 2022)
The northern coast of Northern Ireland can be lonely place that feels lost in time.
Dunluce Castle (Dún Lios) is a melancholy-feeling place that hangs forlornly above the sea as if the ruins are perpetually standing watch over this rugged coast.
While fortified since ancient times, the first castle was probably built here by the 1200s. The site became the stronghold of the MacDonnells in the 1500s and reached its peak of prestige and wealth in the 1600s under Randal MacDonnell and his wife, the wealthy and urbane widow of the Duke of Buckingham.
It is said that the Duchess hated the sound of the sea. . . how she must have despised this place where the sea is ever-present!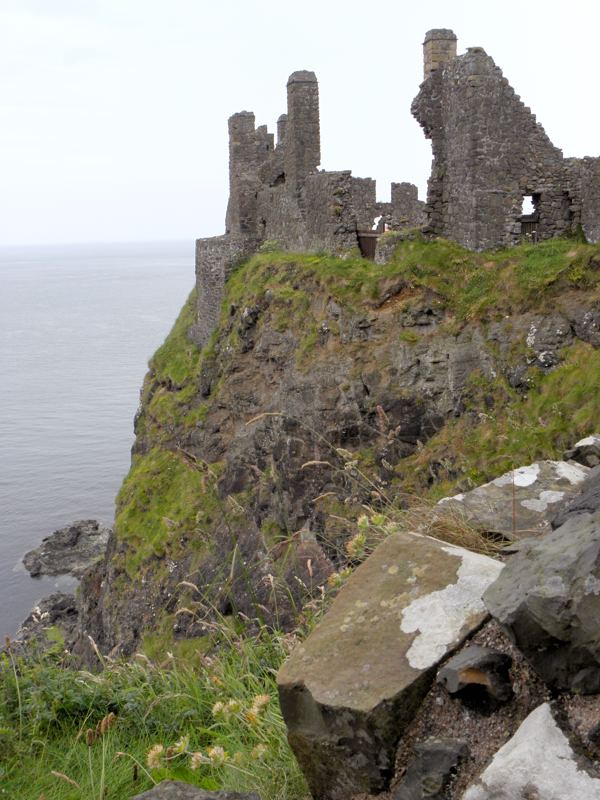 I know this was once a place of lively activity, but I can't capture a sense of what that time would have been like. It's hard to imagine the elegant manor house that once featured the stately bay windows – empty now – or picture the rich furnishings and elaborate life that was once lived out in these destroyed rooms.
I wonder too how the wealthiest woman in England came to live in this place – how she ended up in a marriage that took her so far from her life in London? Was it only the sound of the sea that she hated or was it everything it represented? Did it remind her off all she had left behind – of an old life she wished were still hers? When the Duchess lived here this castle was part of a bustling town, but still, this rocky outcrop must have seemed a lonely and isolated outpost.
The beginning of the end for Dunluce came on a stormy night in 1639 when the structure housing the kitchen fell into the sea, bringing a number of servants and valuable possessions along with it. At this point Lady Buckingham moved into the surrounding (now long vanished) town. The Catholic uprising came soon after, bringing unrest and a number of sieges until the castle was abandoned forever following the Battle of the Boyne in 1690.
The last time I was here the howling wind was whipping the sea into an angry froth, but even today – with the air still and the sea calm, it is easy to believe the sea is only resting, just waiting for another opportunity to take back this lonely outcrop.
Thank you to our friend Andy for letting me use some of his photos.