(Last Updated On: December 10, 2020)
In and around Maun
We have had breakfast and are waiting for Kaiser. Last night we asked him to pick us up at 8:30, rather than the original time of nine.
A starling flies by. The starlings here are so beautiful! They are a gorgeous iridescent blue that glitters in the sunlight. It's hard to believe they are related to the plane Jane starlings at home.
Betty helped us make a list of good places to stop for pottery, baskets, and other crafts and now we are all eager to get started. K and M can't stand the waiting anymore and call to find out when we are leaving. It is almost 9 a.m.! My husband and I watch the birds. Kaiser will be here when he gets here, probably right at nine.
Kaiser arrives promptly at nine. He says our first stop will be the gas station in Maun, but the turn-off to the pottery studio is not far from here and we have pottery shopping on our minds. As we approach the turn off, we ask Kaiser to make the turn. He does so, but under protest:
It could be a long way and I don't know how much gas we have.
The sign says it is 4 km.
The sign could be wrong, it could be much farther.
It is clear he doesn't want to do this, so after 2 kms we agree to go into Maun and get gas and then come back.
Maun is located south of the Okavango Delta on the banks of the Thamalakane River. Although it is the dry season, the river is flowing and it's green floodplain is a lattice work of fenced pastures sprinkled with grazing donkeys.
Maun has long been a main point of departure for travelers headed into the delta and the northern game parks. It is a busy, bustling place. With no natural barriers to stop its spread, the village sprawls out across the landscape. Small commercial hubs with two story brick or stucco buildings anchor the strip malls, corrugated metal buildings (mostly small shops), brightly painted cement block government housing, schools, and rondevals that spread out loosely in all directions. The streets are alive with people and animals. Despite a population in excess of 30,000, Maun is classified as a village, not a city, and donkeys and goats roam the streets, intermingling with cars, buses, donkey carts, shoppers, and school children.
As it turns out, the truck had plenty of gas, but with a non-functioning gas gauge there was no way for Kaiser to know that. He has a different vehicle this morning. It is larger, but with has less leg-room. It is also very high and very hard to climb up into. The bench seats seem configured somehow to maximize discomfort. I'm not at all impressed with this vehicle. Besides the comfort factor, it doesn't run particularly well and seems to have a lot of things (like the broken gas gauge and speedometer) wrong with it. This appears to have been a bad exchange.
Since we are in town, we stop at the Bushman Craft Shop/General Trading Company and African Art and Images, which are near each other across from the airport. They both have a good selection of high end work, but General Trading also has quite a mix of other things – tee-shirts, books, key rings, and such. On this trip I am confining my shopping mostly to souvenirs, so I end up spending my time and money in General Trading.
At General Trading I find a teeny tiny ostrich egg shell belt that I covet, but know I will never be thin enough to wear. The workmanship is exquisite, but the price – while completely reasonable — is too much for something I can never use. Instead I buy funky locally-made placemats, a tee-shirt, Tuareg jewelry from the Sahara, a picture book, Veronica Roodt's fabulous book Trees & Shrubs of the Okavango Delta, and a few small miscellaneous items. Somehow, in this country where I am given an itemized receipt when I buy two postcards, I end up without one here. This leaves me unable to reconcile the price of my purchases with the amount on my credit card statement – a little thing, but one that leaves me repeatedly searching through my purchases in search of it.
We check out a coop grocery store, which is very interesting. I study the vegetable seeds on display and determine that the greens in the mixed vegetables must be kale. K and I pick out a bag of maize meal to take home. We find the fabric store, but there is nothing particularly interesting in stock. We end up at the outdoor market. It is almost noon and the heat is oppressive. I buy a bag of the dried vegetables, intending to take them home to cook an African meal for my friends. (Later I will ask OT to cook them up, once I realize I will never get them through customs.)
We never find the hardware store.
Since it is getting late we decide to skip the rest of the shopping list and head straight to the pottery studio.
The drive to Okavango Ceramics is lovely, as we pass through the first mopane woods we have seen. When we arrive we find out that Kaiser knows exactly where it is – like a number of other places we come across, he once worked here – and that the sign is accurate.
The woman who runs the studio is delightful. She has been in Botswana for 30 years, having moved here from Zimbabwe when it was bad before. We look at the pottery on display in a dark shipping container and talk about the situation in Zimbabwe and in the world in general. We purchase a number of pieces — the arrival of which we still await some months later.
From the pottery studio, we head north, back to the Okavango Delta and Moremi Game Reserve.
On the Road to Moremi
On this day you will enter the game parks of Botswana. Starting with Moremi Game Reserve where you will spend two nights exploring the heart of theOkavango Delta.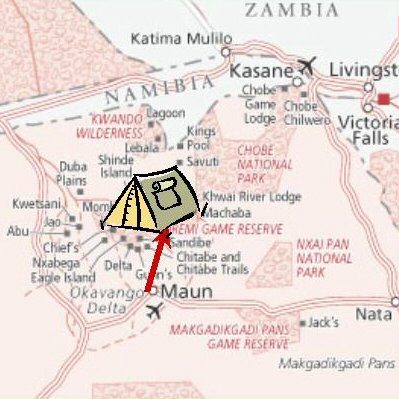 Once we leave the paved highway we drive for many miles through mopane forests. The structure of these small trees and the leaves which have turned red and lie in piles on the bright white sand reminds all of us of the woodlands of northern Minnesota after the very first snow has fallen. The resemblance is uncanny.
Evening in Moremi

We arrive in time for an evening game drive and start off by seeing our first giraffe.
We also see antelope – the impala that we will see everywhere in the coming days and a pair of tsessebe, which we will not see again. We stop to watch hippos, who turn and watch us.
Heading to the campsite, we come around a bend where three elephants are tearing apart a tree and the surround shrubs as they dine.
We stop and watch for a bit and then Kaiser puts the truck in reverse and parks us seemingly within a trunk-length of one of them. We are probably 20′ away, but the nearest elephant seems really huge and REALLY close. This huge elephant is next to me — and I scoot away from the side of the vehicle into the center of the seat. Being this close is both exhilarating and terrifying.
The elephant doesn't seem to know quite what to think of the situation either. He doesn't seen to really like us there, but clearly isn't threatened by us either. Kaiser leaves the engine running. I think this is so we can make a quick get-away if needed (we've learned while watching the antelope that the engine on this vehicle won't re-start on the first couple cranks), but Kaiser says it is so the elephants – which don't have very good eyesight – won't forget we are there. We watch until it is almost dark.
Our campsite is just down the road from the North Gate campground. When we arrive we find the table set for dinner and the tiki torches burning brightly outside our tents. The tents are set between trees about 30 feet from a spot where the Khwai River forms a pool favored by hippos. As we arrive at camp, the hippos are bellowing and calling from the water behind our tents. Hippos are VERY loud.
It turns out that we are actually camping on top of the trails that link the hippos' pool to their grazing areas. Each of our tents has been set on top of a trail between the trees. By blocking all of the trails, Kaiser insists that the hippos will go around us instead of trying to cut through the campsite. I am skeptical, but the tent we have is actually set up in front of a tree, so I'm pretty confident they won't try to get through on that trail anyway!
During the night I awake to the sound of slow, steady, and very heavy footsteps coming my way. Stomp, stomp, stomp. . . . Since there is a tree between me and the hippo, so I simply wonder what he will do when he realizes the path is blocked. The footsteps stop about 10 feet from the tent (probably 15 in reality). There is silence for a few minutes, followed by a loud bellow that could be made only by a very large, very unhappy hippo. I think this hippo is saying GET OUT OF MY WAY RIGHT NOW.
There is silence for a few minutes and then I hear a softer, more snuffly, questioning sound. Again there are a few moments of silence and then I hear the footsteps moving to the side. After a half-dozen steps, thereis silence, and then a different loud bellow.
This time there is an answer. Soon all the hippos in the pool seem to be calling back and forth to each other, perhaps complaining and passing on word that there is an obstacle blocking the path tonight.
I fall asleep to the hippo's serenade.
All Botswana safari posts