(Last Updated On: November 22, 2019)
Lakewood Cemetery is probably the preeminent cemetery in Minnesota. It isn't the state's oldest, or even the oldest in Minneapolis (that honor goes to the Minneapolis Pioneer and Soldiers Memorial Cemetery,  which was clearly visible through the windows of a friend's apartment many years ago), but it has served as the final resting place of many of Minnesota's most illustrious citizens.
Now is a good time to visit because those of us still among the living are out sprucing up the graves, scattering bouquets throughout the cemetery.
When (if) one thinks of "cemetery architecture," various types of gravestones and monuments is probably what comes to mind.
But there is architecture on a much larger scale here as well. Most of the cemetery's buildings are open to visitors today, allowing a comparison between three quite distinct periods and styles in the form of:
•    A sleek, but natural, contemporary structure
•    A 1960s modernist structure with a hint of 1930's monumental style, and
•    An early 20th century Art Nouveau take on Byzantine architecture -with a hint of Arts and Crafts.
We begin with the newest of these, the newly opened Lakewood Garden Mausoleum. Designed by Joan Soranno and John Cook of HGA Architects and Engineers, the building is a graceful mix of sleek minimalism and well-grounded natural materials.
The Garden Mausoleum shares a courtyard with the Memorial Mausoleum. Built in the mid-sixties, the Memorial Mausoleum was designed by the Detroit firm of Harley, Ellington, Cowin and Stinson. To me, the exterior harkens back to the 1930s, but dark, plush interior has slightly cartoonish stained glass windows (based on themes from inspirational poems and religious songs) that seem very much a of the 1960s.
That leaves one must-see building left to visit while we are here.
As far as I'm concerned, one of the most beautiful buildings in the entire state is the Lakewood Memorial Chapel.  Completed in 1910, the chapel's structure was designed by local architect Harry Wild Jones who took Istanbul's Byzantine Hagia Sophia as his inspiration. I can easily see the Byzantine influence on the building's exterior.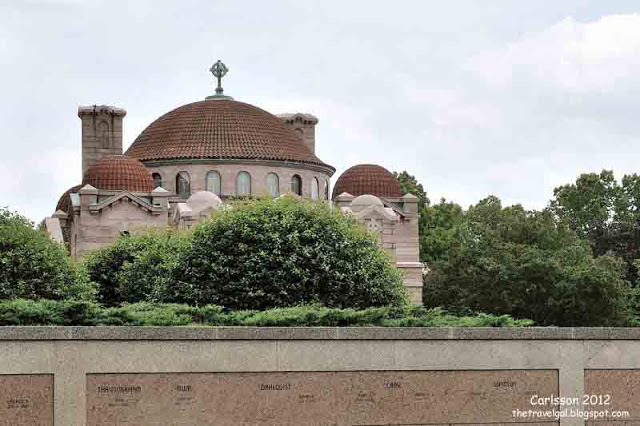 The interior is another matter. Designed by Charles Rollinson Lamb, the interior was influenced by the Basilica of San Marco in Venice, Italy. . . or so it is claimed. It seems to me more like a wonderful mix of Art Nouveau and Arts and Crafts! (Those angels are classic Art Nouveau female figures.) Whatever the style, the 10 million-plus mosaic tiles of marble, colored stone, and glass fused with gold and silver make for a stunning interior.
The chapel is not regularly open, but can be visited on request if not otherwise in use. Information is available at the cemetery's Administration Building.