(Last Updated On: January 24, 2023)
The Mayan city of Kabah, Mexico, was once among the largest in the Mexican Yucatán. Today Kabah's ruins are part of the Pre-Hispanic Town of Uxmal UNESCO World Heritage site. While Kabah's archaeological zone isn't as grand or extensive as that of Uxmal, it has a few unique features that make it well worth visiting. (Fully updated 12-2022)
Pondering the ruins of Kabah in the Mexican Yucatán.
Kabah probably was first inhabited around the 3rd century BC. However, what remains today mostly dates from the 8th to 11th centuries. Like Uxmal, the site was probably abandoned by 1200. Unlike Uxmal, which remained a pilgrimage site long after being abandoned, Kabah seems to have been pretty much forgotten until the mid-1800s.
Kabah's Mayan ruins cover a large, but largely unexcavated, area. However, what has been excavated and restored includes some very unusual elements – including a few you won't see at Uxmal.
What makes Kabah special?
Kabah is only a dozen miles from the ruins of the larger city of Uxmal. The two were connected via a raised white road called a sacbé. This and other finds suggest a close relationship between the two.
Both cities are located Mexico's Puuc region, a hilly area ("Puuc" means mound or hill) in the Yucatán peninsula. Much of the Mayan architecture in this region is referred to as Puuc-style.
Puuc-style architecture is particularly noted for:
Lime cement cores that made for stronger walls and arches
Upper façades decorated with complex designs formed from pre-cut stone
Undecorated lower façades
These features help differentiate Puuc architecture from that found in neighboring regions.
However, despite the fact that Kabah and Uxmal were only a short distance apart and likely closely connected politically and economically, the Kabah's architecture has a few elements not found in Uxmal or at other Puuc sites.
Foremost among these: Kabah's use of large roof combs (a feature found in Mayan architecture from other regions, but rare in Puuc structures), a fully decorated building façade (common in Chenes-style Mayan architecture from a different region), large realistic sculptures of humans, and carved narrative panels. And all of these are pretty interesting to see even if you know nothing about Mayan ruins!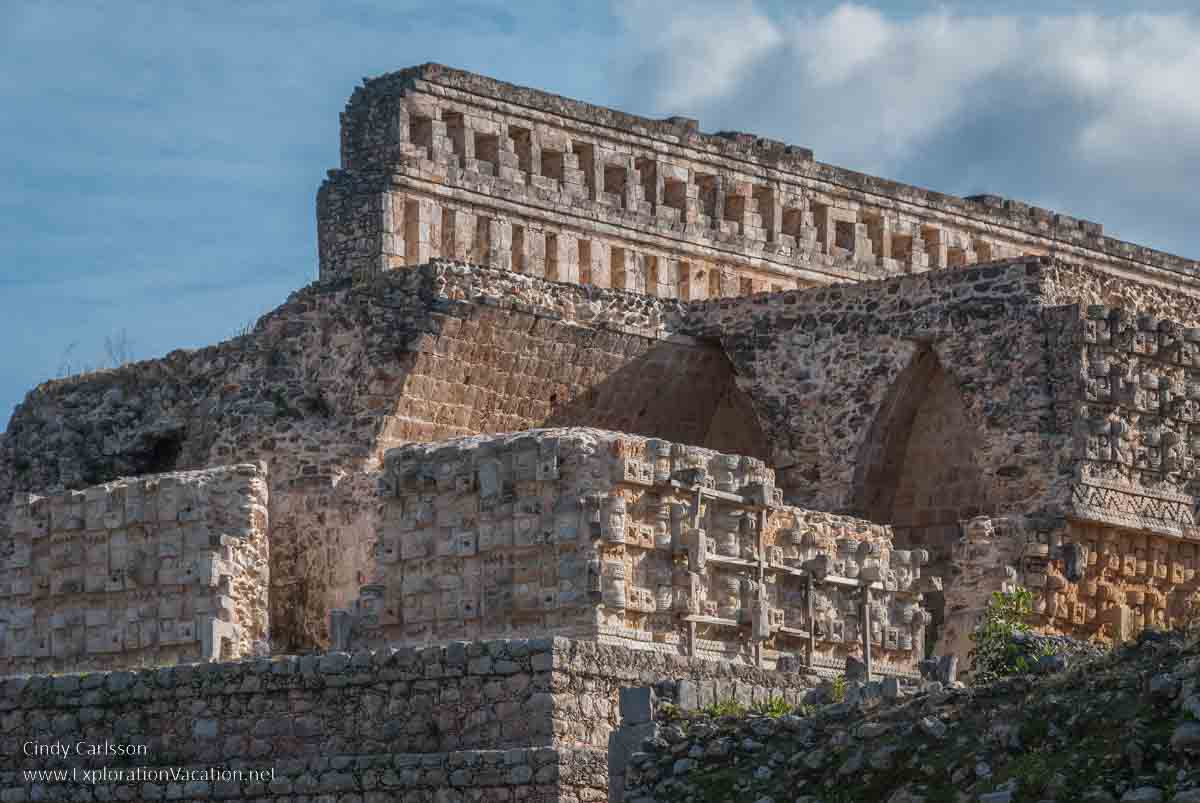 Both of the largest ruins at Kabah are topped by large combs.
Exploring Kabah's Mayan ruins
The largest excavated ruins at Kabah are adjacent to each other. To one side the "Palace" (Palacio) dominates. On the other side, a massive multi-level platform supports the site's most interesting structure, the Codz Poop (Palace of the Masks).
The Palace group is on the left, the Codz Poop (Palace of the Masks) Complex on the right.
There were a couple of people over by the Palace when we arrived, so we started our exploration at the Codz Poop. (I'm always trying to avoid crowds!)
Codz Poop (Palace of the Masks or El Palacio de los Mascarones)
No matter how many people are already there when you visit, if you only have time to really explore one part of Kabah, make it the Codz Poop. (Pronounced Codes Pope and also called the Palace of the Masks or El Palacio de los Mascarones.) All of the features found ONLY at Kabah are located here.
But first you have to get to the Codz Poop, which sits on a very large multi-tiered platform.
The enormous platform below the Kabah's Codz Poop Complex is part of a water catchment and storage system.
Climb the (very narrow) steps and you'll land on a lawn below another platform.
There are a few vertigo-inducing Mayan steps!
While this platform supports the remains of several buildings, it is dominated by the Codz Poop.
The Codz Poop (Palace of the Masks) rises above yet another platform.
But it's worth stopping and looking around a bit before climbing all the way up to the Codz Poop itself.
Carved stones that have fallen from the Codz Poop's façade are aligned in rows on the ground.
Pieces of the carved masks that once covered the Codz Poop sit on the ground below.
But there's another set of (larger) stones here that formed the "Hieroglyphic Altar."
The Altar of the Glyphs
The Hieroglyphic Altar or Altar of the Glyphs is one of Kabah's mysteries.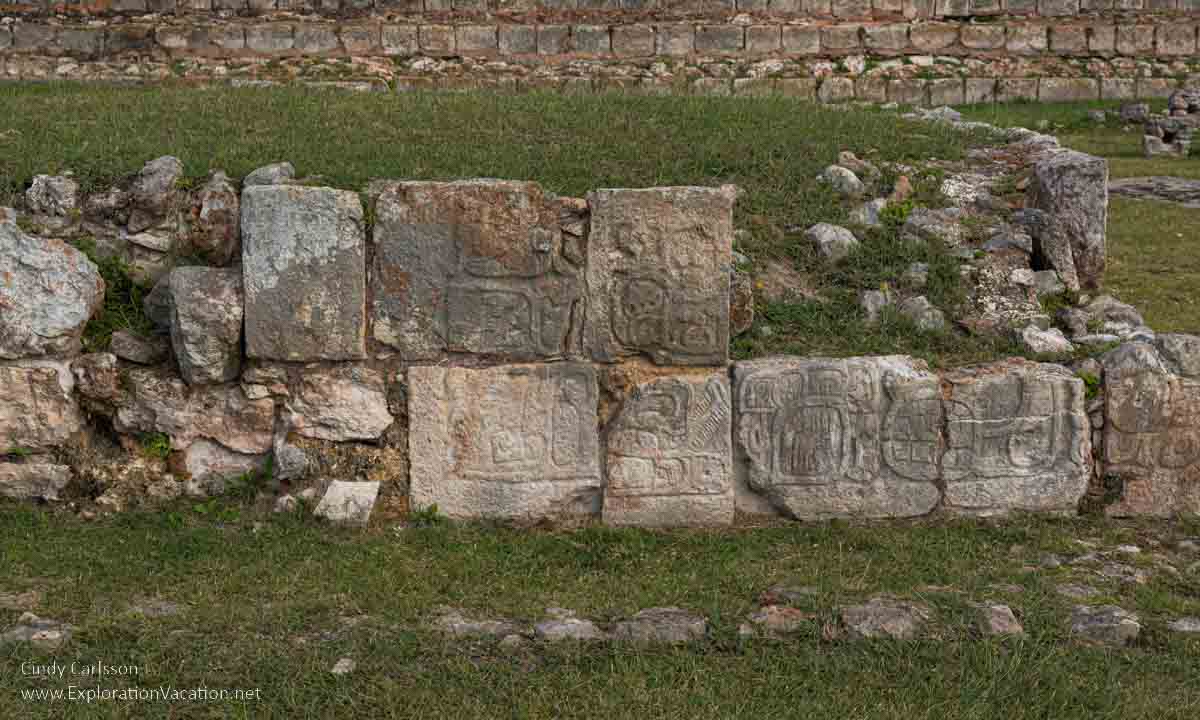 What was this structure and what stories are hidden in those carved symbols?
Originally much larger than what was restored, the symbols on it were roughly carved into the stones after it was built. But those symbols were carved by different people. Were they added at different times to record important events?
That seems likely, although the stones that have been put back into place don't tell a comprehensible story. Too much information is missing. However, the collection of stone glyphs seems to include symbols related to dates, royal authority, and rituals.
Whatever function this structure served, it was looted and destroyed well before white explorers discovered it in the mid-1800s.
Face to face with a powerful god
Unlike any other known Puuc structure, the entire exterior of the Codz Poop was covered with masks depicting the rain god Chaac.
This façade of the Codz Poop (Palace of the Masks) was once completely covered with masks depicting the rain god Chaac.
Hook-nosed Chaac is a familiar site at Mayan temples in this part of the Yucatán. Water has always been scarce here and Chaac is rain god and protector of the harvest. That makes him very important.
Most of the masks depicting Chaac are missing their distinctive noses that come out and curl back up like an elephant's trunk. 
(Not that Mayans didn't supplement their veneration of Chaac with complex systems to collect and store water. The large plazas here are part of that system.)
But at Kabah, like nowhere else, visitors come face-to-face with Chaac.
There are more than 250 representations of the rain god covering the façade of the Codz Poop. They cover the one side from end to end and ground to roof. (Fully-decorated façades like this are typical of Chenes architecture in nearby regions, but not Puuc structures.) Each mask is composed of 30 carved stones set together in a giant, multi-dimensional mosaic. Each is connected to the next by a set of shared ears and mouth/headdress to create an unending flow of masks in all directions
What's largely missing is Chaac's large curling nose.  Nearly all of the large looping noses are broken now, but here and there you get a sense of how dramatic this building was when in use.
Just imagine if all of the noses were intact – it would make quite an impression!
Now picture it with smoke from incense rising from all those snouts. It must have been both other-worldly and a little terrifying.
There are a few rooms you can look into. Although the walls in these were mostly just flat stone, Chaac was here too.
I wonder what this room was used for that it warranted Chaac lurking at the opening!
You can't circle the Codz Poop, so we headed back down the steep stairs and walked around the building's platform to get to the back (east) side.
There are more steps here. And, even before you climb them, it's clear that there are some very interesting human-looking figures up above.
Carved human figures
Nearly free-standing realistic human figures aren't something you generally see at Puuc ruins.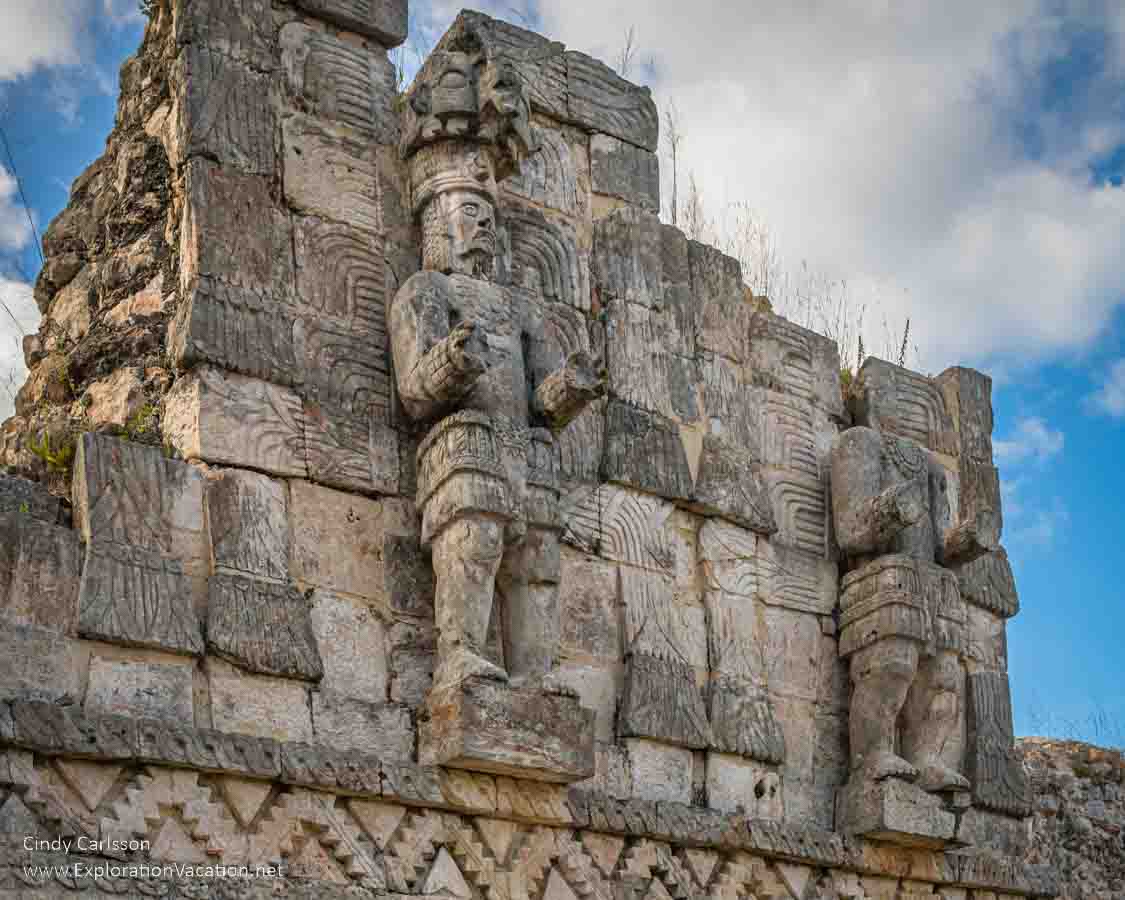 Unusual statues on the east side of the Codz Poop.
There were once more, but only two of these larger than life-size figures have been (mostly) restored. It's thought that one represents a king, complete with elaborate headdress. In their realism, they are unlike anything I've seen at other sites and another of Kabah's unique features.
A series of rooms opens up below them. I feel like an explorer here, peeking in the rooms and discovering a doorway covered with beautiful bas-relief carvings of rulers and warriors in battle.
Elaborately carved doorways like these told tales of battles fought and, presumably, won.
All these rooms likely once had doorways like this, but most were removed and now reside in museums.
Like the walls completely covered with masks of Chaac and the realistic sculptures of rulers and warriors, these narrative relief carvings make Kabah an unusual site.
Around the Codz Poop
Another large ruin sits between the Codz Poop and the Palace ruins.
The restored side of Teocalli at Kabah.
This the largely collapsed structure is the Teocalli. It faces the Codz Poop, and that wall was restored. Like most structures at Kabah, I'm not exactly sure what it was used for.
The Palace
The other large excavated structure here is known as the Palace or Palacio.
The Palace at Kahab, Mexico.
Drawings made when the Kabah was first visited by whites in the 1800s hints at how much restoration was done.
Digitally scanned and edited copy of Frederick Catherwood's 1840s etching of the Palace at Kabah from the Incidents of Travel in Yucatán.
Like the Codz Poop, the palace complex also sits on a raised platform. But this one is an easier climb.
Kabah's Palace from the plaza.
The Palace has two stories topped by a comb that once rose another two stories.
Today you can peek into a few rooms on the main level.
From the ground you can enter a few rooms in the Palace, walk under a stairway, and admire the columns set into the walls for decoration.
But we were particularly interested in the buzzards nesting at the top.
A pair of buzzards seems right at home at the highest point on the ruins of Kabah's Palace.
Are they like the ravens at the Tower of London – was it their departure all those years ago led to the end of the Mayan kingdom? (And, if so, what does it mean that they are back? Will the Mayan people rise to power again?)
Other ruins
There are other ruins at Kabah too, although most are unrestored and closed to visitors. And some are just piles of rocks overtaken by the jungle.
The vast majority of ancient Kabah remains unrestored and overtaken by the jungle.
But there are a few ruins to see if you follow the paths into the jungle. (There are usually plenty of birds too.)
Cocina Real
Just beyond the Palace complex, a collection of structures called the Cocina Real (Royal Kitchen) was probably used to prepare food.
Ruins of an area that seems to have been an area use to prepare food.
Temple of the Columns
The Temple of the Columns is behind the Palace to the east (farther from the road) along a path in the jungle.
I didn't get to this, but I wish I had because it looks pretty cool.
West of the road
The modern road runs through the ruins of Kabah. That means even more unexcavated sites are located on the other side of the road. Those include a quadrangle and the main temple. The main temple (Great Pyramid) has not been restored and is closed to visitors, but it's tall enough to see through the jungle.
But you can walk along part of the scabé and through a large free-standing arch.
There are also a few ruins farther out where restoration seems to have started. One of these has many red handprints.
But the jungle is filled with rubble from collapsed ruins.  I suspect there is much more to be discovered here.
Plan your visit to Kabah
You can visit all four of the Uxmal World Heritage sites (Uxmal, Kabah, Sayil, and Labná) in a single day, but it makes for a very long day. Uxamal and Kabah are particularly worth more than a quick walk-through. Allow a day and a half to really explore all four sites.
It would be easy to spend even more time wandering through the ruins here and imagining what this place looked like when the city was occupied and these walls were intact and brightly painted.
Getting to Kabah
Kabah is located on the Yucatán Peninsula in the far south of Mexico.
As much as I loved Kabah, the main attraction here is Uxmal, which about an hour drive south of Mèrida along a modern highway. (It takes twice that long to get there from Campeche. Travel time from Cancun or Tulum is a minimum of 4-5 hours.)
The Kabah Archaeological Park (Zona Arqueológica de Kabah) is an easy 20-minute drive from Uxmal.
The other locations included in this World heritage site are just to the south of Kabah, making it easy to get to all of them. Mexico has designated this drive the Ruta Puuc (Puuc Route). It's a narrow, paved route that winds through the hills and includes all parts of the World Heritage site, as well as Xlapak (originally identified for inclusion in the World Heritage site), and the Grutas de Loltun (Lolton Caves, which are of interest for their history and natural features).
Pick up a rental car on your way out of Mèrida if you want to explore independently. It's an easy drive to Uxmal and from there you can spend a few days exploring both the Ruta Puuc and the Ruta de los Conventos (Convent Route), as they are in the same general area.
The Sunday bus
I've been unable to confirm that it is still operating, but a bus has run this route from Mèrida on Sundays (only on Sundays) for many years. It leaves the TAME bus station in Merida at 8 am and returns at 4 or 5 pm. You get a couple of hours at Uxmal and about a half-hour at the other four ruins on the Ruta Puuc.
(Mexican residents can visit these archaeological parks for free on Sundays, so expect a full bus.)
Tours to Kabah
It's easy to book a tour to Uxmal and the other Mayan sites along the Ruta Puuc from Mèrida.
Several options are available through Viator, Get Your Guide, and Grey Line (affiliate links).
Once you arrive at Kabah
Almost all the ruins you can visit at Kabah are on the same side of the road as the ticket booth. A couple of others, including the arch, are in the jungle across the road, but most of this area hasn't been excavated.
Map of ruins at Kabah, Mexico, created from a photo by Jeffcovey, CC BY-SA 4.0, via Wikimedia Commons.
The Kabah Archaeological Zone is open daily from about 8-5. The entry fee is currently under $5. Check the site's website for changes.
The site includes the structures featured here (located just beyond the ticket office on the east side of the road), as well as a classic Mayan arch and many unexcavated ruins on the other side of the road.
Most of the site is flat and grassy. But stairs to get up to the Codz Poop and Palace can be very, very narrow and steep.
Although Kabah is on the Ruta Puuc and near Uxmal, it does not get a lot of visitors. We were joined by only a few other couples and one small tour group during our visit. Most tours only stop at Kabah for a half-hour or so, but you could easily spend a couple of hours wandering around the site.
Lodging near Kabah
There are three obvious areas to consider staying when you are visiting Kabah and the rest of the Ruta Puuc.
Santa Elena
We stayed in the jungle just outside Santa Elena at the Flycatcher Inn. It was perfect for us, but seems to have closed. The Pickled Onion was right down the street and that also looked like a very good, basic place to stay. (And the food is good!)
Check reviews, prices, and book the Pickled Onion at TripAdvisor, Agoda, or Booking.com (affiliate links).
While I enjoyed our slightly rustic jungle garden retreat (and it was only a 10-minute drive to Uxmal), there are a couple of far more luxurious (and much more expensive) options right by Uxmal's ruins.
Check reviews, prices, and book the Hotel Hacienda Uxmal Plantation & Museum on  TripAdvisor, Expedia, or Agoda (affiliate links).
Or take a look at the even fancier Lodge at Uxmal, which is practically in the archaeological park! Check prices and book at TripAdvisor, Expedia, or Agoda (affiliate links).
If you plan to spend time exploring the Convent Route while you are in the area, Ticul looked like a fun place to stay. And there are plenty of options in town or nearby.
Check your lodging options and prices in Ticul on TripAdvisor, Expedia, or Agoda (affiliate links)
Additional information on Kabah, Mexico
You can read more about the Pre-Hispanic Town of Uxmal World Heritage Site on the UNESCO website.
For additional online information on Kabah and other Mayan sites in Mexico, see:
(Don't bother with the official English-language Mexico tourist site for information – it's just a bunch of beautiful, but utterly useless, videos and photos.)
Incidents of Travel in Yucatán
American writer John Stephens and English artist and architect Frederick Catherwood explored many long abandoned Mayan sites in Mexico and Central America during 1839-42. Their books documenting archeological discoveries and various adventures generated great interest in Mayan civilization.
Their account of Kabah is included in Incidents of Travel in Yucatán, Vol. 1, chapter 17.
You can read it for free on Gutenberg or purchase a copy at AbeBooks or BooksAMillion  (affiliate links). Both sites offer Rakuten rebates.
Our 2014 Yucatán itinerary; all Yucatán State posts; all Mexican Yucatán posts