(Last Updated On: September 1, 2022)
In the USA, cheap week-long vacation packages to Terceira, Azores, are pretty easy to find. However, you may wonder if there is much to do on this small Portuguese island, especially off-season, when the best travel deals are available.
Don't worry. There are plenty of things to do on Terceira. And, while most packages also offer guided tours at an additional cost, it's pretty easy to explore Terceira on your own.
Keep reading to discover the best things to do at any time of year when you spend a week on Terceira Island.
The best things to do on Terceira at any time of year
Where is Terceira Island?
Of course, your first question may be "Where is Terceira?"!
The short answer is "In the middle of the Atlantic Ocean."
Terceira is one of nine islands that make up the Azores. While these small islands are part of Portugal, they are located far out in the Atlantic Ocean, almost 900 miles from Lisbon and more than 2000 miles from Boston.
That mid-Atlantic location moderates the weather, bringing mild temperatures and a relatively damp climate throughout the year. Summer brings the warmest, driest weather and the depth of winter brings the coolest, rainiest days. But it never gets very cold or very hot.
So, with a few exceptions, travelers visiting Terceira Island can enjoy a wide range of activities throughout the year.
Keep reading for some of the best.

The best things to do on Terceira throughout the year
Not surprisingly, summer is Terceira's peak tourist season. The island's pleasant summer weather makes it (and the Azores in general) popular with Europeans seeking an escape from scorching summer heat. This is also when the most activities are available and the most flowers are blooming. However, visitors willing to accept some rain will find plenty to do throughout the year. And prices will be much lower.
When I visited in November of 2019, the weather was mostly dry and there was plenty to do both indoors and out.
The following is based on my own experience and describes some of the best things to do on Terceira no matter when you visit. These activities are available year-round and, for the most part, aren't affected by a little rain.
I'll follow up with a couple of things that aren't available to off-season visitors and a few tips for planning your trip.

1. Wander historic Angra do Heroismo
Although not the largest city in the Azores, Angra do Heroismo is the oldest and among the most important. Founded in 1478, its port quickly became a regular stop for ships and goods traveling between Portugal and distant lands. Because the port was so critical, the city became an important commercial, religious, and administrative center protected by a large military fort.
Today Angra's beautiful historic center (quickly repaired after a major earthquake in 1980) is a UNESCO World Heritage site. (Follow the link for more detailed info on visiting this World Heritage site.)
It's a walkable city that can keep curious visitors exploring (and eating well) for days.
Given the detailed exteriors, there's a lot to see just wandering the historic city's cobblestone streets and poking into a few of the shops and restaurants you find along the way.
To learn more about the region's history, visit the Angra do Heroismo Museum. Here displays include contemporary art, historic artifacts of everyday life, the church and chapel from the museum's days as a convent, historic military gear, and a copy of an elaborate map of trading connections.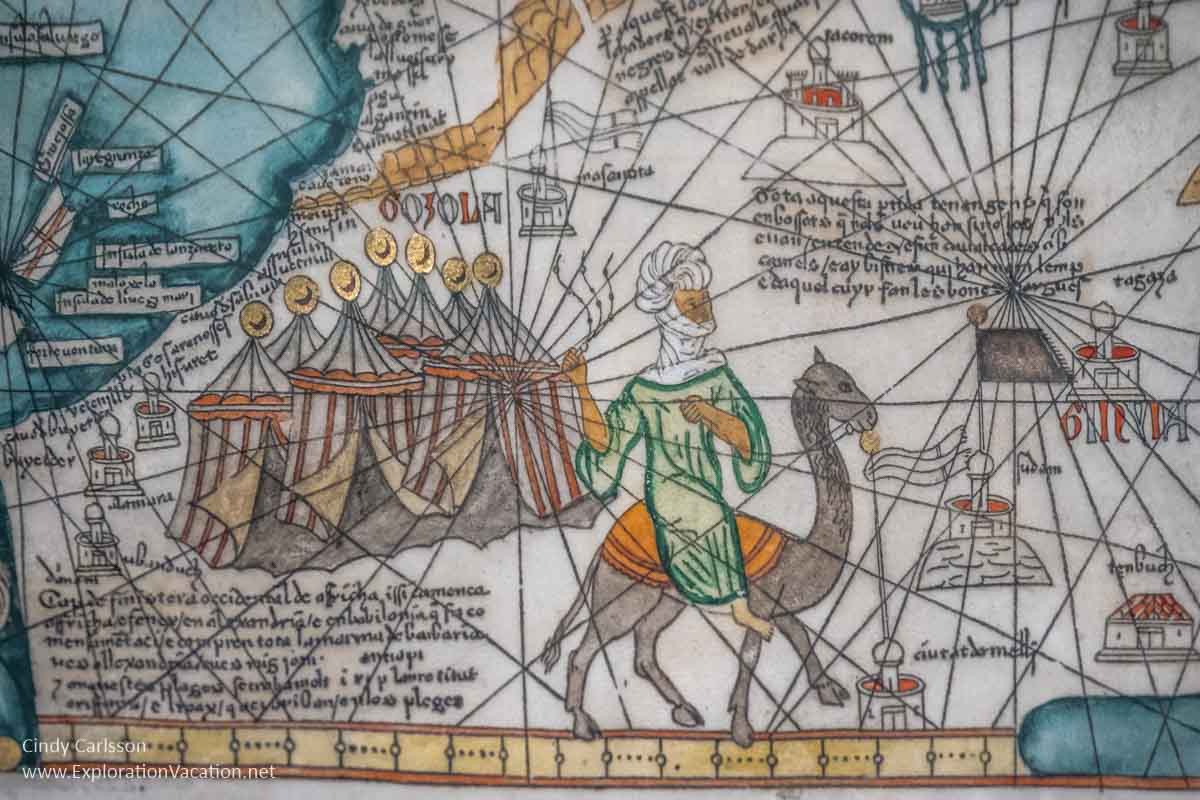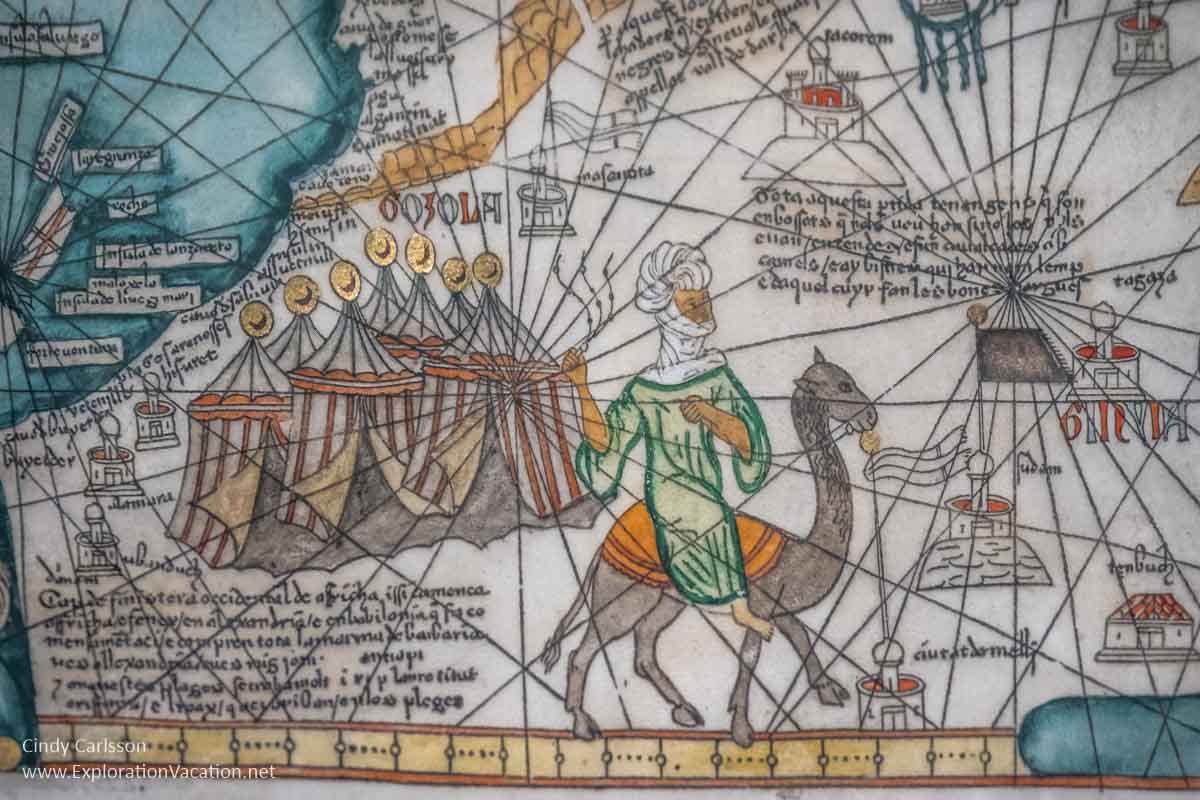 2. Admire the view
Terceira Island is a scenic place, with attractive small towns, green hills laced with stone fences, and a rugged coastline. And you can get a good look at it all from one of the island's many highpoints and overlooks.
Angra do Heroismo's Memorial Hill and Monte Brasil
Some of the best views on Terceira Island are found at the top of Memorial Hill by that pointy yellow monument right above the historic city.
Don't fancy a long walk uphill? An inexpensive cab ride will take you up to the memorial. You can then wander back down into the city through the garden at a leisurely pace. And almost all tours will stop here as well.
At the edge of the city, Monte Brasil nature reserve offers beautiful views of Angra and the surrounding countryside.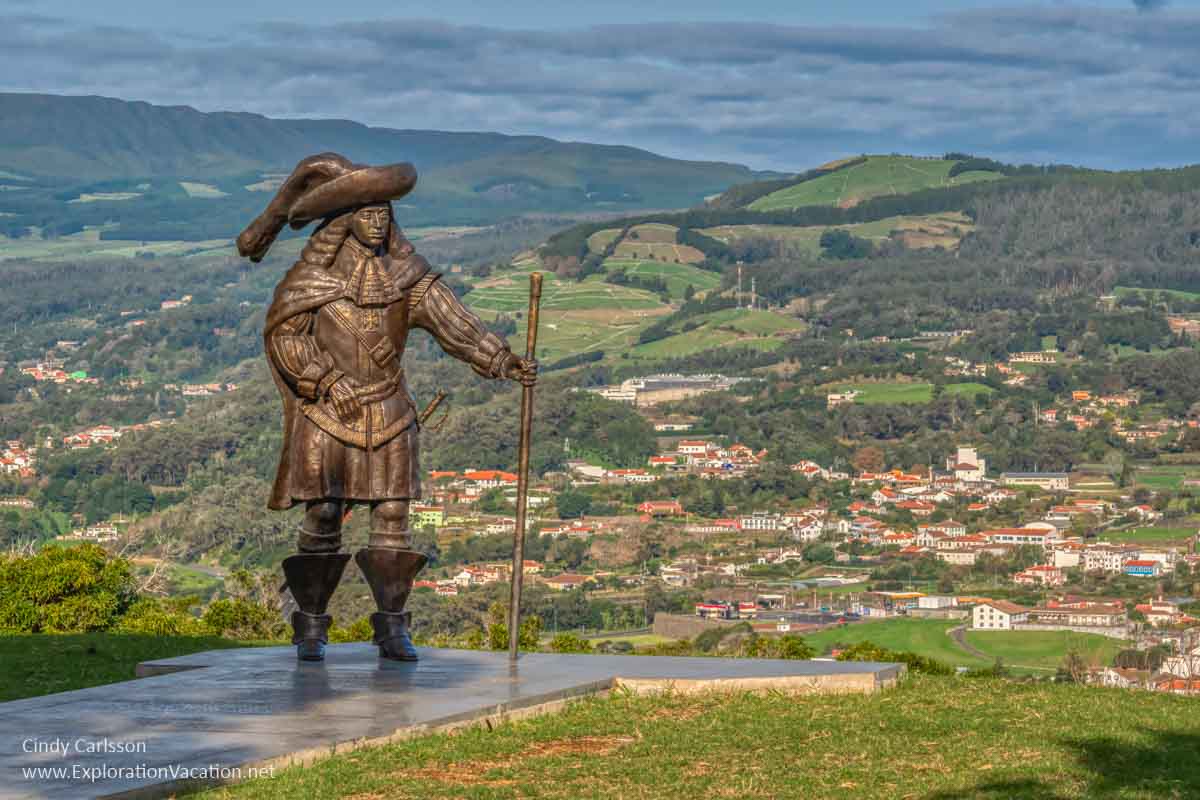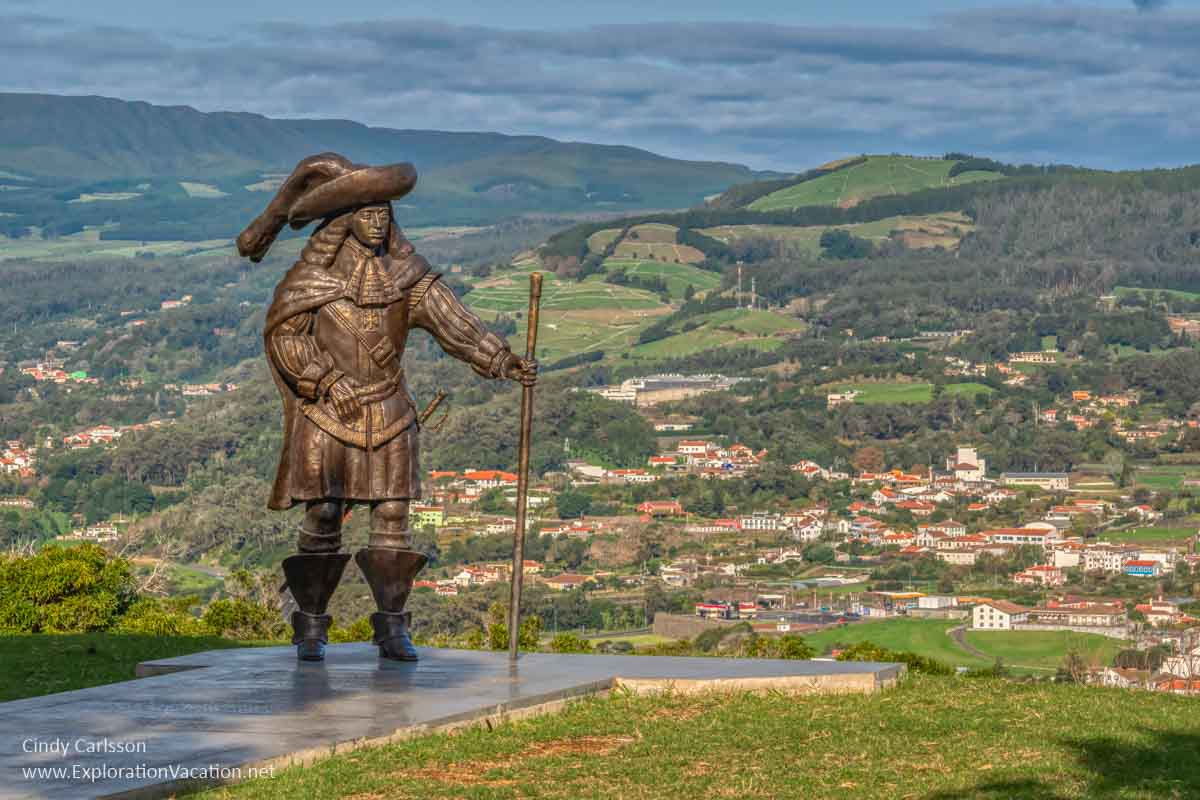 Most island tours will include a stop here to take in the view. But it's worth spending at least a little more time. You can walk there right from Angra, but if the hike to the top seems too long, it's an easy drive with several places to stop and take in the view along the way. Or get on a bike for a few hours on Monte Brasil's trails.
While you can rent a bike and explore on your own, Viator offers an e-bike tour (affiliate link) that looks like a lot of fun.
Serra do Cume and other overlooks around Terceira.
The best-known overview in Terceira is Serra do Cume. This windswept overlook offers views over rolling farmland and out to the surrounding sea.
The overlook is easy to reach by car, with plenty of parking available. If you like hiking, you can walk there from Praia de Vitoria – it's about 12 miles round trip. And a stop here is included in all general island tours. A variety of other day or half-day tours also include a stop at here.
Of course, if you have a car, there are plenty of other spots that offer great views, including Serra de Santa Barbara, the highest point on Terceira.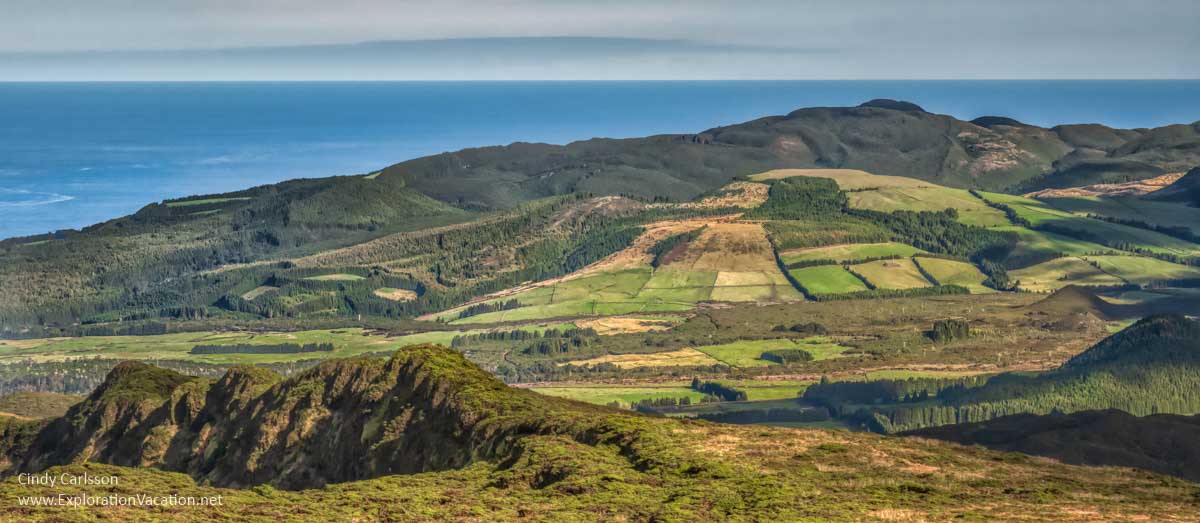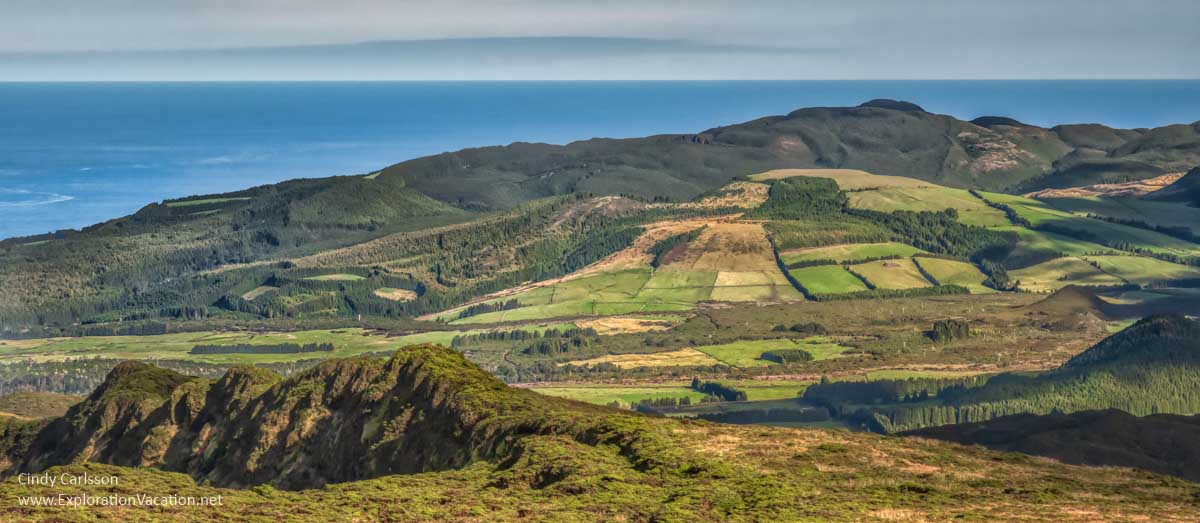 Actually, the challenge isn't finding great views over the island, but getting to your destination in a reasonable amount of time given the many tempting places to stop and enjoy the view along the way!

3. Step inside an (extinct) volcano
Step inside the cone of an extinct volcano at Algar do Carvao reserve. Stairs lead down to a pool at the bottom, while the sky remains visible far above. Along the way down, admire massive caverns and grottos with shimmering stalactites and stalagmites.
It's a short drive to Algar do Carvao from Angra, but a stop here is also included in many Terceira tours. However, if you want to spend more time exploring Terceira's caves, you can book a tour that focuses on caves. You can book through Viator (affiliate link) or you can save a little money by booking directly with Pro Island Tours.
Lush vegetation around and above the upper levels and seeping water make it a little wet inside even when it isn't raining. It's open in the afternoon throughout the year, however, it is NOT open every day during the off-season.

4. Visit a historic winery
Across the island from Angra, the Biscoitos Wine Museum celebrates four centuries of winemaking in the Azores.
Winery tours explain traditional practices and how they are incorporated into winemaking today. Visitors can visit a small traditional vineyard on the property that looks very different from vineyards elsewhere. There is also a small museum on the site preserves tools and other items from the past, most displayed as part of vignettes that explain how they were used. And, of course, there is a tasting room where you can sample and buy the winery's products.

5. Take a hike
This is the one activity on my list that is a little more weather dependent. The most popular hike on Terceira Island, the Misterios Negros (Black Mysteries) trail, isn't a great wet weather activity. But Terceira has a variety of trails and a few are easy even in wet weather!
The steaming landscape of the Furnas do Enxofre would be a great walk in almost any weather. The many boardwalks and bridges on this loop trail are designed to keep visitors away from both the fragile landscape and potentially dangerous fumaroles and boiling mud pots. But they also make it easy to visit this strange place even on a wet day.
Another option is along the Ponta das Contendas protected area. We drove through this area and I walked a few short sections of the Fortes do Sao Sebastiao trail at almost every stop. The segments I walked seemed like they'd be pretty manageable even when wet and the scenery is great.
Ponta das Contendas itself is also an important habitat area for nesting birds, so keep an eye out for species both common and rare.
Neither of these hikes is right in Angra do Heroismo, so you will need transportation to get to them unless you are staying in a small town nearby. For a hike closer to Angra, just head over to Monte Brasil. The trail and the road come together at various overlooks and historic sights, so if things get too muddy and slippery, you can always walk along the road for a bit. And you can walk there right from Angra.

A few activities on Terceira Island are seasonal
While most of Terceira's activities are available year-round (if you don't mind a little rain), there are a few things where timing really matters.
Swim and relax by the water
Terceira doesn't have vast swaths of sand along its coast. But it does have some interesting beaches and a few hotels have lovely pools.
Unfortunately, while the water will be warmer than you may expect for a lot longer than you expect, the island's cool, damp weather means lounging in or along the water really a late spring through early fall activity.
Admire the hydrangeas
The Azores may be most famous for hydrangeas.
While they've become a symbol of the islands, hydrangeas are not native to the Azores. They were brought to the islands from Japan and found the ideal climate to thrive. They are actually very invasive and need to be kept in check or they would take over and destroy most native vegetation!
Look for whales
The deep water immediately off the coast of the Azores brings many whales and dolphins to the area. Over 20 species can be seen here over the course of a year. These include a few year-round residents (sperm whales and several types of dolphins) and many others that migrate through the area.
Whale watching season runs between April and October, with the biggest variety seen between April and June. Many tours operate out of Terceira.

Plan your Terceira vacation
Not surprisingly, July and August are when the most tourists visit Terceira. The island's pleasant summer weather makes it (and all of the Azores) popular with Europeans seeking an escape from baking temperatures in much of the continent. This is also when Terceira has the driest weather, the hydrangeas are in full bloom, whale watching is at its best, inter-island ferries are running, and the most flights connect Terceira the other islands and the world beyond. But it's also when beaches, trails, restaurants, and activities will be the most crowded.
Of course, that also means the best deals on travel to and lodging in Terceira are for off-season travel. The least crowded months are October through May, with very few visitors during rainy December and January. But it never gets very cold in Terceira and visitors willing to risk some clouds and rain will find plenty to do throughout the year.
Eating and drinking on Terceira
Terceira is an agricultural island, with fabulous local meats, cheeses, seafood, and fresh vegetables.
There are many great restaurants in and around both Angra and Praia da Vitoria. They run from cheap eats to fine dining and offer a wide variety of cuisines. I had both an old-fashioned traditional Azorean stew and rather avant garde sushi, along with a lot of seafood, charcuterie, pastries, and more. All of it was delicious.
Lodging on Terceira
While lodging is available in many places on Terceira Island, the largest concentration of hotels is in and around Angra do Heroismo and Praia da Vitoria.
The tour I booked included a couple of hotel choices (and an upgrade option or two) in or just outside Angra. One of the included options was the Terceira Mar Hotel, which is a gorgeous property right at the edge of the city.
The hotel was a little dated when I stayed there, but it was going to start closing down for remodeling over the winter of 2019/2020. It appears that the remodel/refresh happened, so it may now be available only as an upgrade in some tour packages. But it really is a great option – and I am saying that after staying in the room with the second worst view in the entire hotel!
Check it out and book on TripAdvisor, Expedia, Hotels.com, or Booking.com (affiliate links)
See more photos from Terceira Island at CindyCarlsson.com