(Last Updated On: December 16, 2020)
Each day in France started with a list of places to visit that was far too long for the time available.
Narrowing that list down tended to be a pretty random process. For example, Guérande made the cut because the Rough Guide asserted:
"No visitor should miss the gorgeous walled town of Guérande"
That seemed like a good enough reason to go there – although, to be honest, the Rough Guide identified a lot of "no visitor should miss" places . . . many more than we had time for!
Step into the middle ages in Guérande
So we chose Guérande because of its historic buildings and 15th century walls and the fact that the Rough Guide said no visitor should miss it.
However, as we neared town, it became was apparent that there was a lot happening on this particular Saturday. Cars were backed up everywhere and people were streaming toward the old walled town.
Still, it wasn't until we reached the parking ramp that I took a closer look at the people hurrying along ahead of us. It didn't really look like they were dressed for the weekly market.
I don't think people in France don medieval costumes just to go to the market!
The middle ages return to Guérande as a big party
Like many French towns, Guérande holds a medieval festival every year. And we were lucky enough to arrive in town just in time for the 2017 Guérande Medieval Festival – the Guérande Fête Médiévale.
During the festival, costumed performers, exhibitors, and local residents transform the historic city into a living bit of the past.
And everyone seems to have a really good time – even if some of the costumes stretch the medieval theme a bit!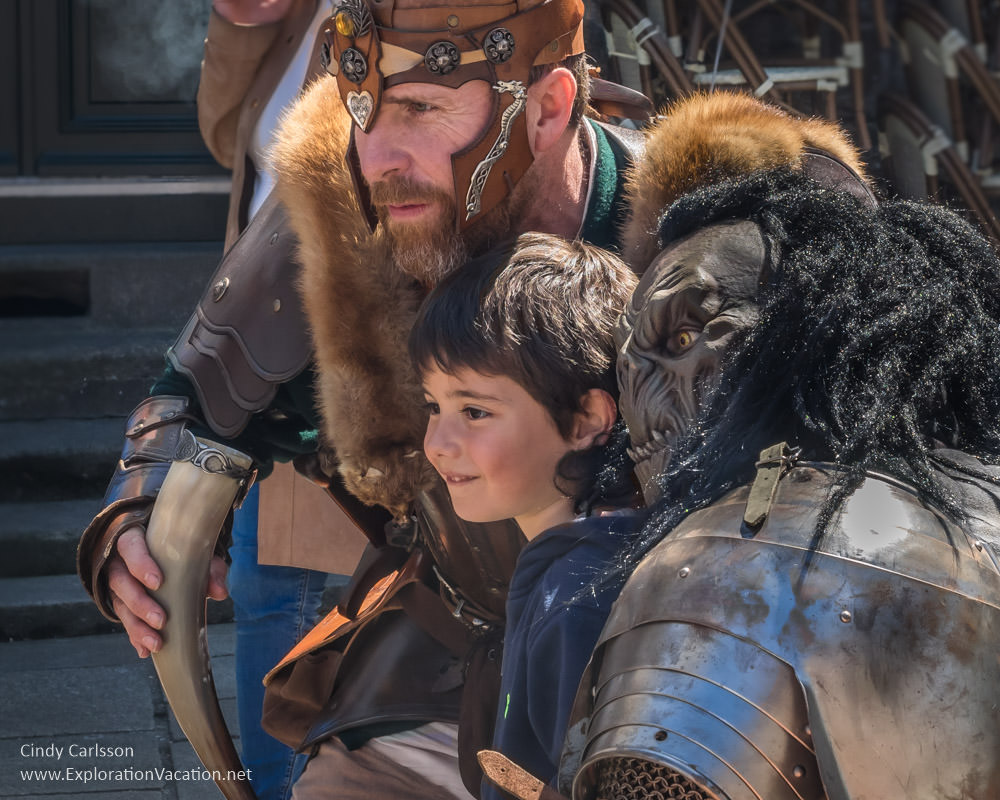 (What is that creature?)
Shops galore, but also a medieval marketplace
On an ordinary day the shops and galleries within Guérande's walls are filled with clothing, art, jewelry, and souvenirs designed to pique the interest (and open the wallets) of modern tourists. It's the sort of place where it's fun just to wander from shop to shop.
However, today I'm far more interested in the medieval camp and marketplace set up outside the Church of Saint Aubin.
Complete with smoky fires and traditional cooking, the encampment truly feels as if it is of another time.
There is music everywhere
For me the highlight of the 2017 Guérande Medieval Festival is the music and dancing.
There seems to be music everywhere. And, since the performances often block the way, it makes the most sense to just stop and listen to whatever group we happen to have come across!
In our relatively short time at the Guérande Medieval Festival, we hear a variety of music.
I love the cheerful music and exuberant dancing of Marazula.
I really want to run in and join them!
(Had we stayed later, I could have, as they were giving lessons.)
Just down the street, Choeur de Marais was gathered in a circle to sing what appear to be well-loved traditional songs. They are, at the very least, well-known songs, as a crowd quickly gathers to watch and cheerfully sing along.
With their lively music, I thought La Petite Flambe was a minstrel group. However, their music is actually a tribute to that of the more well-heeled troubadours.
The most unusual group we come across has a different style entirely. Dressed in rags with odd masks, they chant and sing solemn sounding tunes.
We've missed the beginning of the performance and it is so crowded I can't really see what is going on. But it is strange and ancient-feeling and makes me think of mummers, the wandering theatrical groups of old. Whether or not the members of Compagnie L'Envolante consider themselves modern-day mummers, their performance certainly evokes those tale-tellers of the past.
Quiet corners
Of course, if all this music and dance and drama becomes too much, there are quiet corners to be found even in the midst of all the festivity.
While it looks peaceful inside Guérande's grand Saint Aubin's Church, it isn't exactly quiet. Marazula is performing just outside, and dance tunes tumble through the church door.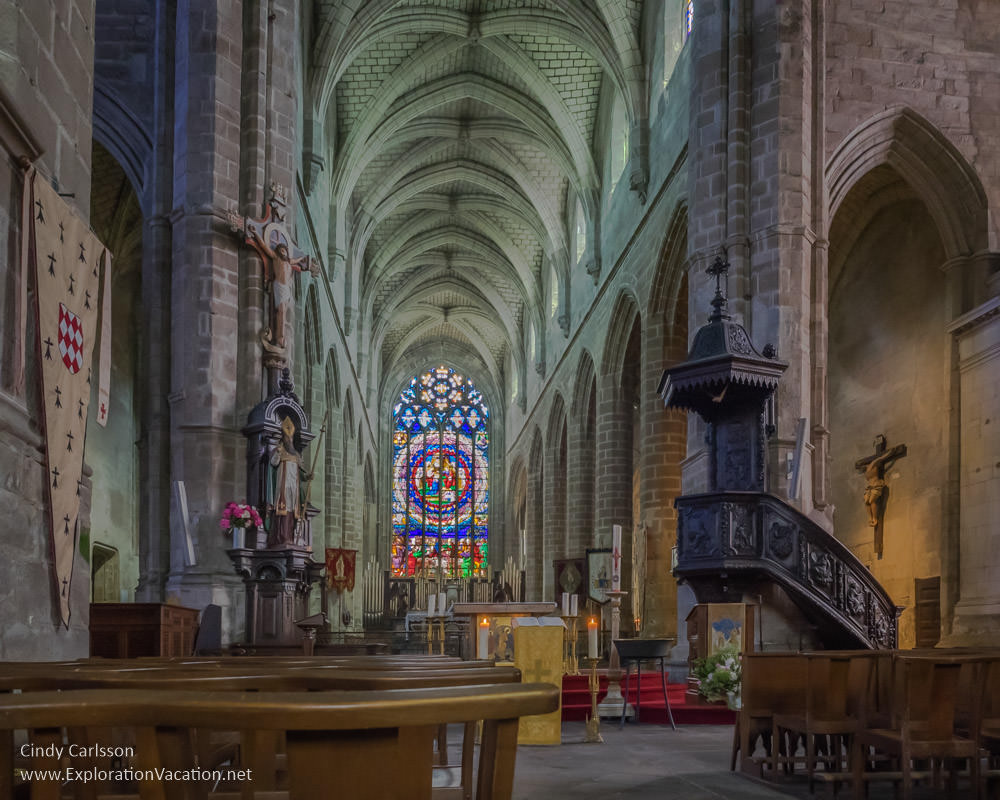 It is much quieter inside the little church of Notre-Dame la Blanche, a 14th century Gothic structure said to be the oldest building in this medieval city.
But nearly empty streets and quiet alleys can also be found within the walled city.
Here the only sounds are fragments of music that drift through the ancient alleys, gentle ghosts seeking the joy of days long past.
Planning your visit to Guérande
Guérande is located in Loire-Atlantic in western France, about an hour west of Nantes. Historically, it is part of Brittany, with a strong Breton culture.
The Guérande Medieval Festival is one of a number of festivals held within the old walled town. Expect big crowds – but a lot of fun – on festival weekends.
With one of the most complete and best preserved medieval walls in France, this is a popular tourist spot even when a festival isn't underway. The walled city has a few buildings of note, but is worth visiting mostly for the atmosphere.
The area around Guérande has long been an important center for the production of salt. Visitors to the area can visit the salt works and buy local salt and treats made from it in town.
Getting there and around
Guérande is located about an hour's drive west of Nantes and an hour south of Vannes. Getting there is a pleasant trip on good roads. For those without a car, there is bus service to Guérande, although it looks fairly limited.
Once near the old walled town, park your car and walk.
Parking is available free or for a minimal charge near the walled town. Depending on your direction of travel it can be reached from the main road without going through much of the modern city. (Like everywhere in France, Guérande has one-way streets that complicate travel.) We had no trouble finding parking near the walled old town, however, it would have been more challenging later in the day. Plan to arrive early for events like the Medieval Festival.
A couple small hotels offer rooms within the walled city for those who want to spend more time in Guérande.
Attending the Guérande Medieval Festival
We stumbled on the 2017 Guérande Medieval Festival quite by accident. Fortunately we arrived early enough to easily find parking, but late enough for all the day's activities to be underway. We easily could have spent the entire day at the festival, which runs until late into the night. I suspect is absolutely magical after dark.
Guérande's Medieval Festival runs over the weekend and includes a parade, concerts, contests, a marketplace, banquet, and more. Visitors are welcome to stop by at any time. Those serious about participating can bring or rent a costume and join in all the fun along with the local residents.
Watch the city of Guérande's website (some material in English) for information on future festivals.
Eating and shopping
Ordinarily there are a few bakeries, creperies, and restaurants within the walled city. Many of those were closed during the festival, but there were a number of stalls selling "medieval" foods and other treats.
Likewise, when we visited many of the wonderful art galleries that line the quiet alleys were closed. However, many other shops were open, and there was a wide variety of local items available.
The most famous product produced in Guérande is salt. Many local shops carry Guérande salt along with a variety of foods made with it. My favorite was the Charles Chocolartisan salted caramel sauce I bought on my way out of the festival. (The shop is just inside the Saint Michel gate.)
While local salt is available in many shops, watch for opportunities to buy it directly from the paludier who harvested it. I bought beautiful sparkling white Fleur de sel from Serge de Lettre, an independent paludier who is retiring from the physically demanding work harvesting salt. He was selling the last of his supply and, at the rate it was selling during the festival, I'm sure it will soon be gone.
Planning resources
Not many Americans travel to Brittany or this part of Loire Atlantic, so guide books with good information can be hard to find. I relied on the excellent Rough Guide to Brittany & Normandy, which is where I found the quote I used above.
The Guérande tourist office website has some information in English and a calendar of upcoming events. (There are a lot of festivals in Guérande, so your chances of happening upon one on a summer weekend are pretty good.) Apparently, accommodations and tours can also be booked through the website.
Planning your visit to a French medieval festival
We were lucky and just happened to visit when the Guérande Medieval Festival was underway. However, this is an experience I highly recommend (especially in small places like Guérande). For that reason, a little planning is advised.
The website Adagionline.com has what seems to be a very complete schedule of medieval festivals, medieval markets and other medieval activities in France, Belgium, Switzerland, and Luxembourg. Events are listed by date and include website and email links where available. It looks like a great resource for planning a trip to this part of Europe.
2017 Itinerary for Brittany and Normandy