(Last Updated On: May 31, 2021)
You may be familiar with the UNESCO World Heritage sites in Egypt that include the pyramids, temples, and tombs of the ancient pharaohs. But those account for only three of Egypt's seven World Heritage sites. There's so much more to see in Egypt!
The Great Pyramids and Sphinx are the most famous of Egypt's World Heritage sites, but there are many more.
Egypt's UNESCO sites fall into four broad groups that cover a wide range of Egyptian history and culture. They include sites associated with ancient Egypt, Islamic Egypt, Christian Egypt, and one natural site.
Ancient Egyptian World Heritage sites
Most tourists are familiar with the UNESCO World Heritage sites connected to ancient Egypt. Indeed, Egypt's ancient ruins are what draw most visitors to Egypt in the first place.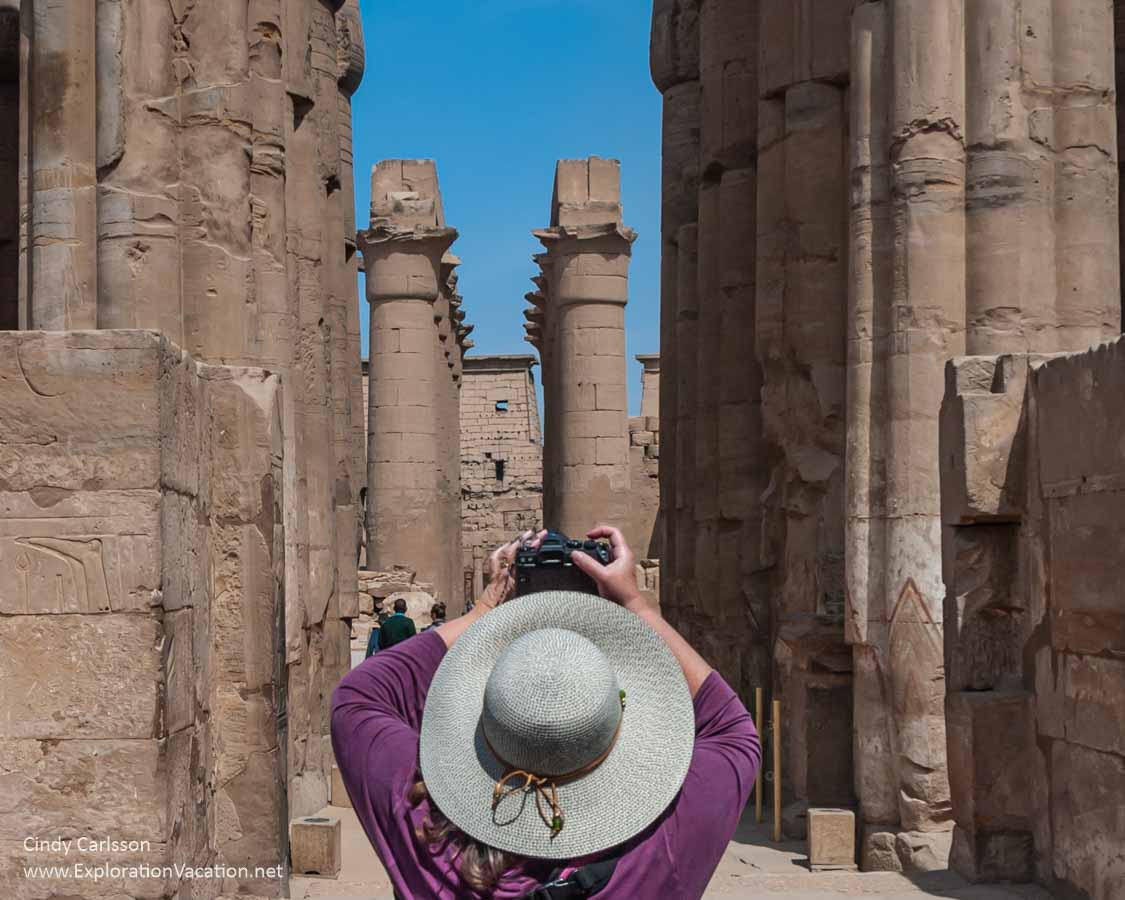 Ancient ruins like the Karnak are among Egypt's must-see tourist sights.
UNESCO recognizes three ancient Egyptian world heritage sites:
Memphis and its Necropolis – The Pyramid Fields from Giza to Dahshur
Ancient Thebes and its Necropolis
The Nubian monuments from Abu Simbel to Philae.
All of these, like most World Heritage Sites in Egypt, include many individual sites.
Historic Cairo's Islamic World Heritage site
Within the ever-expanding city of Cairo, one of the world's oldest Islamic cities lives on. Dating to the 7th century, historic Cairo includes about 800 designated monuments representing 1300 years of history.
It includes historic mosques, madrasas, bazaars, hammams, fountains, and a variety of other structures, as well as several burial grounds.
Minarets puncture Cairo's skyline, mark the city's historic Islamic areas.
The area is made up of five sites:
Al-Fustat, the oldest part of Cairo dates back to the 7th century. It includes the site of the first mosque built in Egypt, the Mosque of Al-As, but earlier Roman ruins and Christian monuments are also located here. (I don't think the Roman and Christian sites are part of the UNESCO designation, but that's not very clear.)
The heart of the old Fatimid city, from the Citadel and Mosque of Ahmed Ibn Tulun and Bayt al-Kritliyya (the Gayer-Anderson Museum) to the area around the Mosque of Al-Azhar and the Khan Al-Khalili. This was the Fatimid capital and the most important cultural center in the Islamic world by the 14th century.
Al-Imam ash-Shaf'i Necropolis
As-Sayyidah Nafisah Necropolis
Qayitbay Necropolis
This is a hugely complex area, as it is densely populated and filled with mosques, markets, shops, and homes. That makes it a challenging area to preserve and protect. It also makes it a bit of a challenge for visitors to understand how it all fits together. But it's a fascinating area to explore.
Constructed in 878, the Mosque of Ibn Tulun is one of Cairo's oldest and largest.
More than just the burial place of Egypt's Islamic elite cemeteries, the three necropoleis included in the Historic Cairo World Heritage site feature elaborate, architecturally important tombs.
Christian World Heritage sites
Christianity has existed in Egypt almost as long as it has existed anywhere in the world. However, UNESCO's Christian World Heritage designation applies to only two of Egypt's many Christian sites.
Abu Mena is the site of an early Christian pilgrimage site and monastery near Alexandria. It was a major Christian center by the year 600 AD. Today the site is identified as endangered and is usually closed to the public.
The Saint Catherine Area includes the 6th century Orthodox Christian monastery of Saint Catherine and Mount Sinai, where Christians, Jews, and Muslims all believe God gave Moses the Ten Commandments.
Saint Catherine's Monastery was built at the foot of Mount Sinai in 550, it remains in use today.
Saint Catherine's is the world's oldest Christian monastery still used as a monastery. It's located on the Sinai Peninsula, which puts it far from Egypt's tourist areas.
Although they surely fit in this grouping, Christian sites within Cairo itself are located in Fatimid Cairo, which is part of the Historic Cairo World Heritage site. However, it's unclear whether those Christian sites are actually part of UNESCO designation. And, while the monasteries of Wadi Natrun are on the tentative world heritage list, UNESCO has yet to designate them as such.
Natural World Heritage
The only "Natural" UNESCO World Heritage site is the Wadi Al-Hitan, the Whale Valley, in the northern portion of the Western Desert. The site is significant for its fossils, particularly those of an extinct type of whale that was changing from a land-based animal to the sea-dwelling creatures we know today.
Whale Valley fossil by AhmedMosaad, CC BY-SA 4.0, via Wikimedia Commons
This is an important scientific research site and it is not always open to the public.
Potential World Heritage sites in Egypt
UNESCO regularly adds sites to the World Heritage list. To be considered, the site's home country must include potential world heritage sites on a tentative world heritage list. This list includes all sites that country's government wants UNESCO to designate as World Heritage sites.
Egypt has 33 tentative World Heritage sites. They include individual structures (or their remains), large archaeological sites, natural areas, and more.
Specific examples include:
The monasteries of the Arab Desert and Wadi Natrun
The pharaonic temples of Upper Egypt from the Ptolemaic and Roman periods – The temples of Dendera, Esna, Edfu, and Kom Ombo that are included on many Nile River cruises
The ancient remains and new library in Alexandria
Egypt's great desert landscapes, including the Qattara Depression, the Great Sand Sea, and Wadi Sannur Cave
A variety of sites in and around El Fayoum
See the entire list on the UNESCO World Heritage page for Egypt.
Because the UNESCO World Heritage selection process considers many factors when making a designation, only a small number of Egypt's 33 sites are likely to actually become World Heritage sites someday. But the list is very useful for travelers who want to explore more of Egypt's cultural heritage.
What is a UNESCO World Heritage site?
While some people plan entire trips around World Heritage sites, not everyone is familiar with what this designation actually means.
The United Nations Educational, Scientific and Cultural Organization (UNESCO) seeks to encourage the identification, protection and preservation of cultural and natural heritage around the world considered to be of outstanding value to humanity.
Further reading
The UNESCO World Heritage website has all of the documentation (scanned PDFs of original typed documents) on Egypt's World Heritage sites and a lot of poorly labeled photographs. Until recently, it had great descriptions of each site, the site's history, and the importance of the site's various components. That "Brief Synthesis" section was removed from the Egyptian pages this spring. Unless that information reappears, the best source of comprehensible information on World Heritage sites in Egypt seems to be the one the African World Heritage Sites website – which doesn't have a great index.
(The removal of the "Brief Synthesis" section seems unique to the Egyptian pages.)
In-depth information on the UNESCO World Heritage program can be found by following links on UNESCO's World Heritage page. However, for a more basic description of the program, check the National Park Service's Quick Guide to the World Heritage Program in the United States. Although explicitly tied to the USA's process, it includes a good general description of the UNESCO program, criteria, and process as they apply to all countries.
See more Egypt photos at CindyCarlsson.com.