(Last Updated On: March 19, 2020)
Day four off the tourist trail in Northern Vietnam
Day four of our northern Vietnam road trip includes visits to several villages tucked into valleys far off the tourist trail. We also visit a lively local market and a business that cuts wood sheets for plywood. As with other days, we also enjoy a wealth of splendid mountain scenery.
Visiting a Bo Y village
We awake to a dark and misty morning on day four of our northern Vietnam road trip. Luckily the weather does not matter for our first adventure of the day, a walk through a Bo Y village.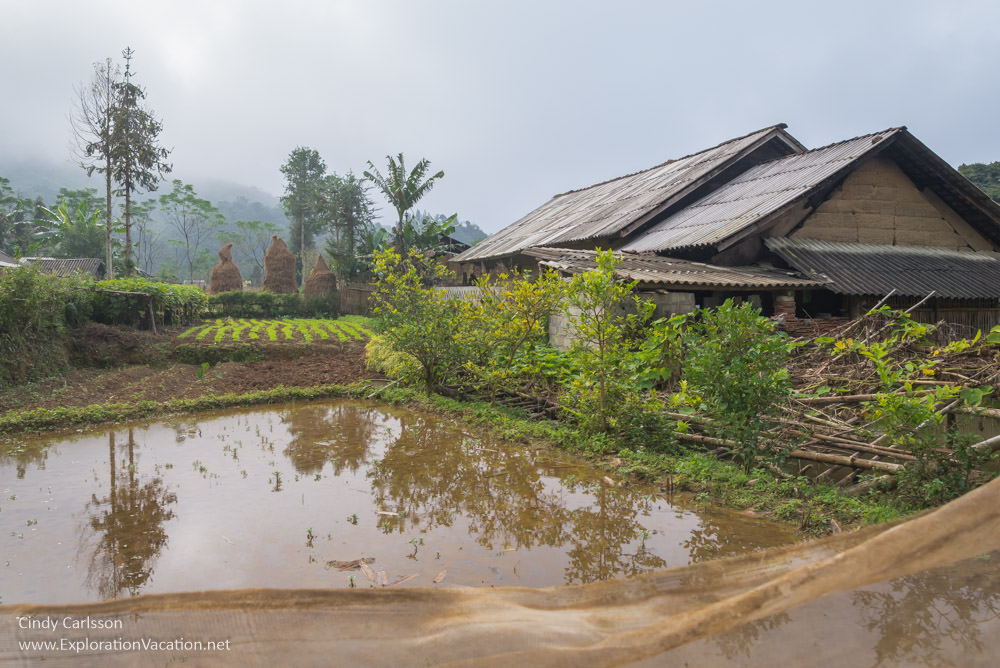 Maybe it is the weather, but this village is particularly lush. Even with the rice harvest complete, the fields are green with vegetables and herbs – much more so than we have seen elsewhere.
The Bo Y, a small ethnic group that originated in China, use local clay to build sturdy homes and barns.
Boy Y houses are generally constructed with three rooms on the main floor and an upper "attic" with additional space for storage and sleeping.
The interior of the house we visit looks the most like a Western home of any we have seen yet, with cheerful blue walls in the small living room area. Here we meet a father and two of his children, who tell us (through our guide and some pantomime) a bit about their lives. For example, we learn that this house was built by his family 50 years ago.
Up into the terraces
Soon we are back in the mountains again, nearly even with the clouds as our northern Vietnam road trip takes us up and over the mountains.
I am absolutely entranced by the terraces.
I'm curious about what they are growing in the terraces besides rice. And, when we stop to take a closer look at one, discover a healthy crop of some sort of squash or cucumber.
The vegetables will help keep these families well-fed through the coming months.
Market day in northern Vietnam
I have been delighted by the number of markets we have happened upon on our northern Vietnam road trip, and now we find another one.
We seem to be in an area particularly rich in ethnic diversity (I have completely lost track of where we are, but am guessing Tam Son), as both vendors and customers sport a variety of Hmong, Dao, and other fashions.
Exploring Me village
From the market we continue our northern Vietnam road trip through mountainsides swathed in green until we reach Me village near Ha Giang.
At the village we explore on foot.
Our guide calls this the palm leaf village, because the thatch used for roofing is made of fan palm leaves.
A closer look
We get a good view of one of these roofs when a family invites us into their home.
All of the houses here are raised off the ground, with the lower level used to house tools, extra supplies, animal feed, and a few smaller animals. The family lives upstairs, where the large open space is separated into a few distinct living spaces, including a large open area for meal preparation.
Although there are a few items tucked in eaves for storage, much of the living area simply has the beautiful, intricately tied roof overhead.
Back outside, we wander through more of this large village. We walk slowly, admiring the finely built homes and carefully tended fields.
At the plywood and veneer factory
As we've been driving over the past few days, I have seen more than a few yards with thin sheets of wood set up to dry or stacked in neat piles. They look odd and out-of-place lined up along the road, which is what made me curious about them.
Plywood is ubiquitous in the USA, but I had never considered how it is actually produced. I've always thought of it only as a product of a big factory somewhere, hardly even as wood. Thus, it is eye-opening to realize that producing the raw materials for various plywoods and veneers is a popular small business here.
Noticing my curiosity, our guide makes an impromptu stop at a plywood business so I can see the process up-close.
A few male employees seem delighted to show us how they use a large, fierce-looking saw to peel logs down layer by layer until they reach the heartwood.
The thin wood sheets produced by the saw are then carefully set up out in the sun to dry. (The trick is keeping them from curling as they dry, hence the use of various racks in addition to the ground.)
Once dry, the sheets are bundled into large stacks to be hauled away for use in various types of plywood and veneers.
I am surprised by how sturdy these relatively thin sheets of wood seem to be. However, I am more surprised by the number of women working here.
Women at work in the factory
While men handle the saw, women seem to do all of the other work.
It's women who haul the sheets outside to dry, set them in the drying racks, haul them back inside, and bundle them into enormous stacks. Unlike the men working the saw, the women are clearly uncomfortable with our presence and I wonder why. Is it just shyness? Embarrassment about the fact that they work here? Concern about how they look? Fear that a manager is watching
Despite working in what is essentially an open-air factory, most of the women here are dressed in the casual dress clothing of young women in Saigon or Hanoi, with comfortable pants and colorful modern tops. I wonder how they look so stylish while working at such a physically demanding job. But more than that, I wonder if they are proud to have a job here or if this was their last resort when other options ran out.
Walking amid the palms in a Black Dao Village
Earlier today we explored a village our guide nicknamed the "palm leaf" village. Now we are visiting the "palm tree" village, a name he coined because the fan leaf palms used for roofing actually grow right in the village.
It is a gorgeous place, but eerily quiet, as everyone is out working in the fields, in town, or off at school.
Up into the mountains again
After our walk in the palm tree village, our northern Vietnam road trip takes us back up into the mountains again. And, once more, the mountainsides are covered with carefully sculpted terraces.
We even see a few waterfalls before dusk obscures the glorious scenery.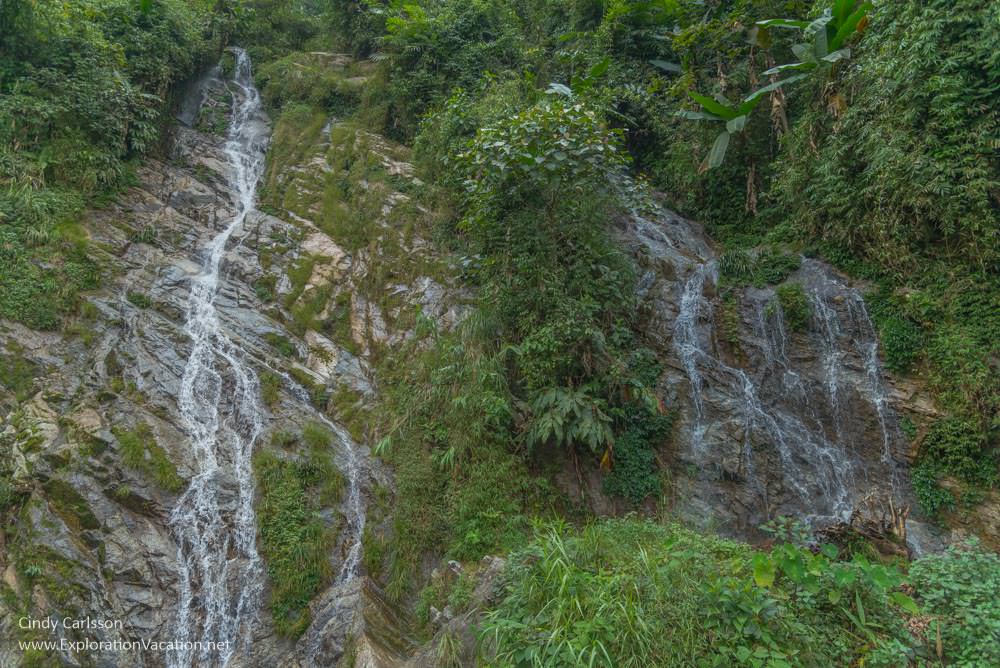 Exploring northern Vietnam in 10 days