(Last Updated On: November 9, 2019)
Day three off the tourist trail in Northern Vietnam
The third day of our northern Vietnam road trip takes us way, way off the tourist trail as we tour more of Ha Giang province. Today's travels include the majestic Ma Pi Leng Pass, bustling Xa Phin market, a Hmong palace, a National Geographic-worthy encounter with a group of rice wine drinking Dao women, and a beautiful Hmong jacket.
Is this the best chicken soup in northern Vietnam?
We begin our day in Meo Vac. And, like most days in northern Vietnam, it begins with chicken soup.
While pho is ubiquitous here, today our guide promises us the best chicken soup in Vietnam.
He could be right, as it is absolutely delicious.
Ma Pi Leng Pass
Unfortunately the morning is still dark with low-hanging clouds after we finish breakfast. While not great weather for sightseeing anywhere, it's particularly bad for viewing mountain passes like the stunning Ma Pi Leng Pass just north of Meo Vac.
(You know it's a spectacular spot when your guide and driver are running around taking pictures of each other. Now if only the sun would come out!)
While I took those first shots from the edge of the road at the top of the pass (where there is a small parking area), there is also a visitor information center further down the mountain. From here, an overlook provides a good view of the valley below. There is also a short trail that winds through some of the mountainside's odd rock formations.
I like getting a better view of all the weird rocks found in these mountains. Usually all I can see as we drive is greenery, so it is fun to see the actual rock!
We get to see a lot more amazing scenery (with clouds) as we travel north almost to China and then west along the border.
Xa Phin (Sa Phin) village
We are supposed to be headed for Dong Van, a historic town in the Xa Phin (Sa Phin) valley, for a morning tour of the historic architecture and a lunch break. However, as we approach the area, the large number of Hmong heading in the same direction makes it clear that today is market day in Xa Phin village.
At the Xa Phin market
The market in Xa Phin is held every six days, and is a major commercial and social event for the surrounding Hmong community. The Hmong women will dress-up for this event, and our guide is sure that we (I) will be very interested in their elaborate clothing. (I think he has some shopping in mind too.) So we toss aside the itinerary and join the throngs of trucks, cars, scooters, bikes, water buffalo, and pedestrians heading into the village.
The market is wonderfully crazy, with people (and a few animals) filling every space not already occupied by vendors selling vegetables, herbs, fabric and clothing, household items, prepared foods, tools, and more. And, of course, many of the Hmong women are beautifully dressed in various permutations of traditional clothing styles.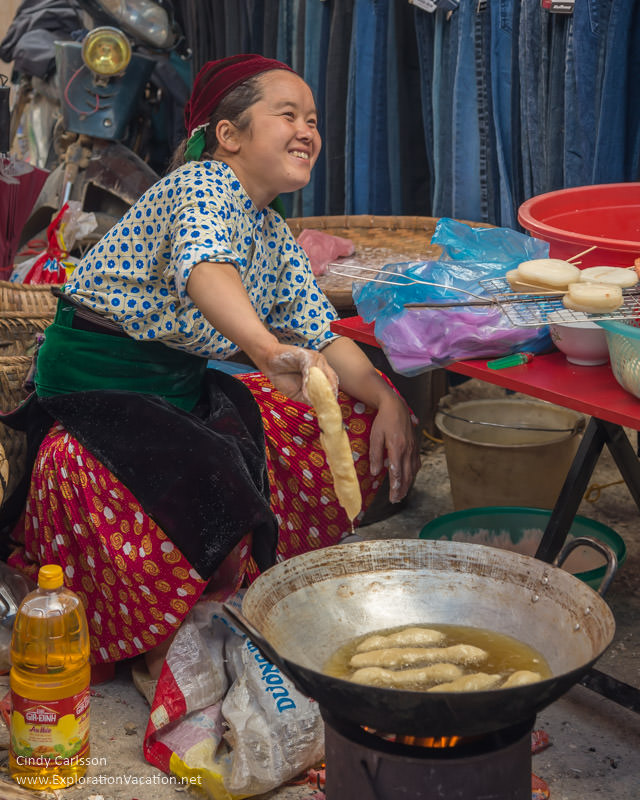 In the Vuong family palace
Xa Phin is also the site of the Vuong family palace. The palace is often referred to as the Hmong king's palace, as Vuong Chinh Duc and his son ruled over this part of the country (and its lucrative opium crop) during the first half of the 20th century.
Although the palace (which was designed primarily as a fortress) was only constructed in 1914, it was built of the finest materials by highly skilled Chinese craftsmen and looks like a Qing Dynasty palace from three or four centuries earlier.
While the palace is largely unfurnished today, it provides an evocative look back in time.
Walking the Dong Van Plateau
The Dong Van Plateau covers some 900 square miles of far northern Vietnam, but a good spot to study it up-close is just a short distance beyond the Vuong family palace in Xa Phin. To get there, we first join the Hmong families climbing the hill back to the road.
Once back on the road, it's only a short drive to a parking area with trails that lead into the Dong Van Plateau, an Unesco-designated Global Geopark.
There is no visitor center (aside from one very big sign), but there is a girl selling boiled eggs and other fast-food snacks – apparently this is also a popular snack stop for truck drivers and local residents in need of a break!
Of course, I'm much more interested in rocks than food, so Lane and I immediately begin following the rocky trail along the mountainside.
Alas, we have only a small amount of time to explore here. (I really just want to keep walking toward those distant mountains, peeking at the plants sprouting in every crevasse along the way!) But at least we have a few minutes to hike along the other side of the road, where we have wonderful views back into the Xa Phin valley.
On the road again
And then we are back on the road again, continuing our northern Vietnam road trip through craggy mountains and lush valleys – with lots of karst outcroppings to keep things interesting.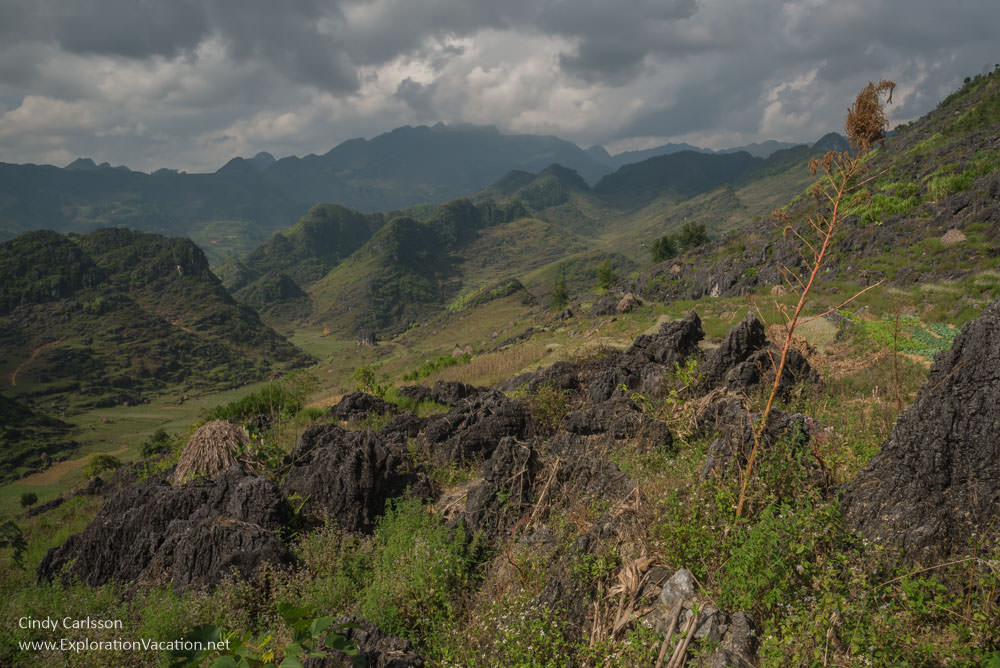 We stop for lunch in a town along the way.
Soon we are back on the road again, but now the scenery begins to change. We have entered a magical landscape of carefully terraced slopes and towering mountains.
Drinking rice wine with the Dao ladies
To be honest, it has already been such a good day that I am happy to just enjoy the scenery. However, our guide has another village visit planned for us, and eventually we leave the vehicle and follow a foot path to the edge of a Dao (Yao) village.
Our guide plans to stop by the school, play a little Vietnamese-style hacky sack with whoever is out for recess, and then visit a home in the village.
However, those plans quickly change, as a group of girls eagerly explain there is no school today. The village is celebrating its 85th anniversary and the celebration is still going on down at the school!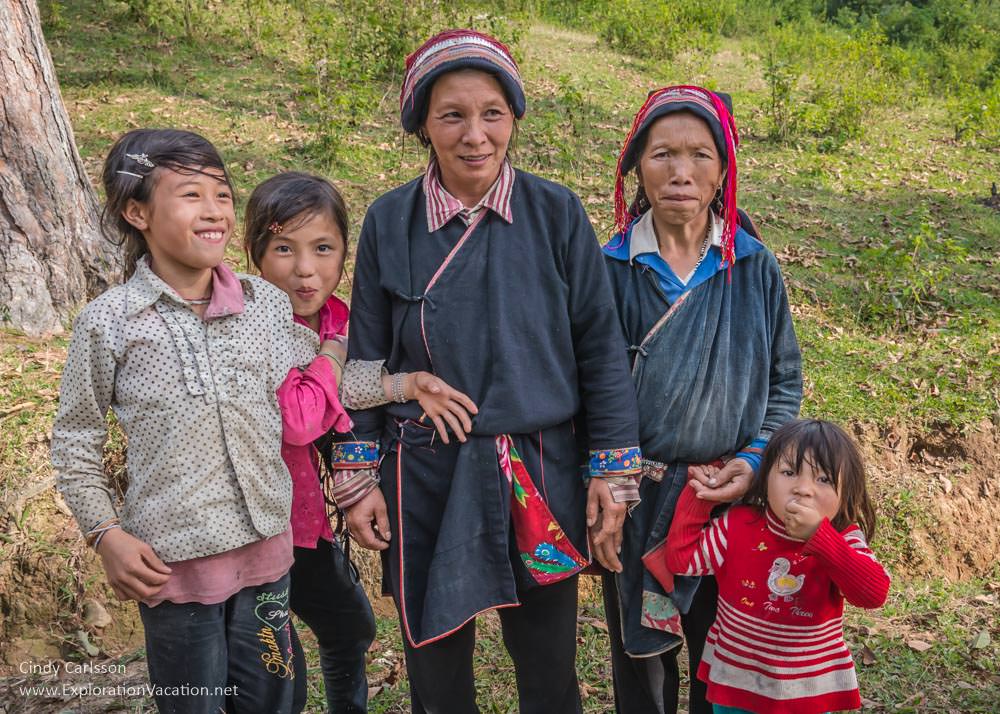 Inside the school we find that the party has indeed been going on for some time, with the rice wine flowing freely among the older women. Soon I am drinking rice wine with one of the village elders, as her friends check me out. And I mean check me out. Many of these older women apparently have never met a fat white woman before and the rice wine has given them courage to act on their curiosity – it's like being in one of those old National Geographic movies where the newly "discovered" indigenous people start patting and poking the white explorers to figure out exactly what sort of creatures they are. It's disconcerting, but also cool because it is so real and definitely not an experience many modern travelers have.
At the same time, other ladies hold up their grandchildren for me to photograph and younger women (and a few young men) point at each other to indicate that I should photograph their friends. It's chaos, but mostly in a good way.
(Lane escapes the patting and poking by heading outside and letting a group of kids take out-of-focus pictures of each other with his camera.)
Gorgeous textiles at the Hop Tien Cooperative
We have yet one more treat in store for us today, as our last stop is at the Hop Tien Cooperative in Lung Tam.
The Hop Tien Cooperative was originally organized to provide work for women in difficult circumstances (often women who had been the victim of sex trafficking when they were young), although now it also provides work for many women in the community.
It is late enough in the day that most of the women who work here have finished for the day, but the shop is filled with intricately woven and embellished textiles. Some of these are very traditional, but many use traditional designs in untraditional ways.
Of course I can't fall in love with a simple table runner, pillow case, or scarf. Oh no, I have to fall for an elaborate jacket with delicate batik and embroidery. (It's so beautiful!)
Mrs. Mai, who organized and runs the cooperative, thinks I should pose for pictures in the still-blooming buckwheat field (having your picture taken in a field of blooming buckwheat is a thing here) and finds a suitable skirt and Hmong headdress to match my jacket.
(Unlike the Hmong who look beautiful dressed like this, I look ridiculous, but it is fun.)
Back in the shop I discover that the coop-op does not take credit cards and we do not have enough cash for the relatively expensive jacket. However, as I attempt to lower my sights to something less extravagant, our guide steps in and offers to loan us the money until we can get cash again. I think Lane is embarrassed, but I am grateful: the jacket is going home with me.
By now it is dark, so I can't see the scenery as we continue our northern Vietnam road trip a bit farther (to end the day in Yen Minh), but I'm happy.
What a great day!
Exploring northern Vietnam in 10 days