(Last Updated On: December 13, 2020)
Day seven off the tourist trail in Northern Vietnam
The final day of our northern Vietnam road trip is a bit less off the tourist trail because we are now in Sapa.
Exploring around Sapa
This northern hill town has become the trekking capital of Vietnam, making Sapa much more touristy than anywhere else we have been this week. As such, the otherwise rather charming town has all of the traffic, shopping opportunities, tourist restaurants, and touts of other well-touristed Asian cities. However, unlike many other cities, in Sapa it is possible to actually walk from town into the rural world of the local Hmong and Dao minorities.
The area around Sapa is home to the Black Hmong and Red Dao (Yao).
Both groups live in villages very near Sapa. However, while the villages look similar to the traditional villages we have seen elsewhere, people here have made adaptations to both accommodate and earn a livelihood from the tourists that increasingly flock to the area.
A walk through Ma Cha village
While some visitors simply walk the few miles to Ma Cha village, we take the car to the edge of the village where we pay a small fee to enter. (The entry fee helps pay for programs and projects needed by the villagers, as well as ones that benefit tourists.)
Walking through the village
From there, we walk follow the narrow road through more lovely scenery.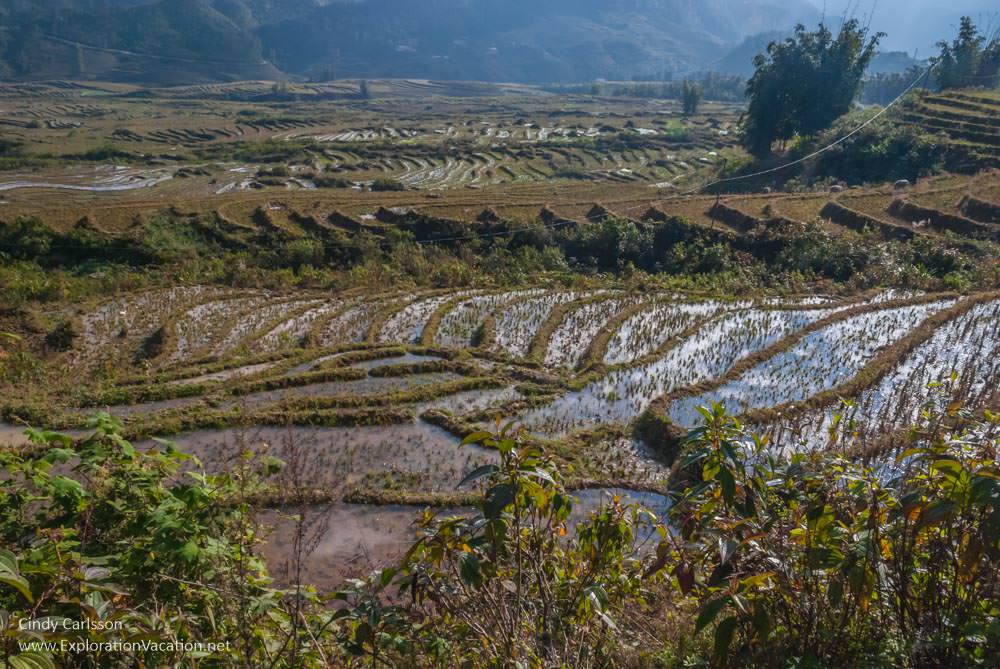 We also meet a few local residents along the way.
Black Hmong textiles
The Black Hmong who live here are noted for their fine indigo and batik fabrics. As we walk, we see plenty of signs of their work. Creating and decorating fabric is a never-ending task, and many of the elderly women and young girls we meet are preparing hemp for weaving even as they walk or visit with each other.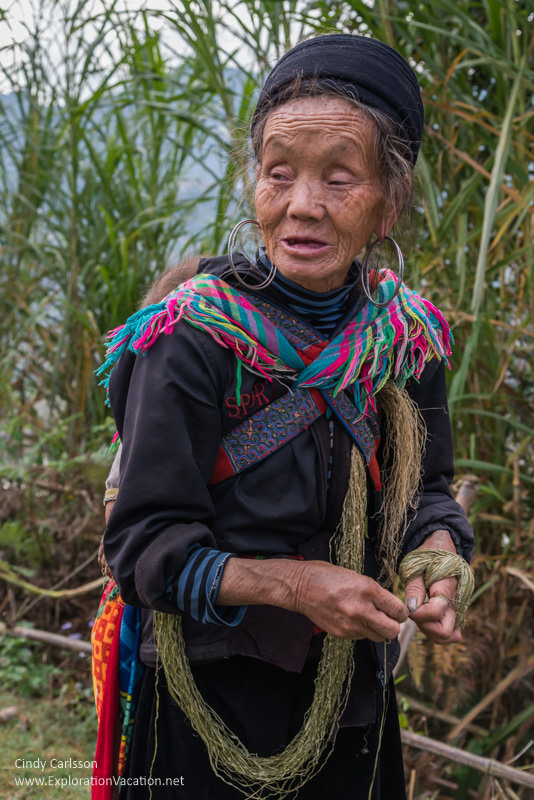 Once twisted into thread, the hemp will be bleached (using ash) and then woven into long strips of cloth. All along the way we pass fences and clothes lines draped with white (freshly bleached) or indigo (freshly dyed) fabric.
Most of the fabric we see will be dyed or printed, but some will serve as the base for elaborate embroidery. And, as we walk through Ma Cha village, we see groups of girls working on their embroidery.
A village surrounded by terraces
Our path takes us past homes and fields and the occasional shop.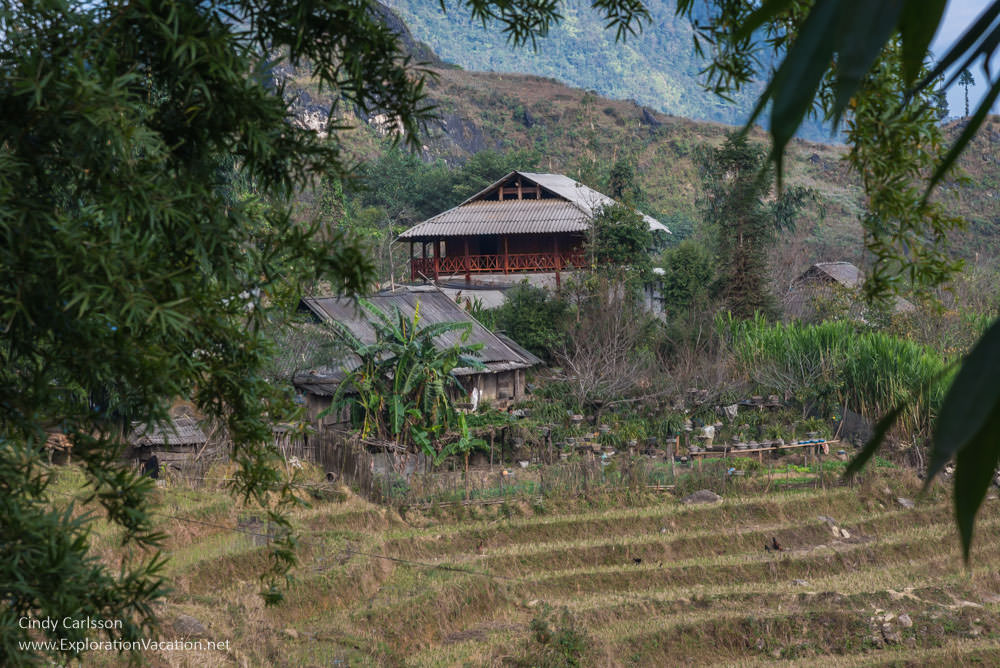 However, as usual, the terraces attract most of my attention.
The Hmong also seem enjoy their view over the terraces. In many places the simple wooden homes of the Hmong line the roadway overlooking their fields.
Distracted by batik
Our guide notes that the Hmong have all their windows on the side facing the terraces and suggests we stop at one of these homes to check out the view from inside.
Soon we are in one of the houses, although this one seems to be used mostly as a workshop and staging area for a woman who sells batik fabric.
The view from her windows certainly is stunning.
However, I am quickly distracted by a long table filled with handmade batik. After much deliberation, I buy a piece that turns out to have been made by another Hmong woman who is also visiting.
What a treat to be able to meet the woman who made this beautiful work of art!
The fabric I bought was an indigo batik. Further along the road we come to a workshop that teaches visitors how to do traditional batik, along with a variety of other textile techniques.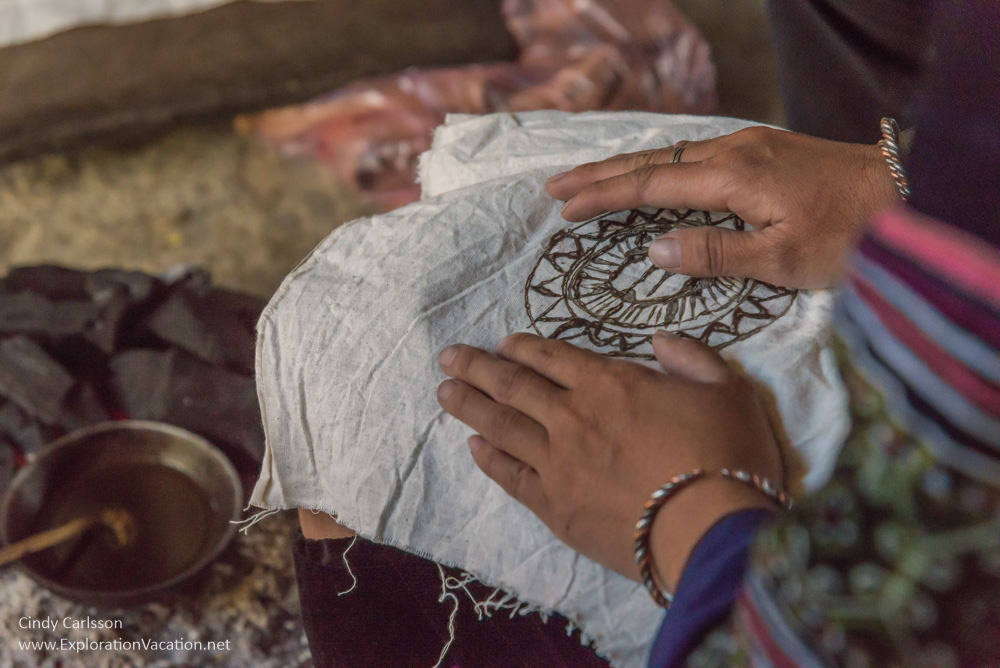 What a wonderful place to learn how these beautiful fabrics are made! My head begins to fill with thoughts of spending a week – or many a month – here learning these traditional techniques.
Schoolyard games
Soon we see the village school in the valley below.
Even from above we can hear the sounds of children at play.
Our guide loves stopping by schools to visit with the children at recess. He'll ask them about their studies, but mostly he likes to join them in a playground game or two. His favorite seems to be a Vietnamese version of hacky sack, but today there are lots of kids out and lots of games to try!
From the school we continue though the fields along the valley floor.
Orchids!
While there are plenty of traditional crops growing here, I am excited to discover that orchids are a popular crop too.
If we were here a week later, many of these orchids would be in bloom and on their way to market.
It's something to remember for my next trip.
Needlework and more in Ta Phin Village
At some point as we cross through the fields that cover the valley floor, we enter the Red Dao (Yao) village of Ta Phin.
The Red Dao in this region are noted for a particularly fine type of embroidery. They work intricate designs  in minute detail over large sections of fabric to create the effect of a complicated weave.
(Right now these women are using a particularly vibrant yellow thread that they are clearly fond of – one lamented they can't get any more of this color. Designs are traditionally worked in a slightly more subtle range of yellow, gold, and red silk thread purchased outside the village.)
Ta Phin has become a center for the production of this elaborate traditional embroidery, which is both worn by the women of the community and sold in the markets of Sapa and Hanoi. As we walk through town, it seems as if there are women and girls working on embroidery everywhere I look.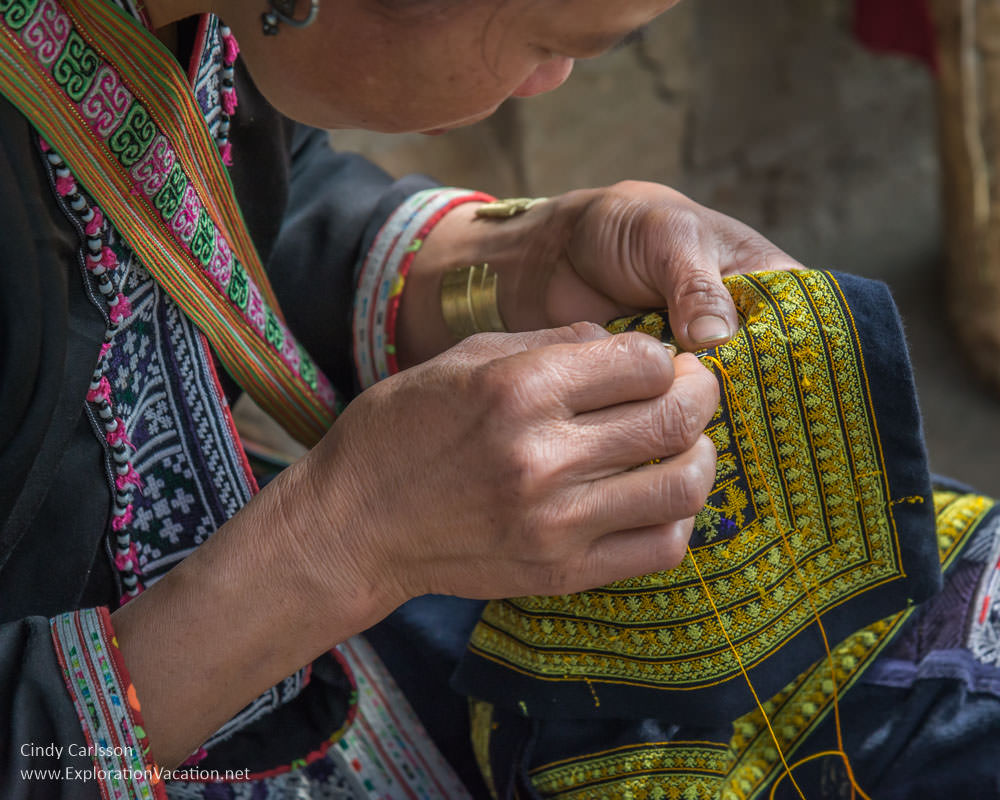 And our Northern Vietnam adventure comes to an end
Back in Sapa, we have a bit of time for shopping – I buy a few small pieces of Hmong-style jewelry (since I have been unable to find any in the markets) and some Vietnamese cinnamon.
And then it is time to pack up and head for Lao Cai and the night train to Hanoi.
(We found the bottle of Orvieto Ruffino in Sapa, and this reminder of wonderful trip in the past seemed an ideal way to close this portion of another wonderful trip.)
Exploring northern Vietnam in 10 days