(Last Updated On: April 23, 2020)
While Stockholm is the largest and most well-known of the towns linked together by Sweden's Lake Mälaren, travelers would be wise to journey farther along the lake to discover its smaller and less-famous gems. The friendly little town of Strängnäs is among them.
Exploring Strängnäs
While few tourists may be familiar with it, Strängnäs is one of Sweden's older cities and was a prominent religious and government center for centuries. It's unclear exactly when Strängnäs was first settled, but it appears in official records by the 12th century. A monastery was established there in the 13th century and construction of the cathedral soon followed. King Gustav Vasa was chosen to be king here in 1523 and the city was home to a number of important religious figures during the Reformation.
Today Strängnäs is a quiet place; a great spot to wander on your own or in the company of a Strängnäs Greeter.
The Strängnäs Greeters are volunteer guides who can ensure visitors discover the things that make the city special — the neighborhoods, foods, parks, historic buildings, and other attractions that are often known only to residents.
Along the waterfront in Strängnäs
The group I was traveling with met our Strängnäs Greeter along the city's inviting recreation harbor.
The waterfront is a good place to begin a tour of Strängnäs, as in previous centuries Lake Mälaren was an important transportation route; many visitors in years past likely began their visit here along the waterfront. Of course, visitors with access to a boat or time to book a tour can still make Strängnäs part of a cruise on Lake Mälaren!
But even if you don't have a boat, the Västerviken (west bay) is a pleasant place to walk or just relax.
Strängnäs mill
Strängnäs is famous for its two most prominent hills, aptly nicknamed Mill Hill and Cathedral Hill. While the Cathedral is just barely visible from here, it would be hard to miss the mill perched high above the waterfront.
There has been a mill on this hill since 1630. The current one is a Dutch-style windmill built in 1855. While it is no longer in use, it remains in working condition and is occasionally open for tours.
A quick hike up delivers a close-up look at the windmill and an overview of the harbor below.
(The mill wasn't open on the day I visited, so I didn't have a chance to look inside.)
Old Strängnäs
While much of Strängnäs was destroyed and then rebuilt after a fire in 1871, remnants of the old city still remain. A good way to see a few of them is to wander down the other side of Mill Hill and follow Västerviksgatan in the general direction of the Cathedral.
The houses you pass along the way were built at various points in time, but the oldest survived the fire and date back to the 17th century.
The best preserved (and one of the oldest) is Grassagården, a historic castle farm that goes back to the early 1600's.
Today this farm turned tavern  is a charming café with a small museum that preserves the property's middle class home much as it was 100 years or more ago.
Strängnäs Cathedral
Strängnäs has been a religious center since its earliest days and no visit would be complete without taking a look at the historic Cathedral.
The best way to get to the Cathedral is by walking along Gyllenhjelmsgatan. Here too the street is still lined with buildings that have been here for centuries. It's such an attractive spot that it has been called "the most beautiful street in Sweden."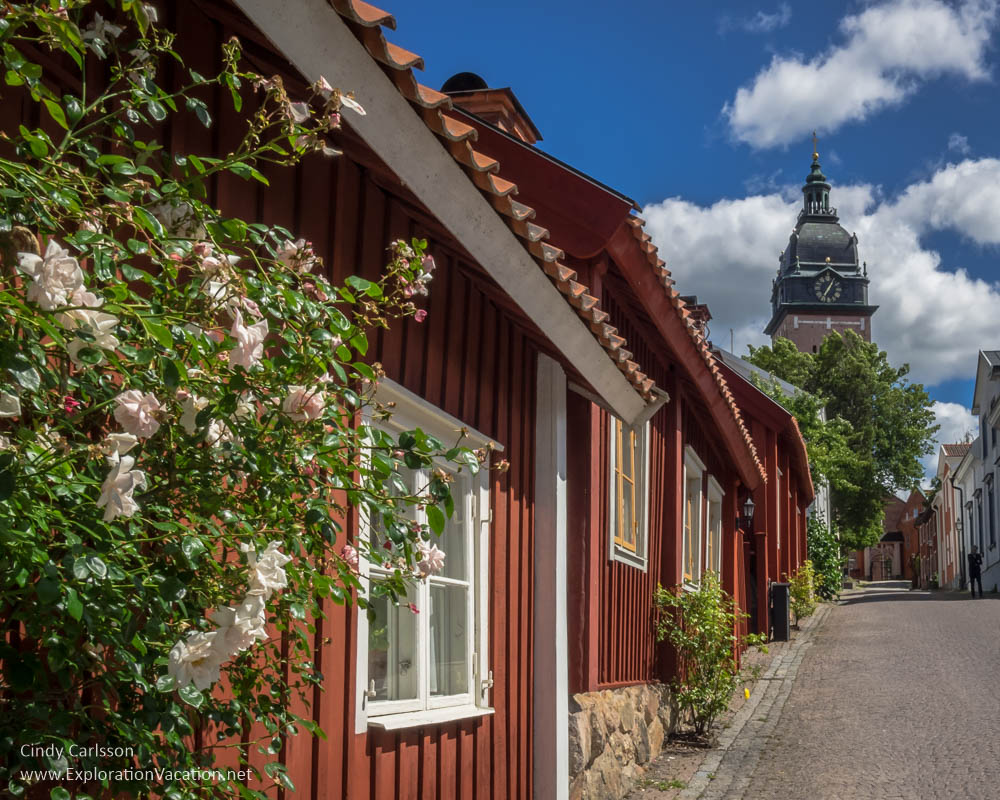 The current Cathedral dates to 1340, when a brick church was built in the Swedish Gothic style to replace an earlier wooden structure.
However, while the exterior may look much as it did in the 14th century, the interior has been extensively remodeled over the years. Most of today's Art Nouveau-inspired interior is the result of a 1910 renovation, although the reredos (panel with carved figures) on the high altar has been here since 1490.
Likewise, over time various side chapels once devoted to saints became burial chapels for the nobility. The most elaborate of these belongs to Carl Carlsson Gyllenhielm, a son of Duke Carl (later King Charles IX) who served as an Admiral in the Swedish navy (he led the investigation of the sinking of the warship Vasa). The entire chapel – including the ceiling – is covered with intricately carved plaster motifs, most of which relate to the navy or sea.
(Yes, those ships are carved into the wall,not painted.)
(King Charles IX is also buried in Strängnäs Cathedral, but his tomb – which includes a life-size figure of the king in full armor on horseback – is relatively modest in comparison.)
If, like us, you only stopped at Café Grassagården for a bit of fika (maybe just one of their perfect cardamom rolls), you should be ready to have a bit more to eat now.
Lunch in the city center
There is no shortage of cafes and restaurants in Strängnäs, but a short walk back down Gyllenhjelmsgatan leads to the city center and the very fine Rogge Bageriet.
Located in the 1921 Hotel Rogge, the Rogge Bageriet is more than just an excellent bakery, as it also serves breakfast and lunch.
And that ended my time in Strängnäs. I'll need to return again if I want to hire a boat for an afternoon tour on Lake Mälaren, loop through the city along the Art Walk, or browse through the city's unique shops.
Strängnäs is an easy day trip from Stockholm (many city residents commute to Stockholm daily) via the modern E20 highway or direct train. It can also be part of a multiday driving or biking tour that includes Mariefred and other locations along Lake Mälaren or the castles and manors of the surrounding countryside.
I visited Strängnäs as a guest of VisitSweden and VisitSörmland, but, as always, all views expressed here are strictly my own
Fabulous Fika at Café Grassagården