(Last Updated On: May 6, 2019)
We have the good fortune of having generous friends with a place on Leech Lake near Walker, where we joined them for the long Labor Day weekend.Leech Lake is a large, shallow lake, ideal for fishing and water sports. However, its distance from the Twin Cities metro area (about four hours) limits the number of people who vacation here. There is still undeveloped shoreline and, even on a holiday weekend, there are seldom more than a few boats visible at any given time. It is a lovely, relatively quiet retreat.
Our friend's place is at Trapper's Landing, a resort that also offers various ownership options. It has a good location on the south end of the lake, with a scenic island just offshore and a nice beach.
The resort has a variety of combination lakehomes/condos with a welcoming "north woods" décor, big windows and decks with lake views, and fireplaces. They would be comfortable in any season and a fine place to spend a rainy day!
As a full service resort, it has just about anything you could want: There are firepits behind the homes for late-night campfires (please put out the fire before you go to bed); a full-service marina with plenty of space for your own boat, along with a pontoon, fishing boat, kayaks, canoes, and speed boats (with a driver for water skiing, if desired); a heated outdoor pool; a sauna; bicycles; a full bar (often with live music on weekends) and restaurant; ice houses (for fishing). Resort staff can also arrange fishing guides and other activities, including scenic flights over the lake. There are also plenty of hiking and bike trails in the area for those wishing to wander a little farther afield.
Of course, while there is no need to just sit and stare at the lake, that's a reasonable activity too.
2013 Trip Journal
Leech Lake from our patio

Yes. That's the back yard.
From Trapper's Landing to Whipholt Beach
Should we ever want to leave the yard, it's a pleasant walk along the lake, through the woods, and into a tiny lake shore town.
On the water
We rent a boat for the afternoon and explore our end of this very large lake.
Hiking the North Country Trail
The national North Country Hiking Trail runs through the forest near Walker, so we spend a lovely fall afternoon hiking.
Sunset from our backyard
The clouds that hung overhead all day break up just enough to allow for a wonderful sunset.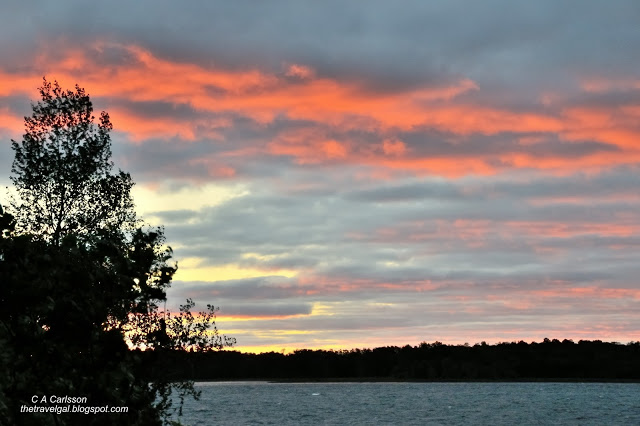 Don't let the pictures fool you. This was no calm, quiet sunset. . . even as the sky lit up with soft pink reflections, the wind continued to howl. I was careful to maintain firm footing while shooting so I wouldn't find myself suddenly being blown down onto the rocks along the shore below!
Photo Thursday: The Last Day of Summer