(Last Updated On: May 12, 2019)
I first went to Europe in college as part of seminar studying war and peace. Our long list of stops in Western Europe also included a few days behind the Iron Curtain in the Soviet cities of Leningrad (St. Petersburg) and Moscow.
Remembering Moscow's Red Square and St. Basil's Cathedral
To celebrate our first evening in Moscow, a group of us had tickets to see the Kirov Ballet perform at what I am guessing was the Kremlin Palace (rather than at the grander Bolshoi Theater). Our plans were quickly put into question with the news that Soviet Party leader had died and that Red Square and much of the surrounding area was closed, with no idea of when it would reopen to the public. Several phone calls were required to confirm that access to the theater would be allowed for the evening's performance.
While that was good news, I was disappointed to hear that access to the famous square would be restricted. Saint Basil's Cathedral was the number one item on my Moscow must-see list. Would I even get to see the famous church?
That evening the ballet was entrancing; it was a couple hours of pure magic.
Later, in the crush of people leaving after the performance, we lost track of where we had entered the theater. Having no idea where to go, we simply followed the crowd through the nearest exit and into the semi-daylight of a spring night in Russia. As the flow of people began to subside, we began to look around and more closely consider where we were.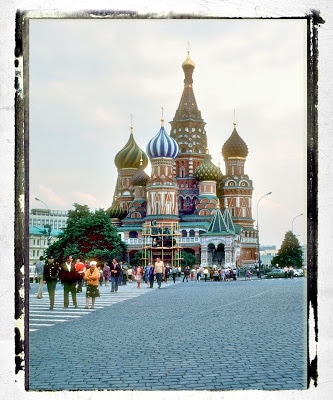 The street had become part of a broad plaza of sorts. Recognition came slowly, but finally someone said it. "We're in Red Square." While not sure how this had come to be, it was clear that she was right: There was the Kremlin's wall with its glowing star, the cobblestone courtyard before use rose slightly as it broadened into a large square, and there, at the far end, were the distinctive towers of Saint Basil's.
Giddy with excitement, we raced across the square.
I was Dorothy rushing to Oz, the twisted Technicolor towers beckoning from the end of a brick plaza with painted yellow stripes.
The church was every bit as wonderful as I hoped it to be, perhaps in part because of the unexpectedness of my encounter with it.
Talk about the magic of a Russian night!