(Last Updated On: June 7, 2019)
I am in La Crosse, Wisconsin, for a meeting. But it's too nice a day to spend all of it inside, so after we wrap up our meeting, our host takes us on a tour of the area.
Down by the riverside
The (old) Dresbach Bridge
Most of our informal tour is focused on changes to the highway system or bike trails — which I have a hard time turning into good photographs.
However, along the way we stop at the I-90/US 61 rest area, which provides a good view of the (rather boring) I-90 Dresbach Bridge over the Mississippi River near La Crosse.
I've heard about this bridge for a long time because it keeps coming up as being in need of rehabilitation or replacement, so I thought I should at least take a picture of it while I have the chance! (A completely new bridge opened to traffic in 2016, so the site no longer looks like this.)
What you can't tell from this picture (and what I couldn't figure out how to capture elsewhere) is how gorgeous the river is down here. While the main channel of the Mississippi itself is really wide here, there seem to be channels, back waters, and marshes everywhere. The view from all the bridges is lush and green and really lovely.
Lock and dam number 7
Lock and dam number 7 is also located near the rest area. I ask my host if you can get out to the locks and he confesses he has never been down there and thus does not know. That seems like an invitation to check it out, so as soon as our tour ends I head back to see what's what.
The view of the lock and dam is pretty limited, but it is still an interesting scene.
Most people seem to come here to fish in the quiet waters just off to the side.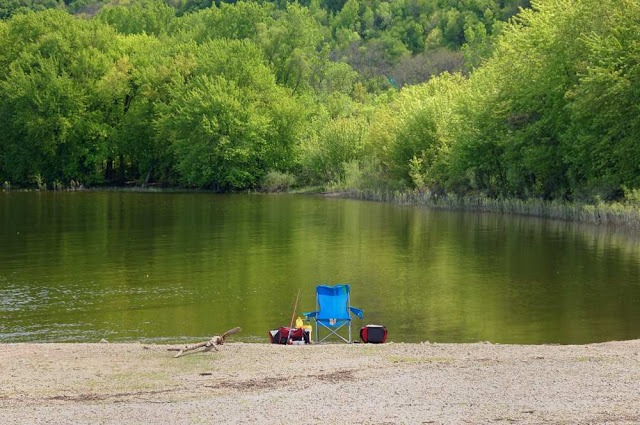 Of course, since it is spring, I'm actually more interested in the landscaping. . .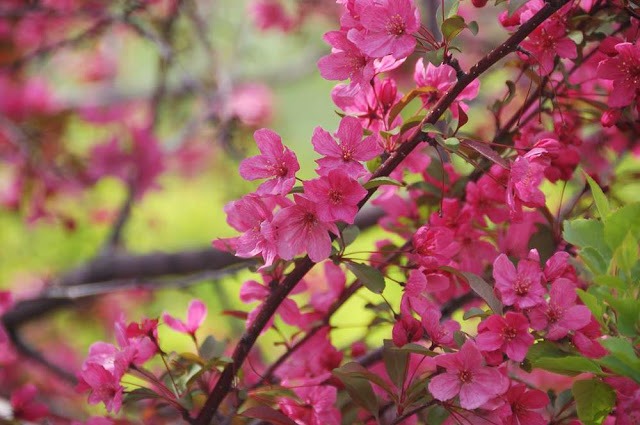 So there, Tom. Now you know what is down there 🙂
Heading north along Minnesota's Great River Road
I'm headed home, so I continue north up highway 61 (Minnesota's Great River Road) with the top down to better enjoy the river and the spectacular bluffs that tower above.
It's a great day for a drive along the river!
Plan a tour along the Great River Road
This is just one tiny piece of the Great River Road, which extends from the headwaters of the Mississippi River at Itasca State Park in northern Minnesota all the way down to the Gulf of Mexico in Louisiana. The Great River Road national scenic byway runs through this area on both the Minnesota and Wisconsin sides of the Mississippi River. Along this portion of the route you'll find spectacular scenery and quaint small towns.
The section covered here, which includes a small piece in Minnesota between Winona, Minnesota, and La Crosse, Wisconsin, is beautiful at any time of year. However, spring and fall are when the area is absolutely at it's peak.
Those interested in getting a good overview of the area may want to head up the bluff to Minnesota's Great River Bluffs State Park. Trails along the top of the forested bluffs and through small "goat prairies" provide views of the Mississippi and its backwaters from high above.