(Last Updated On: May 28, 2020)
The Gunflint Trail (County Road 12) heads mostly north out of Grand Marais, Minnesota, and then runs along the Canadian border lakes for just under 60 miles.

It is a beautiful drive almost from the very beginning, with a mix of deep green pines and brilliant yellow poplar under a sometimes blue sky.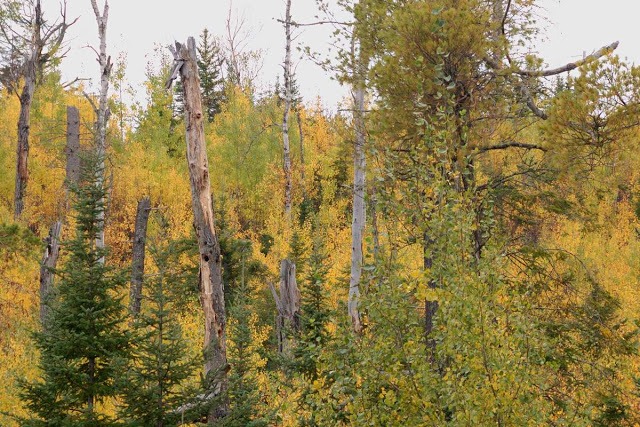 We make one stop along the way, choosing the short hike up Blueberry Hill (the Northern Light Overlook Trail) over Honeymoon Bluff because of the location of the sun.
There are no cars at the pull-off. Perfect. We climb the steep trail in solitude.
Through the trees we have an occasional glimpse of wonderful brilliantly colored scenery stretching away in all directions.
However, there are also interesting things right at our feet.
Still alone here, we take our time drinking in the scenery at the top of the trail.
Beautiful.
We descend carefully, concentrating so fully on the slippery leaf and pine needle-covered rocks that we almost don't notice that we are not alone here after all.