(Last Updated On: May 13, 2020)
We are in LA now, after about 24 hours in transit from Cambodia yesterday. Whew! But what an awesome trip.
Thailand
November 5
We Are Off!
A good start to the trip thus far, with a First Class upgrade from Minneapolis to LAX. Oh how I am going to miss that Elite status next year!
The week has been so hectic that I've barely had time to think about the trip – a little research a couple of nights, but that is about it. I feel rather disorganized and fragmented, but that's ok. I don't HAVE to organize anything myself for this except travel to the flower show and shopping. Lane can figure out the dinners. Heck, he can figure out how to get to the flower show too. That just leaves just shopping to think about ?
That's the nice thing about guided tours, you don't have to do a lot of organizing in order to have a good trip.
November 7
November 8
Around the Neighborhood in Chiang Mai
This ancient city boasts many of Bangkok's amenities, including excellent food and accommodations but without the frenetic pace of modern city life. From its origins as a small northern town, it has become a city representative of modern Thai culture with a beautiful personality of its own represented, in part, by the many temples found here.
Lane and I started the day with an early morning walk in the area around the hotel. I really want to head across the moat to the old town with its traditional teak homes mixed in with small shops and glittering temples. Of course, I didn't get up early enough to allow enough time to do that. Instead we walk up the street on one side, cross over the moat, and then walk back along the other side.
The Jade Factory in Chiang Mai
There is a big tourist shopping area just below Doi Sethup and we are to visit the "Jade Factory" located there. It looks like a tourist trap.
It seems like it might be better to remain here and watch the vendors fly their paper butterflies as they seek buyers for these and other trinkets.
But, of course, I don't.
November 9
An Evening Out in Chiang Mai
Out for the evening in Chiang Mai.
November 10

Heading North from Chiang Mai
After breakfast, depart Chiang Mai and drive through mountains, valleys and the lush landscape of northern Thailand to Mae Chan, with its Yao and Akha hill tribes. Continue to Mae Sai, the northernmost point of Thailand, separated from the Burmese border town of Thakhilek by a small river also called Mae Sai. Take a stroll through the local market where you'll find jade and other Burmese jewelry and handicrafts, then continue to Chiang Saen, a small town on the bank of the Mekong River, on the border with Laos.
We appear to have a very busy day ahead.
November 11
Snake Handling in Thailand
I have dawdled too long taking pictures of the returning elephants. Now Chris is trying to gather us up to continue the day's activities, but we still haven't done our snake picture!I plead with David to join us as our photographer. He thinks we are crazy (he is probably actually horrified at the mere thought of wearing a large snake), but he is also a good sport and agrees to document the event for us.
It takes awhile for them to arrange the snake.
The large Burmese python is soft and warm in the sun (it feels like a good leather handbag), but it is surprisingly heavy (about 130 pounds) and has its own ideas of where it wants to be (probably anywhere else besides draped around tourists).
When the snake starts squeezing us together, I'm told to just give him a little twist in the opposite direction. It works like magic, as the snake immediately relaxes. He is actually a pretty cooperative creature and soon we have our pictures.
The Karen
Back at the resort we have some free time in which to relax before taking the bus up to the Karen village.
We increase that time by skipping the village visit.
Evening in Northern Thailand
Instead of visiting the Karen, we hang out at the resort for a couple hours, napping, editing photos, working on this journal, and walking through the gardens.
The Teak Garden Spa Resort is a beautiful place, so I wish I had the more time and energy to make use of the pool and the lovely grounds,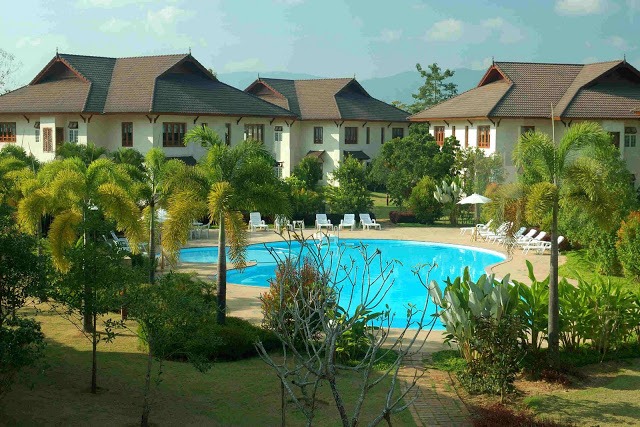 but the sun begins to set far too soon.
November 12
Early morning at the Teak Garden Inn
We are up early for breakfast, so I wander around the Teak Garden's grounds as the day quietly begins.
Evening in Lampang
November 13
November 14
Cambodia
November 18
November 19 –
November 20 –
November 21 – Taking Leave
My plan for the morning is to sleep in a bit, join the others for breakfast, and then hang out in the pool.
Index to Who's Who