(Last Updated On: May 13, 2020)
After saying most of our good-byes last night, those of us headed for Cambodia and Phuket gather in a scraggly little group at 5:30 this morning. The streets of Bangkok are still pretty quiet and Suvarnabhumi Airport gleams in the early morning light. (It is an attractive facility, even if inordinately large and cavernous inside.) It's a quiet transition.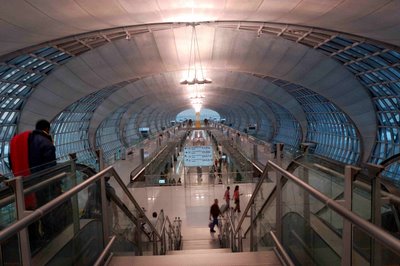 There are just seven of us now: Annette, Joe, and David; Dave and Carolyn; and Lane and I.
The flight on Bangkok Air is short and pleasant enough, taking us over a flat, wet, very green landscape.
When the plane comes to a stop, we disembark and walk across the tarmac to Siem Reap International Airport – a cute little place beautifully landscaped with tropical plants.
Inside, we get our visas processed – standing first in one line where we hand over our passport, visa application, and a photo, then moving to a second line while our visas are put together by a line of blue-suited agents, passed down to the end, and handed back to us in our passports.
Beyond the immigration area, our guide, Choeun is waiting.
The airport is a bit outside Siem Reap and I am increasingly delighted as we make the journey into and through town. The scenes unfolding outside my window looks EXACTLY like I thought Southeast Asia would look – somehow it matches the picture in my mind far more closely than Thailand did.
I am ecstatic. Three days in this place with a few people I really like and our own guide.
This is going to be awesome.