(Last Updated On: May 10, 2020)
After lunch, arrive in Santa Cruz Island where you'll visit the fascinating Darwin Station and learn about the research conducted on the island. The station is a breeding and rearing center where tortoises of different subspecies are prepared for reintroduction to their natural habitats.
After lunch we board the Zodiac and head for Santa Cruz Island. This is one of the populated islands and is the center of the tourist industry in the Galapagos, so this will not be the same type of wildlife experience we have been having.
From the isolated boat landing we are led through a green and gold landscape of cacti and hardy trees, both dappled with yellow blossoms.
Our guide stops to explain some of the more significant – or just plain odd – plants that surround us. My favorite is the tall opuntia cactus tree with its flat drooping pads and glowing yellow flowers.
Of course, the reason for coming here is visit the Darwin Research Center and its giant tortoises.
We appear to enter the facility from the rear, our nature walk merging into a tour of the Darwin Center. We start the tour at the facilities where endangered subspecies of tortoises from across the Galapagos Islands are hatched and raised. Here the tortoises live in large enclosures until they are old enough to have a good chance of survival in the wild.
Further along we come to the large older tortoises that live here. Lonesome George (the last of his subspecies) lives in a spacious enclosure. However, other similarly large tortoises share the walkways with visitors like us. These are very large adult tortoises that stand more than knee high. As long as we do not touch them or stray onto their feeding platform, we are free to examine these odd creature as closely as we like.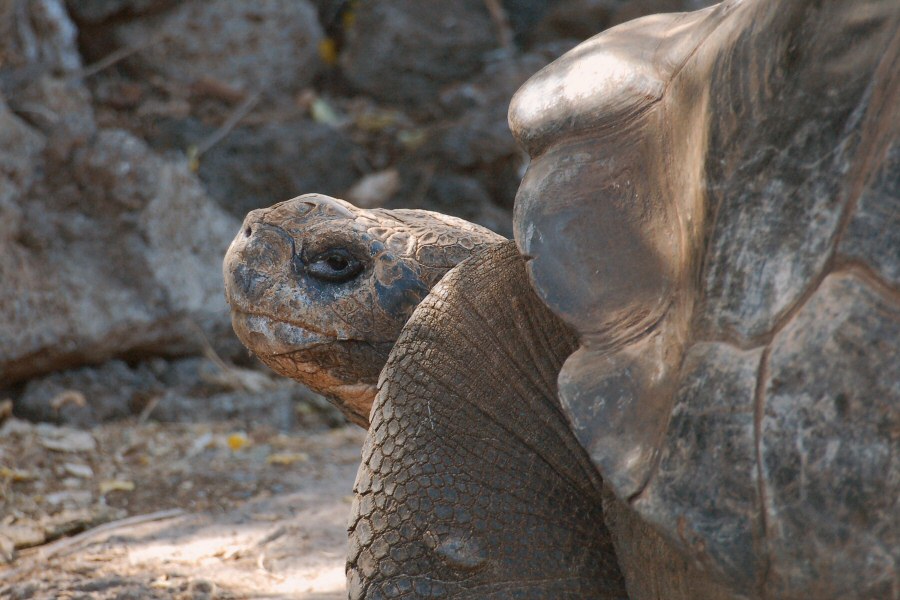 The Darwin Center also raises iguanas, but apparently these are shy creatures and the few we glimpse are mostly hidden in shadows.
However, a tiny lava lizard ventures out to greet us.
From the Darwin Center we are left on our own to follow the road into Puerto Ayora where we will meet the Zodiacs to return to the ship. The narrow road winds through a mostly undeveloped area until we come to the Galapagos National Park's store. No sign of a town yet.
I am not actually looking forward to finding the town – I am thinking that the Galapagos should be kept natural. Thus, there shouldn't be a town here and I certainly shouldn't be forced to visit it!
After awhile we pass a string of relatively tacky tee-shirt and souvenir shops. Each has a large selection of resin animal sculptures and tee-shirts sporting double entendres related to boobies. Just the sort of development I feared. The merchandise is numbingly similar, but the shops themselves are bright and cheery, so it is hard to really begrudge them a place here.
Soon we come to an immaculately groomed cemetery with gleaming white tombstones and brilliant tropical flowers. With the darkening sky as a backdrop, it almost glows in the late afternoon sun.
Beyond the cemetery we find a tourist town wrapped around a lovely bay. Lane insists it is a normal, not terribly interesting tourist town, but I find it mostly adorable. Puerto Ayora is filled with charming shops and delightful-looking restaurants draped in greenery and bright tropical colors. There isn't a chain restaurant in sight! As the largest city in the Galapagos, Puerto Ayora must provide quite a boost to the local economy, but it also exudes a cheery goodwill that makes me wish I could spend a few days here shopping in the art galleries and souvenir shops and hanging out on the cheery restaurant patios.
But we are not staying here and we don't know how far it is to the dock, so we keep moving, quickly ducking in and out of some of the most enticing shops. One favorite has a side yard filled with bougainvillea and other brightly blooming trees and shrubs. A young girl is wandering here avoiding her homework, which she has left spread out on a white metal table under the trees. All around her the ground is blanketed with bright petals.
Next Post: Genovesa Island