As if wandering the golden streets of Izamal weren't enough to make a visitor smile, this little town in the Mexican Yucatán has another treat hiding behind those yellow facades: a cultural center bursting with vibrant art by master artisans from throughout Mexico.
While this small cultural center has several exhibits, the star is a display of items from the Fomento Cultural Banamex's Grand Masters of Popular Mexican Art collection.
The exhibit bursts with color and life despite the fact that many of the figures are skeletons, like this skeletal funeral procession.
Or this larger-than-life lady.
The celebration of the Day of the Dead (Día de Muertos) is a big deal in Mexico, so it's not surprising to see so many pieces related to that theme.
But there are many other themes included as well.
The exhibition is largely organized by materials rather than thematically, with all of the pottery is in one area, wood in another, fiber in still another, and so on. So, while there are sections bursting with vividly colored clay and wood, there are also more subdued displays of these and other materials.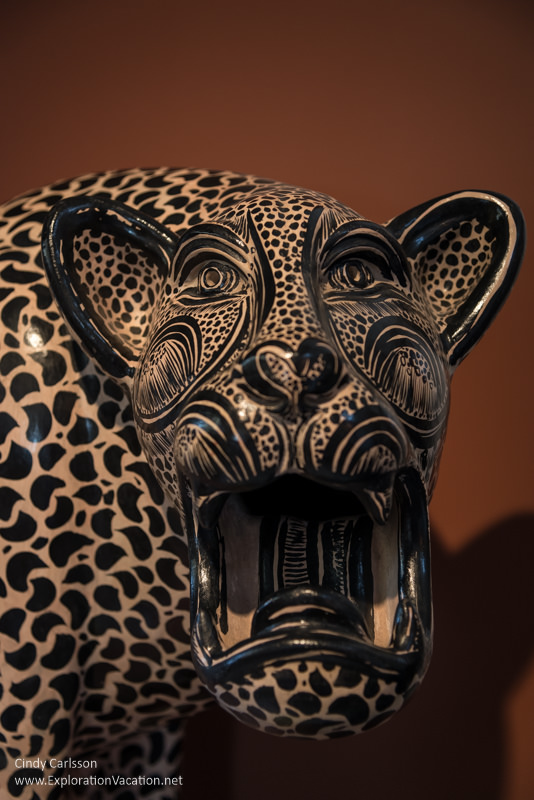 It's art that provides a fascinating peek into Mexican culture.
The Cultural Center is located near the convent. It houses several exhibits of local craft in addition to the Grand Masters show, a small gift shop featuring high-quality work of local artists, a spa, and a "café" which was able to sell us a Coke, but not much more.
This is appears to be one of several locations around Mexico that display art from this incredibly large and varied collection the Fomento Cultural Banamex. At least some of the pieces on display in Izamal were part of a large traveling show that came to the USA around 2001-2004, but few images and no artist information appears to be available online. There is a lavishly illustrated catalog of the collection that can be purchased in Izamal for a reasonable price. It's large and heavy to haul home, but it does cost more to purchase in the USA. An English-language version was published, but isn't available now except at an extraordinarily high price.
A carriage ride through Izamal